Comprehensive Pharmacy Services
Comprehensive Pharmacy Services uses its expertise to help pharmacies manage drug shortages and other operational efficiencies.
By Staci Davidson, Senior Editor at Knighthouse Publishing
Managing the supply chain of a hospital pharmacy is not easy, but Comprehensive Pharmacy Services (CPS) has the experience to keep everything in line. With more than 30 years in business, CPS understands it is a life-or-death situation if hospitals can't get the correct medications to their patients. This is why, when hurricanes hit Puerto Rico and Houston in 2017, CPS initiated its disaster management procedures to keep its client pharmacies functioning and patients protected. This involved ordering extra medications ahead of time.
CPS takes pride in assisting pharmacies in operating efficiently, in emergencies and any other day. Based in Memphis, Tenn., CPS is the nation's largest provider of pharmacy services to more than 800 hospitals and healthcare facilities. Focusing on driving cost, quality and safety improvements, CPS helps clients deal with hyper-inflated drug costs, retail strategies, operational effectiveness and staffing efficiency.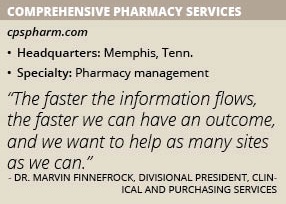 "We offer complete pharmacy management," says Dr. Marvin Finnefrock, divisional president, clinical and purchasing services. "We specialize in the hospital sector, in anything related to the pharmacy or pharmacy services. That can be anything from a small, 10-bed hospital to 800-bed hospitals. We also help with hospital systems, telepharmacy services, specialty pharmacies and retail. We maintain and work on infusion centers, surgery centers and anything on the hospital campus with a pharmacy, we help optimize and manage that."
With such a comprehensive offering, everything CPS provides is turnkey. Instead of simply consulting with hospital pharmacies, CPS brings solutions to help its clients ensure efficiency. One key area where its services are of importance is the issue of drug shortages. Any given day, a pharmacy could have about 100 drug shortages.
Explaining this is "fully a supply chain issue," Finnefrock notes shortages could happen because manufacturers have issues with their suppliers, quality issues could arise, older drugs may not be as profitable, wholesalers inventory control or there is competition in a market. There could be a shortage on the East Coast but not the West Coast, or policies at a particular pharmacy could impact supply.
"All through this, there is no one inventory system and no one software is used across the board," Finnefrock says. "So communication and issues around technology always play an important role. All of these issues link back to communication."
A Predictive Focus
Pharmacies are dealing with inherently expensive products, and not only are price tags attached to putting something on a shelf, expiration dates are also have to be considered. There is a cost component to keeping an item on the shelf, so pharmacies need to find ways to remain as lean as they can. When a drug shortage occurs, CPS helps its clients determine drugs' shelf life compared to their costs, if a different drug can be used for the same condition, if generics can be used instead of brand-name drugs, or if older drugs can be substituted.
"There is a huge clinical component to this," Finnefrock stresses. "It's important not to be reactive when something happens, so we focus on predictive modeling. We advise across the country, so when we see something happen on the East Coast and see it move west, we can make a prediction for our clients. Or, if a shortage is trending in one area and we know there is product elsewhere, we can work with the wholesaler to shift the product to a different distribution center."
CPS uses technology to know where products are flowing, as well as have predictive analytics about the market. At the same time, it is constantly communicating with clients, such as with short emails or text messages, to ensure all of the information is timely and a timeline is established for every shortage.
The company also trains buyers on anything from how to use the software that's available to how to manage software from the wholesalers or how to communicate directly with the drug manufacturers. The CPS training manual for buyers covers something simple like how to set up a spreadsheet or more advanced like conducting inventory. Additionally, CPS offers support for buyers who have questions, and it has set up a group so buyers at different locations can talk to each other to find solutions. Finnefrock notes the company wants to continue to enhance what it offers to pharmacies to ensure their efficiency but also maintain high levels of safety.
"We are one of the fastest-growing pharmacy management companies, but we are working on getting better at predictive analytics to get better at seeing trends out there," he explains. "The faster the information flows, the faster we can have an outcome, and we want to help as many sites as we can establish good base lines and create a solution for drug shortages around the supply chain. One of our goals is to ensure there is no significant distribution issue around the supply chain of medication, even with inventory control issues, recalls and increased demand. It all goes back to communication, always working to close the gap on disruption in the supply chain."