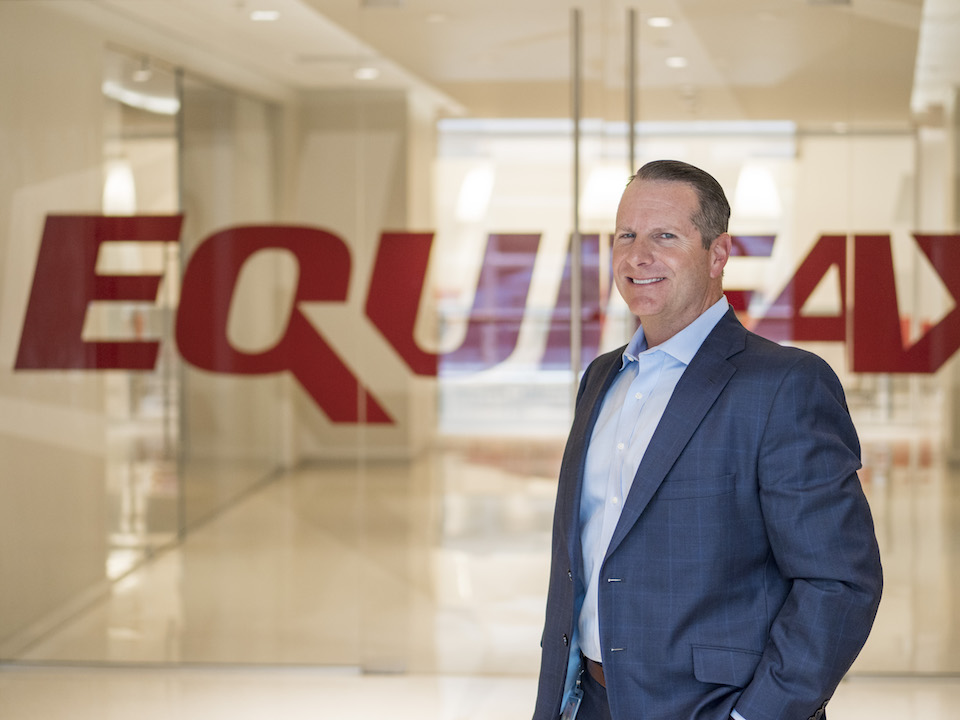 (Photo credit: Steven Gondek)
Equifax rebuilds to support strategic priorities in setting the standard for security and exceeding customer expectations.
By Janice Hoppe-Spiers, Senior Editor at Knighthouse Publishing
After a cyber-security incident in 2017, Equifax started on a multiyear transformational journey to strengthen the entire company. Under its EFX2020 strategic plan, the consumer reporting agency is investing heavily in technology and security to transform into a top data analytics technology company that exceeds customer expectations.
"Presently, there is a lot of attention and focus on accelerating migration of our infrastructure to the cloud while building both a culture of customer centricity as well as the most consumer friendly CRA in the market today," Senior Vice President of Global Sourcing and Real Estate Trey Briscoe says. "There is a lot of change with what we are doing as a sourcing and real estate organization to effectively support these priorities."
Transitioning to the Cloud
As part of EFX2020, Equifax is investing heavily in technology and security with much focus on transforming how products/services are delivered to customers, with much of that focus on cloud migration. "From a third-party services perspective, sourcing has to consider establishing relationships with new service providers that have expertise in application migration through the cloud, while continuing to leverage application development and maintenance," Briscoe explains. "We have had to move quickly and add new partners to successfully deliver on the transformation."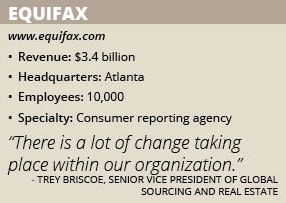 Equifax's global sourcing team has changed the way it approaches third-party service providers by partnering closely with the information technology team to understand what types of companies to bring in and which third-party benchmarks it should be leveraging to help with rates and specs. Collaboration among teams has become vital. For example, the global sourcing team worked closely with both the IT and finance teams to negotiate a significant services agreement with a new third-party supplier.
"We are transitioning from procuring a lot of hardware to now negotiating infrastructure as a service (IAAS) agreements," Briscoe explains. "We have new relationships that are forming and becoming critical quickly. It is imperative that we are aligned, focused and have the right sourcing talent leading these critical engagements."
As Equifax migrates to the cloud, the global sourcing team's approach to software licensing continues to transform. "As we move applications from traditional brick-and-mortar environments to the cloud, it requires our software licensing team to consider new requirements," Briscoe explains. "Do I have licensing rights to move an application to the cloud? How do you manage and track it once in the cloud? Our teams have had to step back and rethink their role and the value they can deliver to their internal stakeholders."
Equifax is in the early to mid-stages of its transformative journey, and Briscoe says his team is still changing the way they manage and approach a lot of its vendor relationships. "With so much going on, it would be very challenging to make it through these changes without the right people, processes and technology in place," Briscoe says. "Fortunately, over the past few years, we have spent much time and effort in developing these foundational requirements, which is helping us successfully navigate the changes."
Organizational Restructuring
To support its EFX2020 strategy, Equifax has consolidated the majority of its buying groups into one global sourcing and real estate team. Prior to the fourth quarter of 2018, Equifax had four separate buying organizations including data, outsourcing, procurement and software that reported up to different senior leadership. "We were centralized in those core areas, but we were decentralized in our reporting structure," says Jim McCarthy, senior vice president, global sourcing. "We were all merged under a single leader and I've assumed the responsibility for all the indirect spend with the exception of software. The goal of the merger of these teams was to streamline processes, gain synergies and create a sourcing organization focused on a single vision, rooted in operational efficiencies and value delivery."
Consolidating into one global sourcing and real estate team has resulted in increased efficiency and cost savings. "We eliminated roughly 25 percent of our annual sourcing operating cost through driving operational efficiencies in multiple areas," Briscoe explains. "We had to properly position our team to support internal stakeholders and execute on critical third-party relationships."
Today, Equifax has the insights to negotiate and deliver successful relationships. "We used analytics and benchmarks to determine what our organization should look like today based upon what value we can deliver," Briscoe notes. "Restructuring our service delivery model provided us the opportunity to insert new talent to address gaps, as well as shuffle talent based upon their skillsets and competencies we didn't think were properly leveraged. There was a lot of effort and work being done that wasn't of value to our customers, so we eliminated it, and refocused the team on delivering ROI for our stakeholders and ultimately our external customers. When you think about where we were just nine months ago, the results are amazing."
Realizing ROI
Equifax's global sourcing and real estate team has shifted its focus to delivering value and ROI rather than on just savings and the number of contracts delivered each year. "Changing that mindset in the organization has been a focus of mine this year," McCarthy says. "That's a major thing as we change as an organization in terms of our focus on the IT front and moving towards the cloud and different technology than the team has been used to. We recently recruited someone to help lead our cloud technology sourcing function who has deeper experience in the marketplace and we are training the existing staff, so as we transition out they will be ready for the cloud."
"We have been really focusing on the value; the ROI we deliver to the organization," Briscoe adds. "We have partnered with stakeholders to develop strategies that we update year over year and track – at a very vigorous manner – the value we deliver both quantifiable and not. We have expanded our footprint, presence and spend, and are developing business cases that outline ROI opportunities."
Briscoe tells his team to look at everything that comes across their desks as an opportunity. "If we don't think that way, we aren't doing our jobs," he says. "Our approach is one team and one focus on delivering material ROI through results focused on sourcing and third-party management."
To better communicate and share results, Briscoe and his leadership team present the Global Sourcing and Real Estate Portfolio to Equifax's senior business leaders and CIO annually. This presentation helps align his team's strategic plan with how to best deliver value to each business to help maximize ROI. The portfolio provides a number of key metrics in terms of the supply base, including strategies for eliminating cost, key changes that have been implemented and what additional opportunities exist.
A Collaborative Culture
As a global data analytics and technology company, Equifax is continuously competing for top talent. One of the ways in which it attracts and retains that talent is by creating an employee-focused environment. "We have invested heavily in renovating and updating our sites to create more collaborative work environments where people want to come and spend more time," Briscoe says. "People work differently than they did years ago, so in order to optimize and fund investments into our most important facilities, we spent a lot of time collaborating with our business leaders on the elimination of non-essential real estate."
Including its headquarters in Atlanta, Equifax's real estate portfolio consists of 80 locations in 24 countries, which are managed by Vice President, Real Estate Operations Karen Dick and Global Vice President, Real Estate and Workplace Strategy Pete Skaggs. The real estate team recently opened a new office in London's financial district where it is piloting a free address work environment that has been very well received.
"We have no assigned seats and our staff uses an app to reserve their seat," Dick explains. "We don't have private offices and that was a first for us. Even the general manager in the UK sits out in the open work environment. The reason it works is because you have a number of individual desks and at least an equal number of collaboration spaces that support work on average days, as well as high capacity days. You have to provide the tools and the auxiliary spaces that support free address in order for it to be successful."
Equifax has taken the money it would have spent on rent and operating costs from non-essential real estate and invested it into its core and critical properties. The company's goal is to create a brand and space where people want to come in and work with activities outside the office, food options nearby, more networking and collaboration opportunities.
"London is a great example," Briscoe says. "We looked at how the previous property was utilized and transitioned the business from a B property to an A+ property while delivering a work environment that meets the real needs of our customers and employees. We eliminated 25 to 30 percent of the space based on utilization, consolidating from three floors to one floor. We leveraged technology to enable free-addressing, which is a big change for our people, but they have adapted well. We delivered a beautiful, collaborative, customer-facing European headquarters while also reducing year over year operating costs. It is a success story that we plan to replicate in other locations."
Equifax plans to continue expanding out free-addressing at other properties where it makes sense. "It's not a one-size-fits-all model and you have to look at the composition of the workforce and how they work to determine if this would complement that," Dick says. "With free addressing, you have to have a mobile workforce equipped with laptops and mobile phones. If you don't have a work style that supports it, it won't work."
Equifax has spent about $100 million over the past five to seven years in refreshing its work environments; which Dick says is important to the company and its employees to have a nice place to work. "Equifax tries to embody an energetic culture of innovation and collaboration," Dick says.
Equifax's real estate team will continue to focus on the enhancement and expansion of its core or critical sites. "Our two big pillars are the employee experience through enhancing facilities and supporting growth and on the savings side, rationalizing the portfolio," Dick says. "We have a need for expansion in Atlanta and we just completed a real estate campus strategy in St. Louis where we have three locations."
Moving forward, Equifax will continue to focus on achieving its EFX2020 objectives that will transform the company into a consumer reporting agency that exceeds customer expectations and sets the standard for security. "By the end of next year we anticipate, as a company, to have completed a significant portion of our transformation, but I don't think there will ever be an end date to change," Briscoe concludes.