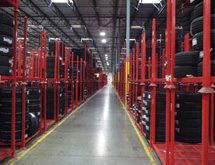 With its brand of energetic service of customers and cars, Pep Boys must deliver the right parts in the correct amounts to its service centers and customers promptly. Overseeing these efforts in 35 states and Puerto Rico is Stuart Rosenfeld, vice president of distribution and logistics.
Pep Boys modified the source code of an existing warehouse management system to track "everything within the four walls of each distribution center," Rosenfeld says, including orders and inventory. Order picking and inventory stocking are accomplished at each of the company's distribution centers by associates through a voice system that prompts them with bin locations and keeps efficiency and accuracy higher than an automated system would. Bar codes rather than radio frequency identification systems indicate the products picked.
All the company's 750 stores on the mainland United States and Puerto Rico are served by full-service distribution centers in Plainfield, Ind.; McDonough, Ga.; Chester, N.Y.; Mesquite, Texas; and San Bernardino, Calif. The company also has a tire and battery distribution center in Philadelphia and a small distribution center in Puerto Rico.
Empty Miles
Like many logistics operations, a major challenge for Pep Boys is to maximize productive use of what otherwise would be "empty miles" – return trips after delivery to stores. "That is a common supply chain initiative that most people are working on because of the cost of fuel and sustainability and everything else," Rosenberg notes. "We do pick up returns from our stores, but the returns do not fill up the capacity. So it's really filling up that capacity with either backhaul product from our vendors or opportunities from third-parties."
Reverse logistics software is used to return recyclable materials, which produce income but not enough to offset the cost of the backhaul. "We get parts that come back to be rebuilt," Rosenberg notes. "We also bring back big bales of cardboard, steel and any potentially overstock merchandise, any defective product – it all comes back. The tailpipe, your car shock absorber or a brake drum – any steel that came off of your car from our service centers – it gets recycled."
Pep Boys – which uses Keystone Freight as its one dedicated third-party carrier for most of its shipping needs – is working with Keystone on the backhaul challenge. "We're using our fleet to actually do third-party backhauls from other retailers," Rosenfeld says. "We're really trying to partner up with other companies. We offer them a discount because we're coming back empty." Besides its third-party supplier, Pep Boys discovers these opportunities through word-of-mouth and networking at conferences.
Frequently, a truck delivering merchandise from a Pep Boys warehouse to its stores can pick up merchandise from a manufacturer in the city where the stores are located and bring it back to its distribution center of origin. From there, the merchandise can be delivered to the other Pep Boys distribution centers. Pep Boys manages and pays for much of its inbound freight from vendors, rather than using a prepaid vendor that pays for and manages the freight. Direct imports are a small portion of the company's inventory.
Pep Boys owns no trailers or semi-tractors. "More people use a dedicated or contracted carriage operation than a private fleet," Rosenfeld maintains. "It's really about core competency. Transportation is not our core competency, and that's why I'd rather source that out."
Engineered Standards
To improve warehouse efficiency, Pep Boys uses engineered standards developed by a consulting company. These break a task such as picking inventory down to a standardized number of steps.
"There are a certain number of steps to take an order," Rosenfeld notes. "So you have to first receive the order by voice, then go to a pick location, confirm that you are at the right pick location, put the pieces into a tub and move on.
"Does that step provide value or not in the process?" Rosenfeld asks. "If it doesn't provide value to our customer, then you remove that step of the process."
Rosenfeld estimates a 12 percent improvement in overall productivity after implementing the engineering standards and lean process at the distribution centers. He attributes the success of his distribution and logistics operations to the quality of his employees.
"I'm surrounded with a good team," Rosenfeld emphasizes. "It starts with the general manager at each facility, and then the support team that I have. You have to surround yourself with good people. I've been with Pep Boys for 37 years, and I've been involved with distribution and logistics for 30 years. It's all about the people – it's no different than anything else."