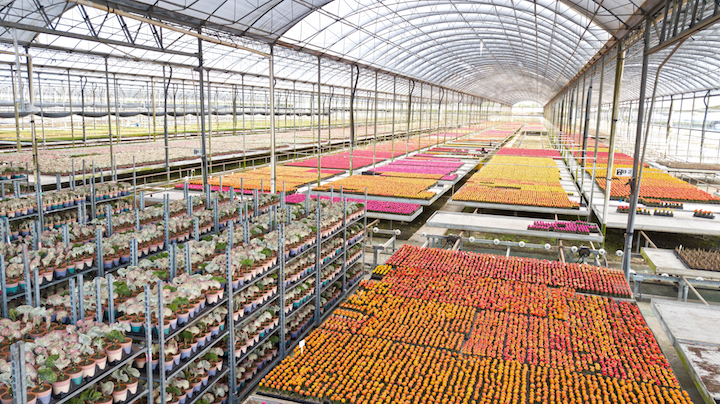 Fast-growing Costa Farms is enhancing its supply chain to accommodate further growth and improve services.
By Kat Zeman, Senior Editor at Knighthouse Publishing
Although it's already one of the largest horticultural growers in the world, producing more than 150 million potted plants on an annual basis, Costa Farms is preparing for more growth.
The Miami-based company, which generates roughly $550 million in annual sales revenue, produces more than 1,500 varieties of houseplants in addition to a variety of outdoor plants. Its supply chain deals with roughly 25,000 truckloads and 2,000 shipping containers on an annual basis in the United States and Canada.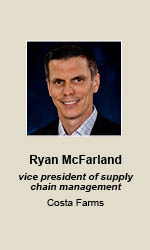 This year, the fast-growing company is implementing solutions to enhance its supply chain. They include improvements to shipping and distribution, enterprise resource planning (ERP) and a fully integrated business planning process.
"We face some unique challenges because our product is alive," says Ryan McFarland, vice president of supply chain management. "It can't sit in a non-temperature-controlled environment for a long time and cannot flow through the cold chain network."
Hub and Spoke
One of the new logistics capabilities that Costa Farms strengthened this year is hub-and-spoke distribution. Hub-and-spoke distribution centers receive large shipments which are then broken down into smaller shipments and transported to their final destinations. For Costa Farms, those destinations include major retailers like Lowe's, Walmart, and Home Depot.
"We can now pre-position inventory closer to the market and respond to demand faster during peak sales periods," McFarland adds. "This is important for highly seasonal products such as ours. For every day you are out of stock you lose sales that you will never get back. Hub and spoke reduces replenishment lead times, which mean more sales opportunities across the supply chain."
To have access to hubs throughout the United States, Costa Farms partnered with three third-party logistics providers: Container Centralen, C.H. Robinson and Neutral Logistics. It now has access to one hub in Houston, two in Atlanta and one in Boston and plans to add more throughout the United States.
Business Transformation
Costa Farms is also in the process of implementing a new enterprise resource planning (ERP) system, having rolled out phase one this summer. "It's not just an IT project," McFarland says. "This is a unique opportunity for our company to drive a business transformation."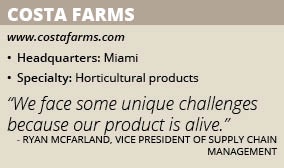 To help implement the new ERP system, Costa Farms partnered with Sage Group, commonly known as Sage, which is a British multinational enterprise software company. It also partnered with Practical Software Solutions, an authorized Sage partner based in Concord, N.C., which offers accounting, manufacturing, distribution, service management and professional services.
"By bringing in the new software, we are prompting ourselves to take a look at all of our business processes and identifying areas where we can be more efficient and ultimately provide innovative solutions for our customers," McFarland says.
Costa Farms plans to go live with three sites by December and the balance by September of next year.
"Beyond the capital investment, it's a significant investment in our team," McFarland adds, adding that it will allow the team to work more efficiently by providing better problem-solving tools and access to more accurate data. "Data driven processes and decision making are table stakes in today's supply chain management," he says.
Integrated Business Planning
Aside from improvements to shipping and distribution and a new ERP system, Costa Farms is evolving its sales and operations planning (S&OP) process to a fully integrated business planning (IBP) process.
IBP is the business planning process that extends the principles of S&OP throughout the supply chain, product and customer portfolios, customer demand and strategic planning to deliver one seamless management process.
"We rolled it out at the first of the year," McFarland says. "This will allow us to have a much longer term planning horizon so that we can better prepare for the needs of our customers – including bringing innovative new products to the market faster and at a bigger scale."
McFarland explains that the unconstrained demand review of the IBP process allows Costa Farms to look at the needs of its customers during a period of three years without constraining it in any way. "Then they work backwards to figure out how to deliver," he says.
Investing In Innovation
Founded in 1961, Costa Farms started when founder Jose Costa purchased roughly 30 acres of land south of Miami and started growing fresh, vine-ripened tomatoes in the winter and calamondin citrus in the summer.
According to the company's website, that business soon morphed into houseplants and the Costa Farms family started introducing new houseplants such as the Canella tree and Aglaonema Cecilia.
Today, Costa Farms is a third-generation, family-owned business that globally stretches across more than 3,500 acres and employes roughly 2,800 people, according to its Facebook page.
It grows a stunning array of thousands of plant varieties that it ships to garden centers, home-improvement centers, club stores, grocery stores and other retailers.
It distributes to more than 20,000 retail locations in North America. Its plants can be found inside locations of major retailers such as Lowe's, Home Depot, Walmart, Sam's Club, IKEA and Costco.
Costa Farms prides itself on bringing new and innovative products to the market. According to its Facebook page, the company has made significant investments into its research and development team. The R&D team's job is to develop solutions to improve its production practices in addition to providing customers and suppliers with an objective platform to evaluate new genetics and technologies.
"Costa Farms is not just creating plants that look better, but making the end-consumer more successful," the page says.
The company has two locations in the Carolinas, four in Florida and one in the Dominican Republic. It also has an international purchasing office in Guangzhou, China that works directly with factories and raw material suppliers, allowing for reduced costs and higher overall monitored quality for its customers on a global scale.