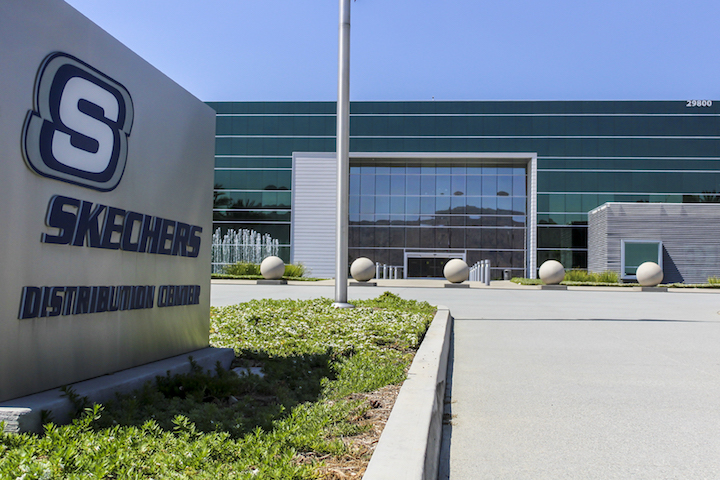 A global footwear leader, Skechers continues to expand its presence worldwide and invests in the infrastructure needed to support its international growth.
By Janice Hoppe-Spiers, Senior Editor at Knighthouse Publishing
Skechers has become a global sensation. Its lifestyle footwear is not only stylish and comfortable, but also affordable, which has resonated with billions of consumers worldwide. Last year, the company shipped 170 million pairs of shoes, achieving $4.64 billion in revenue and has seen record-breaking quarterly sales in 2019.
"Skechers is a brand for the world," COO David Weinberg says. "We have a global distribution network that allows us to reach consumers of all ages in every major city around the world. And with e-commerce, an expanding retail business, and a vast array of retail partners, we are in communities outside the major markets. Our varied distribution strategy coupled with our diverse product offering and marketing has been key to our success."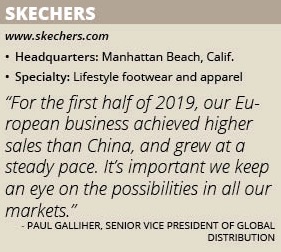 In February 2019, Skechers celebrated its 3,000-store milestone worldwide with the opening of a store in Shenyang, China. At more than 32,000 square feet, the store is the brand's largest and reflects Skechers' growing omni-channel presence as it continues to expand its retail, sales and logistic infrastructure to meet the global market's growing demand for Skechers footwear.
The Skechers superstore in Shenyang is one of several superstores in North America designed to showcase the brand's diverse footwear styles for men, women and children – with dedicated shop-in-shops for its collections, Skechers Kids entertainment zones, and areas devoted to the brand's growing line of apparel and accessories. As a living catalog for consumers, Skechers stores are a customer experience, showcasing an unparalleled offering of Skechers products outside of the company's e-commerce solutions. Its stores are prominent brand-, marketing- and sales-drivers – stylized in the company's image, designed with the latest point-of-sale technologies, and inviting shoppers to explore the world of Skechers.
As of June 30, 2019, there were 3,172 Skechers retail stores open around the world. Of those, 768 were company-owned locations in the United States and where it directly handles the distribution of its product, and the remaining were either owned and operated by its joint ventures or third parties. Countries with the most stores opened in 2019 include China, India, Malaysia, Indonesia, Vietnam, Singapore, South Korea, Denmark, and of course, the United States. For the second half of 2019, another 250 to 300 company-owned and third-party Skechers stores are expected to open.
Investing in Infrastructure
Skechers' sophisticated, integrated global infrastructure is designed to expand its brand worldwide. To support the increase in demand, Skechers is nearing the completion of a new 1 million-square-foot distribution center outside of Shanghai, China. The brand is doing so well in China, Skechers is acquiring the property next to its new distribution center to start building a second one.
In addition to China, the company is expanding its distribution operations in Panama and Peru, and will soon establish a distribution center in Colombia. Skechers has converted several markets from distributors to its wholly-owned subsidiary model, including those in Latin America and Central Europe in 2015, South Korea in 2016, and India in early 2019.
After converting its Panama distributor into a subsidiary, the company needed to upgrade its distribution capabilities in Latin America and opened new distribution centers in Colon and Lima.
Skechers is also expanding its headquarters in Manhattan Beach, Calif., slated to open in 2022. Designed to achieve LEED Gold certification, the new buildings will double the company's office and showroom space in Hermosa Beach and Manhattan Beach, Calif.
Skechers is also investing heavily to support its e-commerce growth. "When we built our facility in Moreno Valley, Calif., e-commerce was nothing like it is today," Senior Vice President of Global Distribution Paul Galliher explains. "We were competing in that area and had our own little niche, selling what no one else did. But now we've decided that it could be a much bigger piece of our business and we're investing a lot more heavily in our infrastructure to help us to compete."
To get product to consumers faster, Skechers is adding 760,000 square feet to its existing facility in Moreno Valley. "We will be putting in a whole different kind of sortation system that will allow for smaller orders and to accommodate apparel," Galliher says. "Apparel is relatively new to our business. We knew that some of it was coming, but that's another area that's expanding pretty quickly. The new building will be fully operational in about two years."
In Belgium, Skechers also recently completed another round of enhancements to its material handling system that will be operational by the first quarter of 2020. "For the first half of 2019, our European business achieved higher sales than China, and grew at a steady pace. It's important we keep an eye on the possibilities in all our markets," Galliher notes. "We have made investments in material handling systems in the United States, China and Europe, and will probably look at Japan in the future."
Hiring the Best
As Skechers continues to grow, Galliher says he can't find high-caliber talent fast enough. "I've been here for over 25 years, and I can count the turnover of my staff on one hand; I have well over 100 people who have been here 20 years of more, but we're always in need of more qualified people," he says.
Galliher attributes his employees' tenure to a culture that allows people to grow personally and professionally. "They aren't micromanaged and are encouraged to make decisions," he says. "We have a great group from a communication standpoint. I give the people who work for me an area or territory and expect them to run it like it was their own business. So far for me, it's worked well. When it comes to hiring the right people, it's a matter of finding those who have the talent to run their own business."
To attract new talent, Skechers partners with local agencies and universities. For example, a local university has altered some of its curriculum to accommodate Skechers' needs and, more specifically, trains people who are interested in that work. "Distribution has become more automated," Galliher says. "The people we do need are of much higher caliber and more technically astute. The whole skillsets we look for has changed dramatically over the last 5 to 10 years."
Continuing to Evolve
Skechers was founded in 1992, with one logger boots style for men. It quickly grew to include women's and then kids.
Today, Skechers designs, develops and markets more than 3,000 styles for men, women and children. It has grown into the third-largest athletic lifestyle brand in the world, and one that wins numerous awards – with four this year alone for its performance running shoes.
"It's always about the product," Weinberg says. "It's about style, innovation, comfort and quality – for men and women, as well as for kids. We are able to create award-winning golf and running shoes, show-stopping fashion sneakers, eye-catching light-up shoes for kids, and the most comfortable shoes you'll ever wear. All at a reasonable price."
The company is known for its focus on comfort and has grown to offer more than shoes. Through licensing agreements, Skechers also offers accessories, eyewear, scrubs and other merchandise. It also designs its own sport apparel.
Whether it's a change in style, the market or in distribution or production, Galliher says Skechers adapts to change as well as any company he has ever seen. "Flexibility and speed-to-market are at the forefront of our minds across all departments with a goal of putting the customer experience first," he concludes. "As a company, we're always looking ahead to deliver what consumers want and when they want it. For me, I'm always looking to do it efficiently in our growing global footprint."