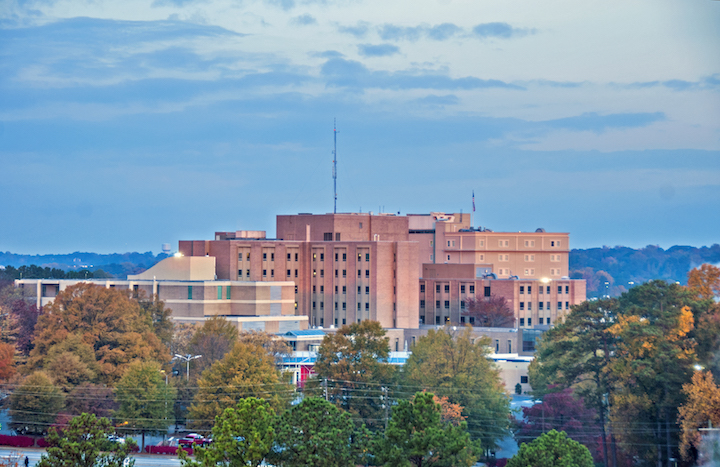 Northside Hospital's supply chain planning drives value in merger with Gwinnett Health System.
By Knighthouse Editorial Staff
Northside Hospital, a network of hospitals and medical facilities in the Atlanta area, merged with Gwinnett Health System in August – and its supply chain orchestrated a smooth transition.
Anchored by five hospitals in north metropolitan Atlanta, the new Northside Hospital nonprofit health system will now operate additional outpatient centers for cancer treatment, imaging, surgical, urgent care and other services throughout Georgia.
Together, the Northside-Gwinnett partnership features a system with 1,636 inpatient beds, more than 250 outpatient locations, roughly 21,000 employees and more than 3,500 physicians on staff.
"The main objectives of the merger are to better serve the needs of the combined patient population by significantly enhancing service line offerings across a broad geography and to position the merged entity for future growth," says Carl Waller, vice president of supply chain management.
Executive leadership at Northside and Gwinnett determined that it was imperative for supply chain to be involved during the initial stages of the merger process due to the anticipated positive impact on cost and operational performance.
"A merger under any circumstances is a complex exercise and often fails to realize expected synergies due to poor planning, discounting cultural differences, failure to effectively integrate the organizations or losing focus on merger objectives," Waller adds. "It is often cited that the majority of mergers are unsuccessful. We wanted to do our part to mitigate those risks and increase the probability of a successful merger starting with rigorous due diligence and planning."
Planning Ahead
Supply chain personnel from both Northside and Gwinnett met months before the merger to study the way each organization operated. This included providing overviews of each supply chain, shadowing each other's day-to-day activities, an overview of the technology platforms supporting each entity and performing an analysis of relevant financial and operational data.
"Engagement with vendors is also an extremely important element of the planning process," Waller says. "As you would expect, Northside and Gwinnett had many vendors in common."
Early in the process, a vendor request was sent asking each common vendor to develop price proposals for the combined entity together with suggestions for standardization and other potential synergies. Having these proposals ready for the first day of the merger was crucial in accelerating the realization of cost savings and service efficiencies.
As a result, the two organizations established communication channels and an operating model for the merged supply chain began to take shape.
The Northside and Gwinnett teams identified synergies that would result in opportunities for reduced cost and increased operational efficiencies both within the supply chain organization and for the merged entity as a whole.
"Key risks were also identified that could potentially disrupt the integration process," Waller says. "The identification of synergies and risks provided the necessary input to build the business case that would articulate the contribution of value to the merged entity."
This included the development of metrics and targets that would be used to measure the progress towards achieving merger objectives.
Integration Roadmap
The business case became the basis for the development of an integration roadmap. The roadmap contained work streams that covered all aspects of the merger including strategy, sourcing, procurement, distribution and logistics, interdependencies with other functions and timelines for completion.
"The roadmap activities were aligned with the achievement of targets outlined in the business case," Waller says. "It was critical that the flow of goods was not disrupted and the necessary controls were in place to ensure financial integrity of the supply chain on day one of the merger."
Due to some differences in supply chain operations between the two organizations, it was important to proactively address any potential operational conflicts and design new processes that would align the two organizations.
From a contracting perspective, Gwinnett utilized both a national and regional group purchasing organization to administer contracts for the bulk of commodity "med-surg" products while physician preference items were negotiated locally.
Northside's contract management function was completely centralized and encompassed not only clinical goods, but also the majority of services such as linens, food services, biomedical engineering, utilities and telecom.
Centralized Model
Although Northside used the same national group purchasing organization, roughly 70 percent of its contracts are locally negotiated. After careful review, a decision was made to use a fully centralized model. That increased involvement in local contracting as well as expanding supply chain's reach across the merged organization into service areas and acquisition of capital.
Concurrent with the adoption of a more centralized and expanded function, a plan to standardize products through the use of pre-approved requisition templates began on the first day of the merger.
"The effort is expected to take six to nine months and includes the transition to a cloud-based requisitioning system that utilizes standard product templates for ordering," Waller says.
From a distribution and logistics standpoint, Gwinnett utilized a quasi, self-distribution model for medical supplies whereby goods are delivered in bulk from distributors or directly from vendors to a warehouse and then broken down for delivery to storage locations at each facility.
Conversely, Northside employed a low unit of measure delivery whereby goods are pre-sorted and received in totes from the distributor for immediate delivery to designated storage locations throughout the system as well as bulk delivery at some locations.
Based on an analysis of distribution cost and service levels, it was decided that the merged entity would transition to a distributor enabled combination of bulk and low unit of delivery over time.
Northside's acute care medical supply distributor performed a detailed assessment of Gwinnett's distribution model and determined what it would take to convert Gwinnett from self-distribution to co-distribution with low unit of measure.
"This assessment was incorporated into the business case and integration roadmap," Waller says. "The transition will allow the merged entity to more effectively deploy scarce resources as well as significantly reduce the overall cost of distribution."
Gwinnett and Northside used two different pharmaceutical distributors. Based on the needs of the combined system, it was decided that consolidation to one distributor would offer the biggest advantage both from a service and cost perspective.
The capital acquisition process was very similar for both organizations. The requisitioning and approval platform was similar and could be easily combined. The key was to redefine the approval paths for acquiring capital for the merged entity.
Fortunately, both organizations utilized the same ERP system, which made creating a single instance for the item master possible. However, mapping item numbers and rationalizing product descriptions is a significant task.
Due to the complexities inherent in a merging of systems, it was decided that the item masters would be maintained separately for the first six to eight months and then combined once standardization was in place and links to a combined charge master are available.
"Unlike many other mergers, there were no dedicated resources assigned to complete the roadmap," Waller says. "Thus, there was little margin for error in executing the post-merger integration activities since implementation is being driven by supply chain resources and others who also have day-to-day management responsibilities.
"Providing training on new policies and procedures to management and supervisory personnel before day one was critical to ensuring that strong operating controls were in place on the merger date. We have planned the work and are now working the plan."