GCP Applied Technologies Inc.
GCP is focused on changing the game with its Verifi technology and global logistics initiatives.
By Alan Dorich, Senior Editor at Knighthouse Publishing
For GCP Applied Technologies Inc., it is essential for associates to stay focused on providing strong client service. "It's our customers that keep us in business, or we don't have a business," Director of Global Logistics Procurement Albert Schyman declares.
The Cambridge, Mass.-based company previously operated as part of W. R. Grace. Over the years, through R&D, new product development and acquisitions, it developed leading positions in several products for the building envelope, such as waterproofing and fireproofing products, and weather barriers, which it continues to sell today.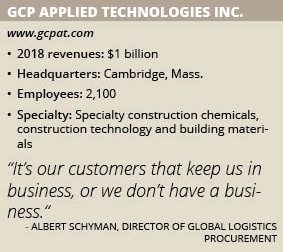 In 2016, GCP, a division with a 50-year history in specialty construction, separated from W. R. Grace. It partners with the world's most successful architects, producers, builders and contractors to provide innovative solutions for their construction projects.
Today, Schyman says, GCP's world-class products, applied knowledge and service excellence create value for its customers. "We're definitely considered a leader in the construction technology industry," he says. "We're best in class."
Built to Last
GCP's latest innovations include its Verifi in-transit concrete management system, which uses sensors installed on ready-mix trucks to monitor concrete properties while in transit. In addition to the sensors, the system includes fluid management equipment for making precise water and chemical admixture additions.
According to GCP Verifi Operations Manager, James Klauke, in-transit concrete management is a new category in the specialty construction industry.
"The system is transforming the way concrete is delivered," he describes. "In addition to achieving its goal of ensuring consistent, quality concrete, Verifi is recognized for its impact on safety and sustainability."
The product line, he notes, is expanding rapidly with thousands of units installed on ready-mix trucks in North America, and has extended its footprint internationally.
All of the sensors as well as the fluid management system are connected to a truck mounted advanced telematics unit.
"Sourcing, testing and deploying these components has presented an interesting set of supply chain and logistics challenges due to the harsh elements in play on a ready-mix truck," Klauke says.
"The Verifi components are built to endure all the typical elements of an outdoor installation including rain, snow, wind, UV radiation and humidity. In addition, they must survive installation on a ready-mix concrete truck, including exposure to fuels, oils, engine vibration and the mechanical shock from driving off-road while spinning up to 20 tons of concrete," he adds.
"Finally, they must survive life in the concrete industry, including fine airborne dust, hardened concrete and daily truck cleaning with acid wash and high-pressure water hoses," he continues. "The Verifi supply chain team has been meeting these challenges for over a decade, enabling GCP to successfully deliver the Verifi solution to an ever-expanding number of ready-mix concrete producers."
Pillars of Focus
Schyman joined GCP in July 2018, after 16 years with DuPont in Wilmington, Del. Previously, he held numerous leadership positions in logistics, direct, in-direct, packaging and sourcing, as well as buyer roles.
He joined GCP after seeing its potential for growth. While the company has a large presence in water proofing and cement additives that it has designed and developed, "Our Verifi technology is a game changer," he declares.
During his tenure, Schyman has followed the lead of President and CEO Randall S. Dearth and sought to change the mindset of its global logistics team. Today, "We're focused on three pillars," Schyman says.
The first pillar consists of how GCP's logistic procurement work will benefit its external and internal clients. The second pillar, he notes, is centered on financial impacts.
For example, "We're improving our data capability and visibility," he says, noting that the company does this with its strategic logistic service providers, such as Odyssey Logistics, Distech, BDP, LeShaco and Radiant Clipper.
Essential Engagement
The third pillar, Schyman notes, is centered around the engagement of his employees. "Harvard Business Review studies have shown that close to half of American employees are not engaged at work, so we make a conscious effort to gain engagement with our team," he says.
According to Schyman, having that buy-in is essential when there are difficult decisions to be made. "What the team has to realize is what our customers' needs are and how we do things differently from competitors," he says.
This helps them realize how they fit into an end-to-end supply chain. "People want to know that the work they are doing is relevant," he says, noting that he also asks them to be able to be ready to evolve, no matter what stage they are at in their careers.
"We always have to have an aptitude for change and to develop new skill sets out of your comfort zone," he says. "You've got to keep on learning and keep your ego in check because we're also living in the Amazon model of distribution and logistics."
Customers in GCP's industry, he explains, have come to expect more visibility when it comes to information. "They've grown up with same day delivery, tracking and tracing," he says. "That's just to be expected as we move forward, and GCP is adjusting accordingly."
Strong Strategies
GCP is implementing new strategies under Schyman's leadership. "Our plan is to have a global strategy with regional execution," he says, noting that this has included 4PL bids in North and Latin America.
He also highlights its Project Apollo program. "[That] has various initiatives that not only impact logistics, but also will benefit our customers with increased data visibility and on-time shipment information," he describes. The Apollo project began in Q4 2018.
GCP also has created a supplier management program where it identifies one to two key logistic service providers in a region and creates a deeper level of engagement with them. "Our vice president of supply chain, Paul Hanlon, will be involved with these providers." Schyman says.
This includes innovative meetings between the companies. "We've looked at our strategic providers to provide market intelligence needs so in the future we are making sure we address our customer needs," he adds.
Social Evolution
GCP is evolving socially as well. As part of Dearth's initiatives, the company has launched a diversity council that focuses on creating a more open working environment.
"I'm proud to be a part of the Diversity & Inclusion Council," Schyman says, noting that GCP must change as its customer base does. "We're fortunate to be headquartered in Cambridge, Mass., which is a diverse, innovative and inclusive environment."
This open atmosphere also helps ensure that GCP retains top talent. "Whether it's in R&D, sales and marketing, or operations, people want to see that you're committed to diversity and inclusion," Schyman says. "People want to bring their authentic selves to work and we are now creating that environment at GCP."
Exciting Times
Schyman is proud of his team at GCP, which is focused on data and continuous improvement. "The message I try to relay to my team is, 'How can I relate to others and get better every day?'," he says. "That is very important to me so I'm very proud of working to instill that mindset."
He predicts more improvement ahead for GCP, which will find more ways to become quick and agile. "I see us continuing to develop global strategies with regional execution in mind," he says.
The company also will invest in technology that will set itself apart from its competition. This will further GCP's status as "a place where people want to work," Schyman says. "There are a lot of exciting changes."
SIDEBAR – One of the Top
GCP Applied Technologies has won multiple awards for its work, which recently included:
*Being named in 2018 and 2019 as one of The Constructech 50, a listing of the most influential construction technology software providers;
*Winning for its Verifi and Clarena RC products at the 2019 Concrete Construction Innovative Product Awards; and
*Being named on BuiltWorld's Building Tech 50 List for 2019.