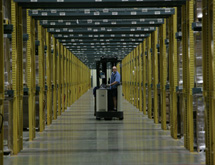 For Perrigo Co. to survive and thrive in the global healthcare supply industry for 125 years, it has had to continuously adjust its operations to the ever-changing times. One thing that hasn't changed, however, is the company's commitment to excellent product quality and high customer satisfaction.
"Perrigo's mission is to offer uncompromised quality and affordability, and it does so across a wide variety of product categories," says Roger Reimink, vice president of customer service.
Founded in 1887, Perrigo Co. has grown into a worldwide provider of healthcare products. The company develops, manufactures and distributes over-the-counter (OTC) and generic prescription pharmaceuticals, pet care, nutritional products and active pharmaceutical ingredients (API). It also is the world's largest manufacturer of OTC pharmaceutical products for the store brand market.
As a market leader in the over-the-counter private-label drug and nutritional infant formula label markets – i.e., "store brands" – the company manufactures many of the products for these industries. Overall, Perrigo distributes more than 15,000 SKUs.
Volume of Scale
The supply chain challenge for Perrigo is that the volume of products produced for so many retailers creates as much complexity as it does competitive benefits. That complexity lies primarily in packaging and inventory planning, which Perrigo leverages to provide quality, cost-effective products to its consumers, according to Reimink.
One way Perrigo accomplishes this is by using a foreign trade zone (FTZ) to manage some of its APIs. When some of these APIs are converted to OTCs or prescription drugs, the products are then moved from the FTZ to the U.S. warehouse. The products can be sold and taxed only once at the final sale vs. duplicate taxes being levied on the API. This ensures these products are not disadvantaged vs. products made outside of the United States.
"This helps drive the value proposition with our customers," according to Reimink. "Managing inventory into and out of the FTZ requires an integrated inventory control and reporting system."
To accomplish this, Perrigo utilizes Integration Point as well as its corporate ERP system to manage the process in compliance with U.S. Customs and Border Protection mandates. Reimink says Jennifer Lynch, leader of the corporate import/export compliance area for Perrigo, and her team keep Perrigo compliant with regulations.
Transporting the Meds
Perrigo's transportation division utilizes regional asset-based truckload carriers that are treated as an extension of Perrigo's transportation network.
Reimink says Brian Hoffman, corporate transportation manager, ensures these carriers are focused on meeting Perrigo's excellent on-time delivery to its customers as its No. 1 priority. In addition, Perrigo utilizes an internet-hosted transportation system provided by LEAN Logistics to improve the load building and tendering process.
"This combination of efficient load-building software along with the responsive relationship with our core carriers allows us to deliver our large volume of products to our customers on-time at the lowest possible net-landed cost," Reimink says.
The company also called upon Simplified Logistics – a logistics consulting company based in Ohio – to implement a corporate LTL tariff that ensures Perrigo measures its LTL carriers on a consistent cost and service basis, thus ensuring a cost-effective LTL delivery channel. Perrigo also has a corporate parcel agreement with FedEx, and thanks to its volume across its seven U.S. distribution sites, it realizes significant savings from volume-based incentive pricing.
Through its integrated distribution network led by Dave Smalla, director of distribution, Perrigo uses SAP's warehouse management system in an R/F environment. With this method, Perrigo can cycle count the FG product as it is picked.
"This enhanced picking process ensures a very high level of inventory accuracy and results in very high levels of accurate shipments to our customers," Reimink says. "We achieve significant economies of scale in our distribution operations by servicing all of our major business for a customer from one DC. [This allows] us to achieve both warehouse and freight efficiencies and deliver the lowest net-landed cost possible."
Perrigo's customer service department, led by Shelley Kocur, director of CHC and Nutritional Customer Service, provides the highest level of support by assigning customer service account managers (CSAMs) to individual retail accounts.
The CSAMs manage the supply chain between Perrigo manufacturing and customer warehouse/store inventory by utilizing data including customer POS forecasts, customer warehouse and store on-hand inventory, and historical movement. This is accomplished through a combination of customer order management systems as well as Perrigo's vendor-managed inventory  system.
"Many of our customers expect us to manage the inventory from their warehouses to stores, maximizing store in-stock levels while minimizing their exposure to inventory excess or obsolescence," Reimink says. "Perrigo has been providing the value of managing customer supply chains for many years via tools such as VMI services."
Pharmaceutical Future
In addition to organic growth in current markets served by Perrigo, to continue growing at accelerated rates, Reimink says Perrigo looks for private-label markets where it holds no footprint and can expand its portfolio of products. For instance, the company recently entered the animal health market, which will allow Perrigo to bring the private-label value proposition to the dog and cat market.
But whether the final customer is a consumer or his or her pet, "Our [retail] customers expect us to bring these new products to market with full support of promotional displays to maximize the retailer's launch of these private-label products into their stores," Reimink says.  ­­­