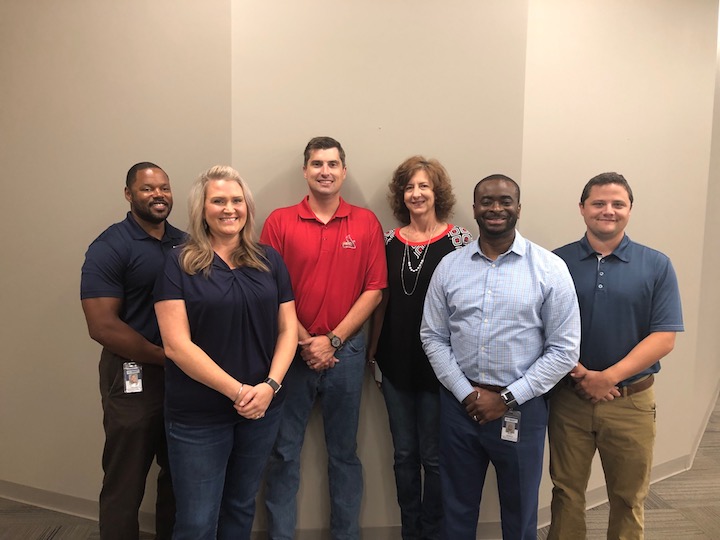 FreightCar is gaining strength with new products and its 'Back to Basics' strategy.
By Alan Dorich, Senior Editor at Knighthouse Publishing
When employees at FreightCar America come to work every day, they do it with a focus of providing quality and consistency in every rail car. "It's not an easy product to build," Vice President of Supply Chain Rudy Simmons admits.
"But they are extremely committed and get their hands and uniforms extremely dirty to build a very colossal-sized, good product," he says. "The end result when a fleet of rail cars are being taken away to our customers is a great feeling."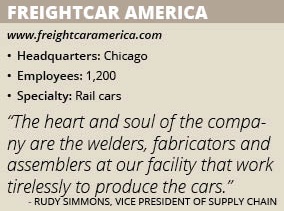 Headquartered in Chicago, FreightCar designs and manufactures steel, stainless steel, aluminum and hybrid-steel aluminum freight cars. The company started operations in 1901 and gained a reputation for its coal cars.
"We were the industry leader," Simmons says. "But as green energy took over in the United States and coal demand significantly alleviated, we had to come up with a new plan."
FreightCar adapted by diversifying into the manufacture of a large variety of rail cars; including but not limited to covered and uncovered hoppers, intermodal and non-intermodal cars. Today, its clients include the likes of Norfolk Southern Corp., TTX, BNSF Railway and several leasing companies.
Back to Basics
Simmons joined FreightCar in 2017 and brought along with him a vast background in materials management and global strategic sourcing. He credits the company's success to its ability to adapt when the demand for coal cars diminished.
"We were able to change figuratively on the fly to design and start building a variety of other rail cars," he says, noting that its team also is critical. "The heart and soul of the company are the welders, fabricators, and assemblers that work pridefully and tirelessly to produce the cars at our facility in Cherokee, Ala."
Recently, FreightCar CEO Jim Meyer launched "Back to Basics," a strategy designed to make the company's work standardized, straightforward and simple. Simmons is following its direction with his supply chain team.
"We're getting back to basics to implement the foundational practices that are solid from a supply chain and business acumen standpoint," he says, adding that this includes visual management on its operations floor and material cost savings initiatives.
FreightCar also is proactively working with key suppliers to evaluate parts for cost savings through form, fit, and function. "We aim to be a centralized sourcing organization," Simmons says. "We're not going to buy from seven different suppliers for the same commodity. Strategic partnerships, through long-term agreements, are being developed with best-in-class suppliers."
Instead, the company is primarily narrowing it down to a chosen LTA supplier. "All of those things have allowed us to make our financials better and becoming a more profitable company," he says.
Adapting and Adjusting
FreightCar regularly copes with industry changes in the rail industry, which is known to be very cyclical. "Right now, it's somewhat static and not in an upward trend like we've seen in the past couple years," Simmons says.
But FreightCar is adjusting with the development of new products, including improved versions of previously released cars and entirely new ones. "We've got four new cars that we plan on presenting to the marketplace in 2019 and early 2020," he says.
The company expects customers will be eager "to order these, now that we've got the renewed capabilities to make a quality car," he says, adding that FreightCar already has orders for some of these products that they will start building in 2020.
Another trend FreightCar is coping with is the Trump Administration's tariffs on steel and other manufactured products from China. "It's made it more difficult to globally source," Simmons admits.
But FreightCar has offset some of the effects by continuing to aggressively research and source in all global low-cost regions, he says, adding that the company is looking at a variety of countries for weldments, castings, and fabrications.
For example, "The United States has not put any sanctions or tariffs on the likes of India, Mexico, or Vietnam," he says. "There's duties paid for products, but the tariffs aren't in place with these countries."
Wise Investments
FreightCar has invested strategically in its operations facility in Cherokee. Previously, "We had been subleasing it for some time from a major corporation," Simmons recalls. "We decided a very good strategic move was to execute a full-out lease."
Today, the facility, which is one-mile long, is home to its fabrication and painting departments, as well as four assembly lines. FreightCar also added new plasma machines and brake presses as well as saws and other fabrication equipment.
"You could call us one of the top fabrication sites in the Southeast with the magnitude of the equipment that we have in our fabrication department," he says. "You name it and we've got it in that shop. It makes for strong vertical integration."
FreightCar also has invested in upgrades to its ERP system, Oracle. Today, Simmons says, the company uses the ERP system with the Oracle Business Intelligence Enterprise Edition tool, which allows it to create reports from business data. "We've actually done very well with some very critical decisions just by having that data available to us," he says.
Better Days
Simmons sees a strong future ahead for FreightCar, which will find the company having a larger market share and developing more products. "There's even more better days to come for FreightCar based on the diligent efforts of our dedicated employees," he says.
"We have a very defined 'Back to Basic' theme and strategy," he states. "As long as we stay committed to that and remain diligent, we have a very strong 'now' and 'future'."