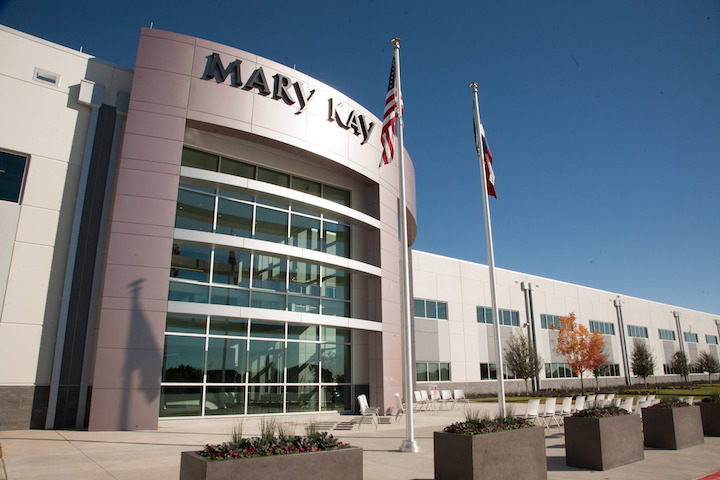 Mary Kay opens a new state-of-the-art manufacturing and R&D facility near Dallas.
By Kat Zeman, Senior Editor at Knighthouse Publishing
In order to accommodate its growing skin care and cosmetics empire, Mary Kay has opened a new manufacturing and research and development facility in Lewisville, Texas.
The global cosmetics company is shutting down its Regal Row facility in Dallas, which opened in 1969, and moving most of its operations under one roof at the new state-of-the-art facility. It expects to be completely moved in by end of this year.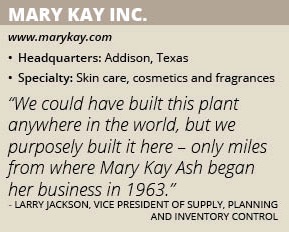 "We're really excited about our new facility – it's been 50 years in the making," says Jessica Crawford, director of inventory control. "It sets us up for furthering and improving our supply chain for the future and remaining competitive not only in direct sales but cosmetics around the world."
The 453,000-square-foot complex, which includes roughly 41,000 square feet of R&D space, will support the company's future needs in producing skin care, color cosmetics and fragrances for the millions of Mary Kay Independent Beauty Consultants in nearly 40 countries.
A Perfect Location
The criteria for selecting the new site included employee and logistical considerations, as well as proximity to the company's other North Texas facilities, including its global headquarters in Addison, a distribution center in Carrollton and a warehouse facility in Dallas.
"There was a lot of thought that went into the design and flow of the building," Crawford says. "It will be more flexible and efficient. Prior to last year, all supply chain functions were spread out in three facilities. This moves our supply chain function under one roof."
After looking at potential locations throughout North Texas, Mary Kay identified the city of Lewisville in Denton County as the perfect site of its new manufacturing and R&D facility. Located on a 26-acre plot of land, the facility is in the recreational and business hub of the Dallas-Fort Worth metroplex.
"We could have built this plant anywhere in the world, but we purposely built it here – only miles from where Mary Kay Ash began her business in 1963," says Larry Jackson, vice president of supply, planning and inventory control. We are proud of our legacy. It also shows our beauty consultants the commitment from the company. They know we are here for the long haul."
An Open Concept
Mary Kay is committed to the latest in technological innovation and its new manufacturing and R&D operations will be on the leading edge of design and production. It features new equipment, seven new processing kettles, state-of-the-art labs for production formulation, numerous packaging lines and an overall modern design.
"It's an open concept design," adds Jackson. "There are a lot of huddle rooms and meeting rooms and not many closed offices."
Sustainability is important to Mary Kay. In June, the facility was awarded LEED Silver certification, an honor bestowed on projects that are designed, constructed, maintained and operated using healthy, highly-efficient and sustainable practices. It also functions as a "zero waste to landfill" facility.
In addition, the new facility will help support Mary Kay's growing international business.
Future Focus
According to the company's website, Mary Kay Ash founded Mary Kay Cosmetics on Sept. 13, 1963, with her life savings of $5,000. Today, Mary Kay is one of the largest direct sellers of skin care and color cosmetics in the world.
It invests millions of dollars in research and development and conducts more than 500,000 tests each year to ensure Mary Kay products meet the highest standards of quality, safety and performance.
The new facility will help Mary Kay move into the future, stay innovative, recruit new talent and retail its current workforce. Although its manufacturing and R&D plant in Dallas was state-of-the-art for its time, that time has come to an end.
"It met the needs of the company for a long time," Jackson says. "But now we are in close to 40 markets. In the last decade, our international business has seen significant growth. This facility wasn't going to meet our needs of how we want to support Mary Kay in the next 50 years."
Mary Kay Inc. is a privately-owned, direct-selling company. According to Direct Selling News, it was the sixth largest network marketing company in the world in 2018.
"Our future focus, once we're all in the same facility, is to continue to refine our processes and consider emerging technologies and how to become even more streamlined. We're really excited about moving toward a more integrated as a supply chain."