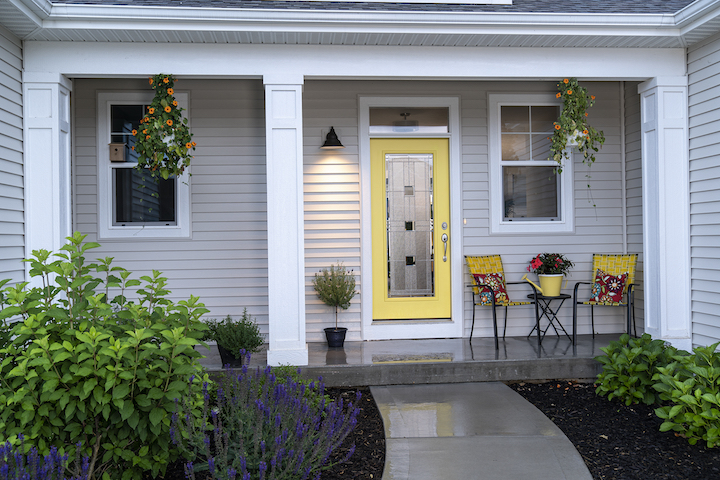 ODL is transforming its supply chain by investing in its people and ensuring the right tools are in place to offer its customers a seamless experience.
By Janice Hoppe-Spiers, Senior Editor at Knighthouse Publishing
Innovation is a mindset at ODL Inc.; one that is deeply rooted in the company's nearly 75-year history of "Building Value into Building Products." ODL has become the leader in decorative and clear doorglass and entry treatments by having the courage to disrupt current thinking and bring products to market that create enthusiasm among its customers.
In 1945, Cy Mulder founded ODL, which began as Ottawa Door Lights, from his home in Ottawa. The business eventually moved into a small building in Zeeland, Mich., where ODL is headquartered today. In the early 1960s, Mulder's son, Larry, took over leadership and changed the face of the company by expanding its reach outside Zeeland to other parts of the United States.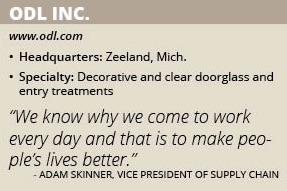 Today, Larry's son, Jeff, is at the helm and has expanded the company's sites in the United States, Canada, UK, China and Mexico, with distribution all over the world. For three generations, ODL has kept its sights on what is ahead and has taken opportunities to build the business and grow its product offering.
ODL offers products designed to build value in the home under the ODL, Blink Blinds + Glass, Western Reflections and Kenyon's Glass brands. Product offerings include decorative and clear doorglass, enclosed blinds, retractable screens, custom decorative glass for windows, doors and transoms, and doorglass frames.
"We have been around for a long time and there is a lot of trust in our quality products," Vice President of Supply Chain Adam Skinner says. "Our entire culture is about people and making their lives better."
In the spirit of continuous innovation, ODL in August introduced ZEEL™, the next advancement in doorglass frame offerings. A sleek, versatile frame designed to be stained or painted, ZEEL blends seamlessly into the entry door to allow doorglass to take center stage. The clean, low-profile look offers a stylish alternative to flush glazed doors while providing the benefits of a frame system.
"ZEEL is the result of extensive market research conducted by ODL that revealed a gap in the doorglass frame market and a need for a sleeker, more streamlined option," the company says. "To fill that void, ODL spent years developing ZEEL, a next generation doorglass frame designed for today's homeowners."
Transformative Journey
ODL's supply chain has transformed from a small shop where products were built by hand to a global supply chain that leverages the latest techniques and technologies to remain efficient. "It's fantastic to learn about the rich history of the company and how the supply chain has evolved," Skinner notes. "My favorite part about being in supply chain is that every day is a brand-new day. Supply chain is always changing."
Skinner joined ODL in June and has been tasked with transforming an already high-performing supply chain operation into one that continues to improve and becomes more efficient using the right tools moving forward. "I was really lucky to go through a transformation in my previous role before coming to ODL because you don't get to do a lot of those in your career," Skinner says. "It was a great learning experience about cultural and process changes, and using technology as an enabler to support the changes."
The first step in transforming ODL's supply chain is investing in the team. "It starts with taking care of people and giving them access to a new process or new solution that's out there," Skinner explains. "We can do that by training and getting smarter and better with sales and operation planning and tightening up the processes. You have to make sure people know you are invested in them and that we'll make it work and do great things together. Then the buy-in comes."
ODL's supply chain team wants to learn and get better, Skinner says. "Everyone is excited about it and I have not heard 'we have always done it this way,'" he says. "That's how ODL sets itself apart; it's a very people-oriented place to work with a great atmosphere. I came from the automotive industry, so everyone has been eager to teach me the terminology and the way the business runs. The entire culture is about people."
The most important piece of corporate communication at ODL is explaining the why. "We know why we come to work every day and that is to make people's lives better," Skinner explains. "That's a powerful reason to get up and come to work, and sets us apart as an employer and as someone you want to work with."
As ODL continues on its supply chain transformation journey, Skinner says if everything is done right, no one should notice. "Suppliers will get better visibility into what we need to do and when, and our customers will know they can rely on our parts continuing to show up when they need it," he explains. "Behind the scenes, our team will feel valued and we will have moved the needle in the management of supply chain in terms of how we react and respond for disruptions. All our customers and suppliers will know is that this is a really good team."