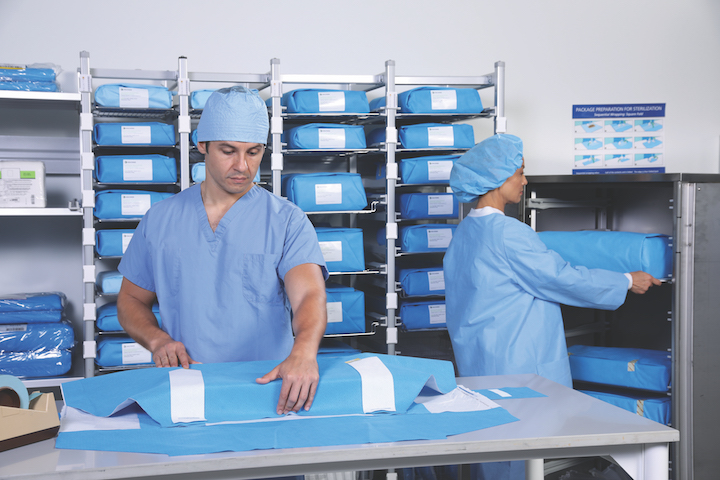 Owens & Minor helps customers reduce costs and improve patient outcomes.
By Mark Lawton, Senior Editor at Knighthouse Publishing
There are manufacturers that distribute their own products. And then there is Owens & Minor (O&M), which is transitioning from being a traditional distributor to a true end to end-service provider across the full continuum of healthcare.
O&M distributes nearly 200,000 medical products to customers ranging from acute care to ambulatory surgery centers to home healthcare. It is a global company with distribution sites across the United States. But O&M also provides technology-based services and solutions as well as home healthcare.
The company competes against both major companies and a host of smaller ones. "It's a super-competitive market," says Mark Zacur, senior vice president and chief procurement officer.
Zacur started at O&M in June. He previously headed Fisher Healthcare, and before that, led technical procurement in the Americas for Bayer Corp.
Zacur explains that O&M's focus goes beyond manufacturing and distributing products. "O&M has a unique understanding of the end-to-end continuum of care that comes from being in business for over 130 years," he says. "That knowledge serves as our foundation to engage with customers to help improve patient outcomes and reduce costs."
O&M's mission is important to healthcare providers today. Zacur explains that hospitals in particular are constantly under financial pressure. O&M leverages technology and data to drive out costs wherever possible.
Because O&M is positioned in the middle of the flow of goods, funds and information, it is able to provide actionable information and analysis that improves efficiency and lowers costs. "One example of this type of offering is QSightSM, which is our end-to-end perpetual inventory management system," Zacur says. "QSight provides total inventory control and transparency, which lets our healthcare customers focus on patient outcomes instead of worrying about pricing accuracy and inventory management."
Actionable data is especially useful for large, multi-faceted healthcare systems where ordering might not be centralized. "Many do not know the details of what they purchase," Zacur says. "O&M can assist with product and procedure standardization that helps cut costs and reduce waste."
Cutting costs for clients requires O&M to be flexible, particularly when it comes to deliveries. Most hospitals, for example, have very little storage space, Zacur says. That requires doing just-in-time deliveries. "It's really very precise and leaves little room for error," he says. "You have to know your delivery window and how to get the product to the exact point of use."
With distribution centers across the United States and logistics expertise, O&M can accept orders late in the day, all while still delivering the next morning. O&M believes that customers (and their patients) deserve the products that best fit their needs, regardless of brand; and Zacur says it offers the most extensive range of products in the industry. The company will also deliver less than truckload quantities to a hospital's clinics and smaller alternate care sites.
Being a distributor of medical products also requires staying ahead of needs. The distribution team at O&M worked through the first weekend of September to supply hospitals and medical facilities in the southeast United States that were in the projected path of Hurricane Dorian. On an ongoing basis, the company also works closely with customers to understand what is happening in the marketplace so O&M can stay ahead of their needs.
O&M seeks employees who have a passion for serving not only healthcare customers but ultimately the actual patient. "It's not just a customer," Zacur says. "It could be a family member [who uses the O&M product]. We can't afford to have a single component missing from that surgical kit or have a late delivery. There is a super-intense customer focus."
There are also multiple checks on products – when being picked off a shelf, before tape is put on a box and before the door closes on a delivery truck.
Reducing Costs
O&M consolidated much of its customer service personnel into its Richmond, Va., location in 2018. That included personnel who handled accounts payable, account receivables, invoicing and rebates. "We deal with a lot of pricing complexity in our industry," Zacur says. "Now customer service representatives can work through customer inquiries with colleagues in person and provide clear resolution in a matter of minutes."
For his peers in medical supply distribution, Zacur recommends that they "lead with humility but also with a higher purpose. Everything we do is about the patient. It's about keeping that higher purpose in front of you every day."
For the future, Zacur would like to work more closely with the suppliers of O&M so they can mutually figure out how to reduce costs for the customers. "We have really strong supplier relationships, but I think we can get a lot tighter operationally and get products to the market to help the customer and the patients faster and more efficiently," he says. "One example is our partnership with B. Braun – they are a leading provider of innovative medical products and we are constantly working together to solve challenges for our mutual customers."
Zacur would also like to take greater advantage of O&M data – thousands of transactions per day – to help its customers drive down costs. Ultimately, Zacur remains focused on better patient outcomes. "Our success helps our customers help their patients," says Zacur. "That's the driving force behind every decision we make."