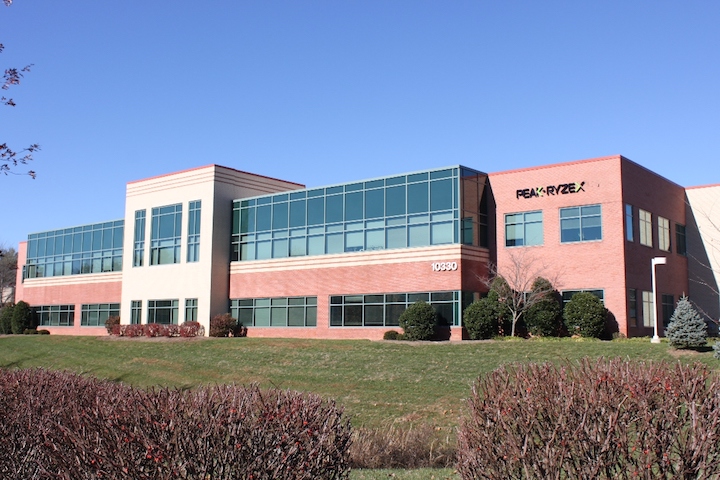 Peak-Ryzex Inc. solves the most complex enterprise supply chain challenges by empowering mobile workforces with best of breed technologies.
By Janice Hoppe-Spiers, Senior Editor at Knighthouse Publishing
As the demand for real-time data, transparency, optimization and mobility increases among enterprises today, Peak-Ryzex helps performance-driven companies leverage mobile technologies to their advantage as a single end-to-end solutions provider. "Our focus every day as a 500-person strong multinational firm and what we are really passionate about is enterprise solutions for a more digitally connected supply chain and mobile workforce," President and CEO Juliann Larimer says.
Peak-Ryzex was born out of Peak Technologies' acquisition of Ryzex in 2011. The organization went through a major transformation that included expanding resources, increasing its solutions offering, strengthening the geographic presence and merging back-end business operations and processes through SAP and other systems to become one Peak-Ryzex.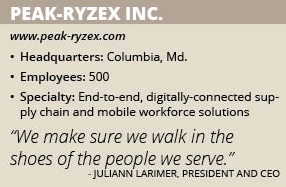 Peak Technologies was incorporated in 1981 during the heart of the bar code revolution. From 2012 to today, Peak-Ryzex has been focused on expanding its solutions and services portfolio and building customer value. The company's last two acquisitions, Manage Mobility and M-Netics, have dramatically increased the company's software and services capabilities. "Our managed mobility services portfolio enables enterprises to manage their mobile workers, devices, applications and wireless carriers through a cloud-based management service, leading to increased levels of operational efficiencies and employee productivity," the company says.
Today, Peak-Ryzex serves more than 60 percent of the Fortune 1,000 customers in domain expertise in supply chain technology. "Whether that's helping a pharmaceutical company design a complex label required to comply with new regulations and safety requirements to helping them manage and maintain the assets that are enabling their digital supply chain," Larimer explains. "These are services-led offers that we can take to a customer and ask, 'What is it that you are trying to do?' We then show them examples of how we can help them achieve their goals through our ecosystem of software, hardware, services and other integration partners to augment the skills we have in-house."
Transforming Supply Chains
As a solutions provider helping customers transition to digital and mobile environments, Peak-Ryzex embeds itself into its customers' processes whenever possible to better understand their pain points and offer solutions to optimize their performance. For example, as part of a recent mobility project, Peak-Ryzex team members road along with drivers on various routes to better understand the transportation and logistics company's daily work environment and process.
Where on-site evaluations are not possible, Peak-Ryzex captures the customer's voice in a methodical way and plays back what they hear to see if it resonates. "We make sure we walk in the shoes of the people we serve," Larimer says. "We ask ourselves, 'how can we make sure the mission-critical applications we are delivering provide a consistent experience for those end-users?"
Larimer says she personally spends a lot of time with customers to learn about what is on their minds. Some of the themes she has found in North America are around concerns with today's tight labor market and how to use technology to augment places where putting a person in place may be hard. Or, if there is a person in place, designing a solution that they can pick up and go. "Part of that is Windows to Android migration in mobile computing," she explains. "With a dynamic workforce, not everyone has worked on a greenscreen or knows what a function key is, but everyone has a smartphone. One of the key areas is thinking through the people challenge in a tight labor market and the evolving workforce."
The second customer trend Peak-Ryzex hears a lot about is offering a differentiated customer experience. The company's customers want to make sure they are putting together a frictionless customer experience or at a minimum are differentiated from the competition. Peak-Ryzex is working with a rental company to do just that and partnered with a biometrics solution provider, which uses a person's face or fingerprints as identification.
"In this example, the rental company uses facial recognition and RFID systems to connect the person with the rental asset, and the contract all together with no human touch," Larimer explains. "It creates efficiency for the company and is a much better customer experience than a paper-based process. We love helping customers create differentiated experiences in today's market whether it is a brainstorming session on the art of the possible all the way through designing, deploying and supporting that solution."
Peak-Ryzex has expanded upon this idea and solution with its customers in the transportation and logistics space. "One of the things they struggle with is not being the low-cost provider," Larimer explains. "They are creating vertically integrated supply chains as an offer. Take subscription boxes, for example, that are monthly curated content. One logistics supply chain company started to find customers like that and rather than simply ship the boxes, they are becoming more vertically integrated by packing the contents and coordinating with their customers' social media programs to drive more demand."
"It's so exciting when talking to our customers because everyone is thinking differently," Larimer says. "We are seeing lanes being broken down all day by our customers who are looking to get further embedded into their customer's worlds and create new value."
Fully Invested
To remain one of the top enterprise solutions providers, Peak-Ryzex is making investments across many dimensions, Larimer says. "As our customers come with new, complex business challenges, we have invested in large scale program management and experienced project managers who specialize in this," she adds. "We recently brought several new hires onboard who have had large-scale operational responsibility at some of the world's largest retail, telecom and ecommerce companies. We are also finding new ways to invest in our existing employees because we are very proud of the capability, loyalty, and tenure of our workforce. We hear from our customers that it's our people making the difference, so we are augmenting existing skills through internal investments and bringing in external skills where it makes sense."
The company also recently doubled the space at its facility in Alpharetta, Ga., which was driven by customer wins and anticipation of future needs. In addition, Peak-Ryzex is also investing in creating new partnerships across the supply chain ecosystem. Chief Marketing Officer Tim Wills' team is vetting software applications and the companies that Peak-Ryzex is considering partnerships with.
Two recent examples of partnerships the company has brought to its customer base include a specialized software company that provides a complete safety, productivity and compliance solution in the transportation and logistics space and an industrial IoT company serving top global manufacturers. "We are always scanning the market for emerging technologies because our customers expect us to bring best of breed solutions to them," Larimer says.
Peak-Ryzex is careful to avoid "one and done" projects by conducting thorough external research and developing great partnerships. "Because of our strong partnerships with major OEMs and distributors, we are able to leverage their market research and technical resources, that we combine with our market and customer knowledge to determine how to solve a specific challenge," Larimer explains. "We approach new technology and partnerships as a process to ensure we are driving the most value for customers and those partners."
As the supply chain continues to evolve, Peak-Ryzex is keeping automation, robotics, artificial intelligence, blockchain and advanced analytics top of mind. "We want to offer our customers the ability to automate and do so in a way that gives them peace of mind," Larimer notes. "Whether that's providing digital supply chain solutions, leveraging barcoding or RFID, or next generation supply chain technologies, our customers can count on us."