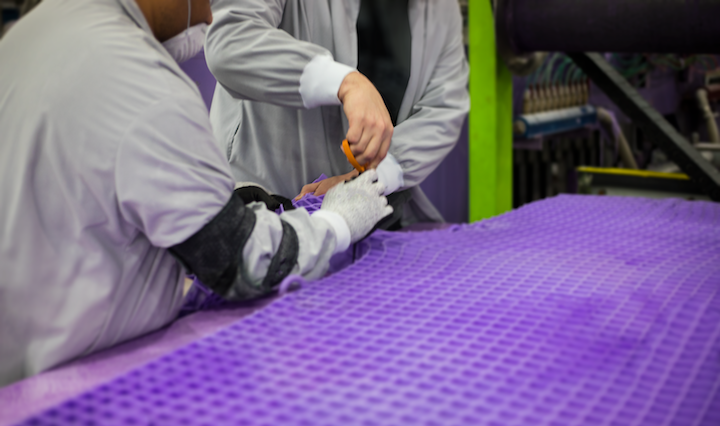 Purple grew its capabilities by enhancing its supply chain infrastructure.
By Alan Dorich, Senior Editor at Knighthouse Publishing
When a company establishes itself as one of the leaders in its niche, it needs the right supply chain infrastructure to ensure it stays ahead of the competition. One of the top brands in the bed-in-a-box space, Purple, recently added that to its operations.
"That's really what I'm proud of when I go out into our facility," Vice President of Supply Chain Mike Schultz declares. "[I get to] see how functional it is."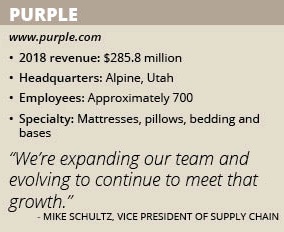 Based in Alpine, Utah, Purple manufactures mattresses, pillows, bedding and bases. Founders and brothers Tony and Terry Pearce started the company four years ago, bringing their engineering expertise to the mattress industry.
Previously, Tony Pearce gained experience working with advanced aerospace materials, while Terry Pearce held manufacturing, design and project management roles. In 1996, the two invented Hyper-Elastic Polymer, a soft yet strong material that can stretch up to 15 times its original resting size.
In 2013, the Pearces used the polymer to create The Purple Grid for the inside of their mattresses. The technology is flexible to fold as needed, but can return to its original form, unlike memory foam.
Schultz, who also personally uses the company's product, notes that it also provides the essential combination of comfort and support. "I sleep on my side," he says. "It cradles pressure points and it supports the rest of my body."
Today, Purple stands as one of the fastest growing brands in its space. "We are definitely a top player in the bed-in-the-box sector," Director of Communications Savannah Hobbs says, adding that the company has earned awards for its work.
These include being named the Utah Manufacturer of the Year in 2018, as well as being ranked as one of the fastest growing companies in its state for three years in a row. Purple also appeared in the film "Ralph Breaks the Internet" and had an award-winning marketing campaign featuring comedians Tim Heidecker and Eric Wareheim. "They were really fun to work with," Hobbs adds.
Making Accommodations
Schultz joined Purple in January 2018 after gaining experience in the furniture, sports and outdoors sectors. When he started, "We were at $200 million in annual revenue," he recalls. "We had a lot of hyper growth and not a lot of infrastructure to support that."
Under his leadership, the company adjusted by implementing a full warehouse operation. "We also entered nearly 1,400 wholesale stores," Schultz says, noting that these include retailers such as Mattress Firm, Macy's and Furniture Row.
"Those are our three largest wholesale partners," he says, adding that the company has started to consider a strategy of opening its own brick-and-mortar showrooms, which currently includes a factory outlet store in Salt Lake City, Utah.
But another step for the company was adding white glove delivery to its operations. "That was a departure in our supply chain," he admits. "Before that, everything went right off into the production line into a FedEx trailer."
When Purple started the process, it began increasing its capacity and began forward stocking inventory. It also conducted research on the strengths and weaknesses of white glove delivery, as well as customer expectations.
During this process, Schultz personally visited a home delivery trade show and interviewed providers. "I started thinking of different strategies at the time," he says, noting that one area where Purple had to evolve its strategy involved the weight of its products.
At the time, the company found that it was producing mattresses that were too heavy for its preferred partner, FedEx, to deliver. "If it's 150 pounds, they will take it," he says.
However, if the weight of a package went over that limit, the carrier sent it back. When Schultz conducted tests with different delivery partners, he discovered that white glove delivery services could be just as fast as regular delivery services.
"We onboarded two providers and a hybrid model for white glove," he recalls, noting that this included consolidating the inventory of seven of its locations into two facilities in Salt Lake City and Columbus, Ohio.
Those locations now handle all orders that weigh more than 150 pounds and can reach anywhere in the lower 48 states. In addition, by consolidating, "We brought our footprint down to less than a quarter of what it was," he says.
Its facility in Utah, he adds, fulfills orders that weigh 150 pounds or less. With this structure, "We're able to get everywhere fairly quickly without hampering or increasing our delivery times," he says.
"We also were able to use our FedEx contract to reduce freight cost," he says, noting that the company also has reduced its damaged and lost product rate. "That's how we changed our supply chain to accommodate white glove."
Essential Suppliers
Purple places a strong focus on how it works with its vendors. "A lot of our suppliers are used to us and we've had a lot of long-term relationships with them," Schultz says, noting that the firm strives to be transparent.
It also looks for vendors who are stronger than Purple in some areas. Although it focuses on continuous improvement, "We want to work with someone who is better than us," he says, noting that this has included hiring one vendor to build an essential mattress component.
With the firm's location 45 minutes from its main production facility, "We decided we were going to let go of doing that ourselves because we weren't special at it," Schultz says. "We let them take 100 percent of it, while making The Purple Grid is our secret sauce."
An Impressive Feat
Schultz is proud of Purple and how far it has come under his tenure. "Onboarding infrastructure to support being publicly traded and maintain and improve performance in the company was a feat in of itself," he says.
"We did that very quickly," he says, noting that the company managed this while also maintaining 50 percent growth. "I'm pretty proud of that."
Looking forward, Schultz says, Purple has no plans to slow down. "As they say, you're only as good as you are today," he says, noting that Purple plans for more growth. "We're expanding our team and evolving to continue to meet that growth."