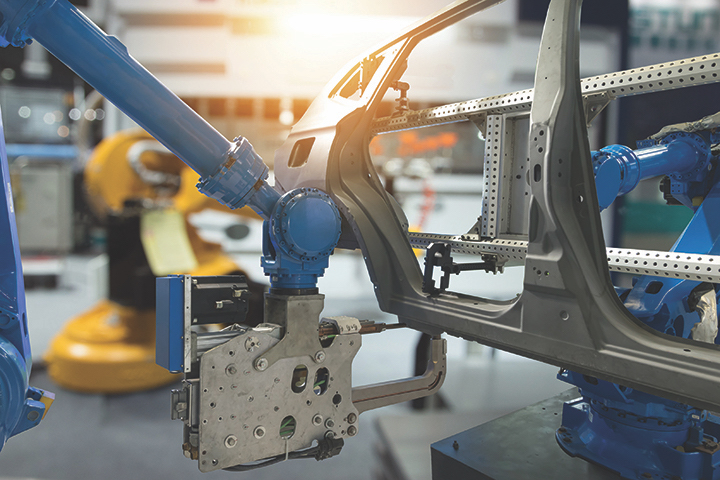 Converging trends in the U.S. auto industry create an opportunity for innovative logistics services.
By Sam Moses
In the automotive industry, several evolving trends are coalescing to create more opportunities in the United States for innovative transportation and logistics companies. It all starts with the biggest fish in the automotive pond: global original equipment manufacturers (OEMs) now have a massive American footprint.
"The OEMs have entered the market and created these huge factories to build cars," says Robert Just, Rudolph Logistics' senior vice president for the Automotive Sector. "And by force of economics, being closer, being more reliable, being less dependent on unforeseen external factors, a lot of their suppliers have and continue to open their plants very close – or in the vicinity at least – to their OEM, Tier 1 or Tier 2 end customers."
Many of the downstream automotive industry suppliers have traditionally operated overseas, depending on an export-only model to the United States. That worked when automotive retail customers were less used to customization and were tolerant of foreign made luxury cars with customized features that would commonly require delivery wait periods sometimes equal to six or more months. This was an acceptable sacrifice to purchase a car exactly way they wanted it.
In light of the growth of customer-driven customization, high demands for quick delivery and OEM's reaction to substantial competition in the American car market, OEMs have consequently adopted over the years various aggressive production methodologies and supply chain restructuring, including just-in-sequence production. These changes have resulted in OEMs pushing for more local supply, in addition to redundancy in their supply chains – they cannot wait for downstream suppliers with a plant in Europe or Asia to not only make the part, but then get it on a ship and across the ocean with such shortened end user delivery expectations.
The current trade climate is another piece of this puzzle driving the evolution of the innovations in the automotive logistics supply chain. OEMs face growing uncertainty about whether products being imported into the United States will be subject to increased tariffs, resulting in unanticipated price increases of the parts and components they need.
Although that has certainly added urgency to the push for downstream suppliers to enter the United States, price instability is a factor even in a peaceful, clear trade climate because of the variability of exchange rates and unanticipated price changes in global demand for critical commodities, such as steel and aluminum. By increasing production of parts and components in the same market as the OEM's facility, price volatility can be mitigated.
The last trend at play is the rapidly increasing complexity of the automotive supply chain. OEMs are producing a greater variety of car models, and as that variety increases, the components and technologies within each model are becoming more and more customized based on the features customers demand. As a result, there is now a much larger pool of suppliers, including niche suppliers, providing the product inputs needed by the OEMs.
All those trends continue to create opportunities in the United States for transportation and logistics companies. As the localization of production becomes more and more critical, there is greater demand for more sophisticated transportation and logistics solutions provided by the international logistics industry. The more local production you have, the more logistics services you need.
Rudolph Logistics saw this playing out in the automotive industry and capitalized on it. "Everybody was very good at what they were doing, and the missing link to it was logistics," Just says. "They all need somebody not just to transport the goods to the customer – that's easy, right? – but also to supply them with the added value along the supply chain in terms of sequencing, smart warehousing, and ensuring their goods appear at the front door of the end customer's factory at the right time, in the right quality, and in the right volume."
Rudolph opened its first U.S. facility about two years ago in South Carolina, an important automotive location within the American market, hosting BMW's largest global manufacturing facility as well as other OEMs such as Volvo and Mercedes Vans. Just says the opportunity today is still "huge."
"The business climate is extremely positive based on what we've experienced firsthand in the Southeastern United States, specifically, South Carolina," he says. "The demand is there because more and more factories are opening up."
As logistics companies consider opening a U.S. facility or expanding their American footprint, there are a variety of factors to work through. First and foremost, what's the cost of doing business in the areas under consideration? Are there reasonably priced real estate options for facilities? How attractive are the freight costs? How close would the facility be to an inland port and are there plans to expand or create one? How big is the footprint of Tier 1 and Tier 2 suppliers, and are there more looking to move there?
Experienced site selection and economic development firms can support logistics companies to sort through those factors and identify what assets are needed so that they can deliver the most competitive and cost-effective solutions to their automotive production clients. Just says the legal counsel a logistics company chooses in entering a new market is also "highly important."
"The legal environment is very different, so you need a well-informed legal advisor that not only provides legal advice but understands the automotive sector. We were very fortunate to be introduced to attorneys who helped guide us and always acted in our best interest in the local environment," he says. "They were extremely helpful in translating legal rules and regulations into a practical language that we could understand since we were new to the U.S. market. They gave us advice on strategies to approach things legally and practically in line with our business strategy, in other words, providing us advice that we would like to refer to as 'what's normal.'"
As international transportation and logistics firms become more engaged in the U.S. automotive sector as a result of the evolving trends in the American automotive market, understanding the business and legal implications are a key part of the equation.
Sam Moses co-leads Parker Poe's Manufacturing & Distribution Industry Team. He is an attorney with more than 20 years of experience in international business expansion, site selection and economic development throughout the United States. Sam can be reached at sammoses@parkerpoe.com.