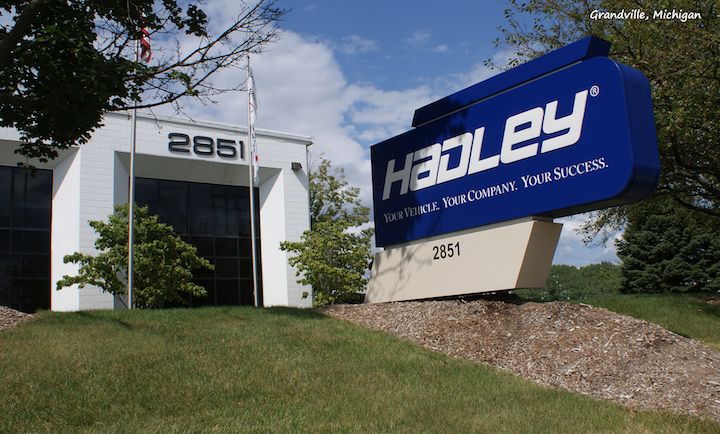 Hadley is taking a holistic look at its supply chain while focusing on flexibility and responsiveness.
By Mark Lawton, Senior Editor at Knighthouse Publishing
Hadley is a Tier I supplier of mirrors, air horns and valves used for height control. The company sells to truck manufacturers such as Peterbilt, Volvo, Mack, Freightliner and Western Star, as well as to their aftermarket dealers.
Hadley has an enviable penetration rate of the truck market. "Whenever you see a truck going down the road, we have [at least] one of our products on every heavy truck," Vice President of Supply Chain Brandon Goodyke says.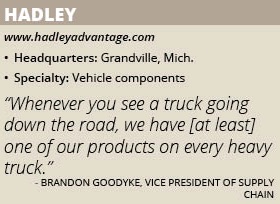 The company has three to four key competitors. Goodyke says Hadley sets itself apart by manufacturing high-quality parts at competitive prices delivered to customers when they need them.
Goodyke, previously of Amway, joined Hadley in June along with a new vice president of engineering and a vice president of operations as part of a reorganization of the company's senior leadership team. Goodyke and his team work with approximately 125 suppliers from around the globe and manage 4,000 parts.
Since joining the company, Goodyke's No. 1 challenge is tariff avoidance. "It is an important part of our cost structure and an additional 30 percent charge into the supply chain," Goodyke says. "We are trying to avoid that or minimize it wherever possible. We need to keep our costs in line to be successful."
Related to that, Hadley is taking a holistic look at its supply chain ranging from where items are manufactured, where they are purchased and where customers need them. "Instead of just looking at cost, we want to look at everything," Goodyke says. "It's not just the cost of the part, it is inventory, response times to changes in demand, the freight costs that we pay to move things around the world."
This exercise could involve changing or adding suppliers. One of Hadley's suppliers, for example, gets parts from China. The supplier also has a source in the Philippines. While it is a lot of work for both Hadley and its supplier to add a new source – involving documentation, validation and inspections – it can be advantageous in the long run from a tariff perspective. "As the macroeconomics change, instead of one pedal, we have two pedals we can press on or pull back on to optimize the supply chain," Goodyke says.
Taking a holistic look at supply chain is something a lot of companies need to do, Goodyke suggests. "Many organizations make decisions based only on cost that hurt the organization in the long run," he says. "You also have to make decisions based on flexibility and responsiveness, where are the customers, where are the suppliers and where are we moving the product so that we can optimize that."
As a supplier to the heavy truck industry, optimizing the supply chain is important for the long term. "New truck redesigns don't launch every year so we have to support a platform for a considerable amount of time," Goodyke says. "At the same time, we must be ready to take steps today so we can be ready three, five or 10 years from now so that we have new products available for our customers. Then, of course, we have to build the supply chain behind that to become as efficient and responsive as possible."
Those changes in new truck designs are likely to take aerodynamics into consideration, Goodyke notes. "Every bit of miles-per-gallons they can save is significant," he says.
Reinventing Itself
Hadley was founded in 1945 by Harold Hadley in Toledo, Ohio. Hadley developed a Freon-powered dual trumpet horn for boats. Over the years, Hadley expanded to the automotive and trucking industries and in the 1950s purchased a mirror manufacturing business. In the 1970s, Hadley combined with two other companies near Grand Rapids, Mich.
In 2003, the company designed and developed an electronic height control system for commercial vehicles. Today, the company has a manufacturing facility in the Netherlands.
Beyond strategic analysis of the supply chain and consideration of tariffs, Goodyke is working with his team to improve the company's supplier scorecard. The scorecard is used to measure such aspects of supplier performance as delivery, quality and invoicing accuracy.
The supply chain team is analyzing its supplier score card with the aim of "taking it to the next level," Goodyke says. Hadley also plans to move to a newer ERP system during the next two years that will allow for real-time visibility in its back office functions.
The company is willing to take on other challenges. During the last year, Hadley took over production of a new mirror from an underperforming supplier. It wasn't easy. "We had to collaborate with the customer and with the previous supplier to effectively execute the technology transition," Goodyke says. The company was successful. "We received high marks from the customer about how it was handled and delivered."
Goodyke is proud of Hadley's almost 75 years in business, its culture of collaboration and its open and upfront communication. He also looks forward to change. "We are trying to apply best practices of a globally sourced supply chain and using data to support decisions in a way we haven't always done in the past," Goodyke says. "We are an established business that is trying to reinvent itself and prepare for the future."