Legrand, North and Central America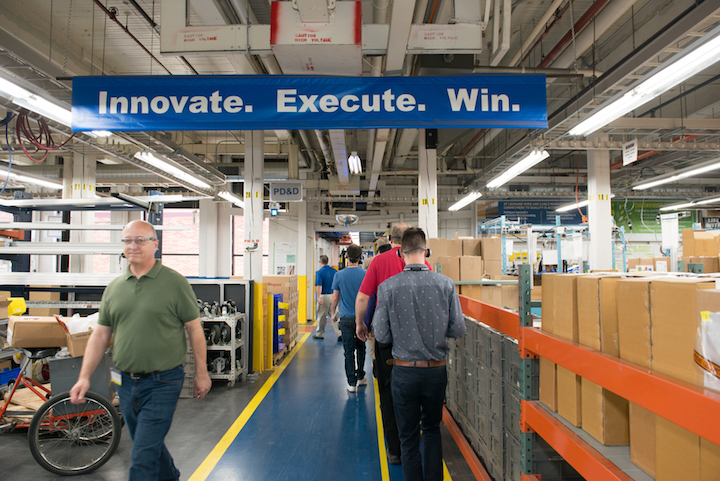 Legrand, North and Central America supports contractors and designers with innovative products that exceed goals.
By Staci Davidson, Senior Editor at Knighthouse Publishing
When innovation and sustainability are a company's key initiatives, procurement has to play a large role in supporting the effort to ensure the goals are achieved. Legrand, North and Central America has achieved these goals, becoming the global specialist in electrical and digital building infrastructures with a comprehensive offering of solutions for use in commercial, industrial and residential markets. Sustainability and innovation, however, are ongoing objectives for Legrand, and procurement is key for the operation to remain on track.
"Product innovation is one of our strengths, and we are dedicated to sourcing materials and designing products that support our sustainability goals," says Alan Byrne, director of indirect strategic sourcing and purchasing. "Our products are selected for use within green building projects all around the world and they are used to achieve a variety of high-performance objectives ranging from energy efficiency and building operations management to increased knowledge about the makeup of the products used in construction. We believe it is important to help our customers meet these objectives. That's why we are proud to offer products that improve the building operations and those that provide specifiers with insights into the product's environmental impacts."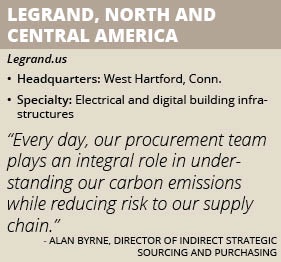 Much of Legrand's innovation is driven by its development of connected devices and IoT initiatives. At this level, technology is constantly evolving and advancing, which supports Legrand's innovation goals, but it can be difficult to remain sustainable with the materials used. To stay mindful of the environmental impact of its products, Legrand works closely with its supply base. This keeps the company's products transparent and ensures Legrand continues to comply with customers' changing needs.
"We have an external-facing policy that sets expectations with our suppliers, and this policy is kept current and adjusted as laws, regulations and market expectations change," Byrne explains. "We take steps to ensure compliance with our policy, through data collection campaigns that go out to our suppliers. They are asked to respond to survey questions about the materials, components and products that they supply, and we work to ensure that their responses provide the confidence that we seek to demonstrate that they are complying with the applicable legal and market requirements.
"Our product and engineering groups use our supply chain information to help inform the creation of Environmental Product Declarations, or EPDs, which more and more customers are asking for," he says. "Creating an Environmental Product Declaration, which in our specific industry is also called a Product Environmental Profile, or PEP, involves a thorough review of a product's lifecycle and produces a report summarizing its associated environmental impacts. We're also in the process of developing Health Product Declarations [HPDs], which disclose the product's contents along with the potential human and environmental health hazards of those contents. HPDs help architects and engineers make informed decisions about the types of products to use in a project. Our sourcing team is instrumental in the overall effort to gather this foundational data."
A Leadership Role
Compliance is a critical aspect of Legrand's goals, but the company also has to adapt as it grows. Legrand has doubled in size over the past five years through acquisitions, which requires assimilation, education and organization to ensure the newly acquired companies align with Legrand's compliance expectations. Technology helps Byrne and his team manage this challenge.
"We collect all of the data from their Enterprise Resource Planning, or ERP, systems and put it into our tool so they can begin requesting information from their suppliers," he explains. "We also explain our approach and the reasoning behind it to help new acquisitions begin to embed our best practices into their efforts. It is not always easy, but we've developed an onboarding process to make it easier for everyone to be included in our programs."
With its focus on innovation and sustainability, Legrand is well-positioned to be involved in LEED projects, helping contractors and designers achieve highly-rated sustainable buildings and homes. In fact, last year, Legrand certified its Connecticut headquarters site to the LEED standard, and used many of its products to achieve the points required in the certification system.
As part of the effort, the company invested in a fuel cell to aid with powering its nearly-100 year old facility, aiding in its quest to achieve net-zero emissions.
"Every day, our procurement team plays an integral role in understanding our carbon emissions while reducing risk to our supply chain," Byrne says. "It's amazing how much the procurement industry has evolved to understand how the supply chain is connected to our ecosystems. Leading companies like Legrand are embracing the knowledge that understanding true supply chain risks and life cycle costs requires that we look beyond the price on a page to incorporate in environmental impacts, labor volatility, resource constraints and more. I am excited to continue our work on this topic and to see how our products improve."