MasterCraft Boat Holdings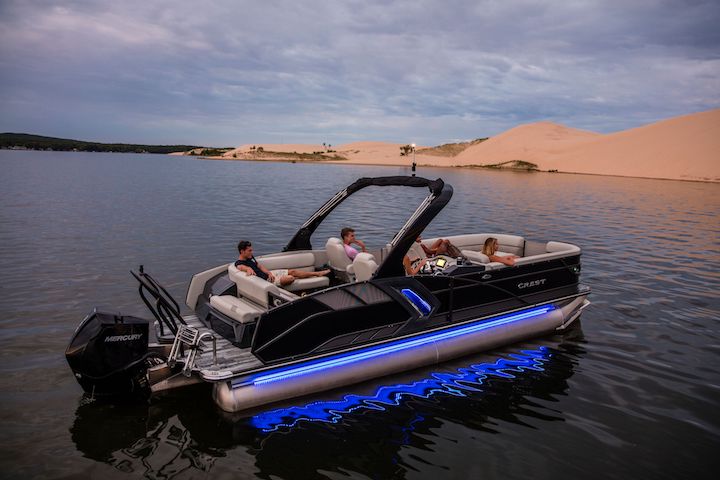 MasterCraft Boat Holdings plans to improve its supply chain as it continues to grow.
By Mark Lawton, Senior Editor at Knighthouse Publishing
MasterCraft Boat Holdings is the largest manufacturer of inboard ski, wakeboard and luxury performance powerboats in the world. More than 130 dealers sell its boats around the globe.
The company was founded in 1968 in a two-stall horse barn on a farm in Maryville, Tenn., and during its first year produced 12 boats. Today, MasterCraft is located in Vonore, Tenn., about one hour southwest of Knoxville, and manufactures thousands of boats each year.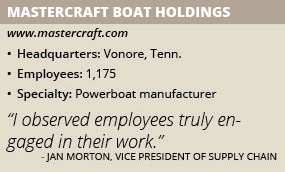 The competition is both fragmented and fierce, says Jan Morton, vice president of supply chain, with large OEM, low-volume builders and small independent producers all vying for market share. MasterCraft competes against them based on its name recognition, price, performance and innovative features and design.
"We have an excellent group of engineers and designers," Morton says. "The new product development process is quite intensive and thorough."
Over the past five years, MasterCraft has revamped its 12 models. The DockStar steering system has more precise steering while reversing, for example, making it easier to move around tight spots like docks.
In February, the company introduced a new brand called Aviara, a luxury recreational day boat with European styling and American engineering that comes in lengths of 32, 36 and 40 feet.
MasterCraft is highly vertically integrated and, where it makes sense, plans to become even more vertically integrated. "We are constantly reviewing potentials for vertical integration in efforts to better control our costs, quality and delivery," Morton says. As an example, MasterCraft currently produces all upholstery in house and builds all trailers in house.
Supply Chain Plans
The supply chain team at MasterCraft works with approximately 200 suppliers that provide components and raw materials including resins, fiberglass, vinyl, engines, electronic controls, billet aluminum and custom components. The company maintains long-term contracts with preferred suppliers.
Morton is a 35-year veteran of the marine industry who began her career as a boat laminator and worked her way up through materials, operations management, purchasing and strategic sourcing. She joined MasterCraft in July, at a time when the company was digesting two major acquisitions.
In 2017, the company acquired NauticStar of Amory, Miss., a manufacturer of bay boats, deck boats and offshore center consoles. In late 2018, MasterCraft bought Crest Marine of Owosso, Mich., a pontoon manufacturer.
With the two acquisitions and the introduction of the Aviara brand, part of Morton's responsibilities will be to standardize the supply chain across the company.
"My vision is that MasterCraft Boat Holdings companies' supply chain will operate efficiently and effectively, will drive continuous improvement, be disciplined with process, and will exceed company expectations by delivering superior quality, cost and delivery to support our business," Morton says. "I will collaborate with the collective MasterCraft Boat Holdings group to develop and implement supply chain processes, mitigate supply chain risk and leverage our collective materials expenditure to further improve our position in the market place."
The challenge of containing costs has taken three permutations. First are trade tariffs. "We have begun looking for alternatives," Morton says. We are challenging our suppliers to bring us alternative ideas for components and materials as well as challenging the suppliers to develop alternative qualified sources in countries where trade tariffs do not exist."
A second challenge to containing costs is the strike at General Motors, which was one month old at time of publication. MasterCraft might be faced with a shortage of engine blocks. "MasterCraft is collaborating closely with our engine supplier and developing strategies to mitigate risk," Morton says.
She adds, "Our CEO, Terry McNew, reminds us that not everyone needs a boat," Morton says. "As a supply chain organization, it is largely our responsibility to ensure that our product is competitively priced in the marketplace by sourcing the best total cost innovative components and materials."
Finally, the wet weather of spring 2019 contributed to a softening market. "Early spring is the general timeframe that people consider their boat purchase," Morton says. "It was a long, rainy, flood-filled season which we feel did slightly impact many builders retail sales."
In addition to cost containment and standardizing processes across the supply chain, Morton and her team focus on improving supplier quality and performance. MasterCraft uses a supplier scorecard to monitor the performance of key suppliers. "We take into consideration annual spend, component and material criticality and supply chain risk to determine which suppliers we select to monitor for performance improvement," Morton says.
Honored Company
MasterCraft is certified to ISO 9001 quality management systems, ISO 14001 environmental management systems and ISO 18001 international occupational health and safety management systems. The company offers a "stem-to-stern" five-year warranty.
Morton is proud of the 1,175 employees at MasterCraft, a pride that developed during her first walk-through on the manufacturing floor in January. "I observed employees truly engaged in their work," Morton says. "They were hustling, and it was evident they took pride in attention to detail and quality of their work. It was also evident that the employees were proud of the company they work for as many were wearing MasterCraft apparel. The facility was extremely clean and organized and it was clear to me that the employees embrace 5S methodology."
In 2016, the Manufacturing Institute honored MasterCraft as the best manufacturing plant in North America, the only boat manufacturer to be so honored. In fiscal year 2019, the company implemented more than 24,000 ideas from its employees, the company says.