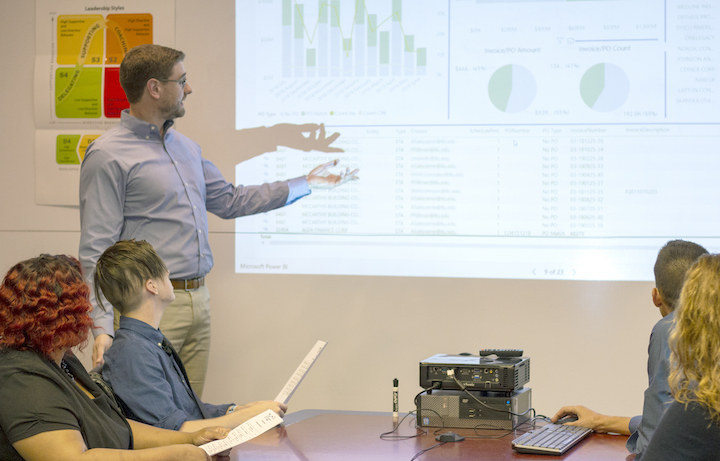 TAG helps healthcare providers save money through procure-to-pay consulting and process optimization services.
By Kat Zeman, Senior Editor at Knighthouse Publishing
Serving more than 1,000 hospitals and health systems, TAG Inc. offers its clients process optimization and consulting services that go beyond a standard recovery audit. The Chesterfield, Mo.-based firm focuses on helping healthcare systems save money by taking them beyond a standard accounts payable and supply chain recovery audit with its procure-to-pay (P2P) consulting and process optimization services.
"Traditional consulting firms are paid up front to complete the project," founder and CEO John Weiss says. "We are self-funded. We create funds, not take them away."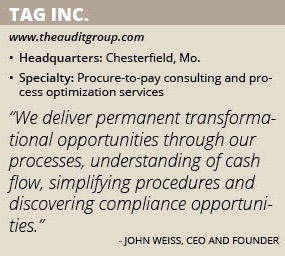 TAG, formerly The Audit Group, has earned a reputation in the healthcare industry through its innovative methods for creating opportunities for future savings and optimizing its clients' business processes by adopting LEAN principles.
Founded in 1988 by Weiss, TAG delivers supply chain and financial process optimization to healthcare providers through deep analytics, expert insight and operational and organizational transformation. Its processes turn audit analysis into a vehicle that fuels long-term growth.
Operating strictly in the healthcare industry, TAG's services aim to improve the business processes of multifaceted health systems nationwide.
"Larger organizations are more complex and with complexity comes more variables," Weiss adds. "Through our analytical capabilities, combined with our experience, we are able to identify areas in organizations that could use some more management attention for improvement. We present those recommendations to management and work with management to create those improvements."
TAG claims that its average recovery for health systems with $1 billion total operating expenses (TOE) is approximately $1 million and boasts an average annual savings of $9 million for clients that employ its business transformation processes.
"We deliver permanent transformational opportunities through our processes, understanding of cash flow, simplifying procedures and discovering compliance opportunities," Weiss says. "A million-dollar recovery would be on a health system that has supply chain expenses of $500 million or more."
Best-Practice Procedures
TAG's process starts with a discovery review during which its advisors review expenses to expose cash flow opportunities and identify gaps in a healthcare system's current processes and procedures. Starting with a financial risk analysis, TAG will identify the areas most likely to result in recovered funds.
"With the movement to electronic data ERP systems, we have found that things get lost a lot easier and a lot of management decisions are based on incorrect data," Weiss says.
The comprehensive review identifies each area where loss has occurred within the procure-to-pay cycle. After recovering lost funds, TAG provides a strategic report that outlines the root causes of the lost funds, methods for mitigating that loss in the future, and designs methods to fix them.
"We have analysts that will take their data, sort it and combine it to show us various types of anomalies within the supply chain and P2P process," Weiss says. "And we'll identify the reasons for these anomalies."
TAG will craft best-practice procedures and make recommendations that allow the facility, its verticals and teams to operate in an optimized state. In addition, the firm will guide its clients through the transformation phase to ensure that their leaders, processes and systems are working in synchrony. "Training is an important part of the service we offer," Weiss adds.
TAG offers professional coaching services that include leaderships development and improved communications skills to individuals, teams and organizations.
By tailoring the experience to each specific health systems' needs, TAG's clients develop new skills and further their existing strengths. With a range of professional coaching models and packages, it offers countless opportunities for health care systems to learn and grow.
To capitalize on new efficiency opportunities, TAG makes an effort to keep up with the latest technologies and industry knowledge within the fast-evolving health sector.
TAG's vision is to remain a leader in healthcare P2P processes and recoveries nationwide redefining performance benchmarking as it moves its clients closer to running a lean and efficient operation.
TAG's core values – integrity, initiative, excellence, dedication and tenacity – are at the heart of the company and it uses them to define the way it interacts internally and with its clients and their suppliers.
"A lot of companies treat a health system like an annuity," says Bruce Kellerman, vice president of sales and marketing. "They find the easy money. We don't do that. We go beyond recovery into a different plane where we operate with no competition. When you look at our full suite of solutions and what we offer, there really is no other company that does what we do," Kellerman says.