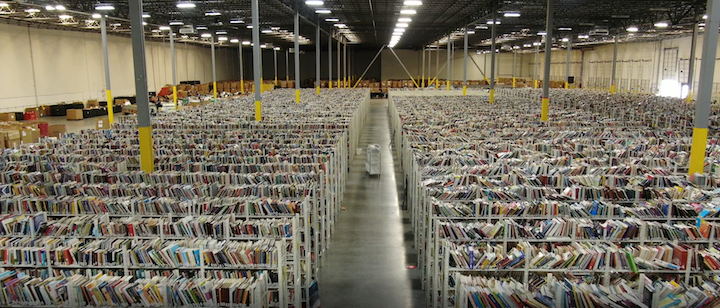 ThriftBooks maintains impressive growth while delivering a strong value proposition to customers with the help of employees and automation in its supply chain.
By Staci Davidson, Senior Editor at Knighthouse Publishing
Adults who read for 30 minutes a week reported feeling 20 percent more satisfied with their lives according to a recent study from UK-based The Reading Agency, and another study showed reading reduces stress by 68 percent, more than listening to music, having a cup of tea or taking a walk. Additionally, physical books continue to rule the day, with the International Publishers Association reporting that ebooks make up only 18 percent of the U.S. book market. These numbers should be of no surprise to ThriftBooks, which is the largest online used bookstore in the world and continues to grow as the result of consumers' love of reading.
ThriftBooks has sold more than 100 million books since its inception in 2003, operating eight fulfillment centers in the United States that purchase, grade and distribute used and collectible books. The company started by selling on Amazon, but has been operating its own site since 2007 and has seen double-digit growth each year it has been in business. Based in Seattle, ThriftBooks relies on proprietary software to identify and list books, and has a sophisticated pricing model to dynamically price books across a variety of online platforms.
"One of our absolute strengths is our technology," Vice President of Operations Michael Teague explains. "Without the technology that we employ, the company would not be in its current form. We use artificial intelligence and machine learning in impactful ways in our supply chain."
ThriftBooks buys books sight unseen from various organizations across the country – such as Goodwill, Salvation Army, St. Vincent DePaul as well as, public library systems and universities– processing 160 full truckloads of books every week through its supply chain.
"We take the books and evaluate them; our self-learning algorithms tell us everything we need to know about a book and its sales demand and pricing," Teague says. "This gives us the ability to say 'I want to put that book on our site for sale.' On the pricing side, we have more than 9 million titles that we manage every day. There are millions of price changes every day on all of those books. You can't do that on a scalable way without some kind of AI and machine learning. It's nuts, but in this case, nuts is good."
Technology and Data
ThriftBooks acquires books from "fantastic charitable organizations," Teague explains, buying books by the pound, which equates to hundreds of millions of pounds each year. The purchases are "very transactional at a local level," he notes, however, ThriftBooks' professional account managers create the leads, close the accounts and have built the relationships over the years to ensure a steady supply. The company handles all of its own transportation with third-party trucking, picking the books up, filling truckloads of gaylords, delivering them to one of its eight processing centers around the country and unloading them.
"There are four functional jobs in the processing centers: sorters, receivers, shelvers and shippers," Teague says. "Those gaylords of books are presented to a sorter, and we use material handling systems and conveyors to help the sorters and receivers – it's similar to gold mining. Material is going past you on a belt, and you want to remove any obvious trash or material that doesn't rise to the level of further human evaluation."
The receiver then scans the books that made it past the sorter, and this is where ThriftBooks' AI comes into play. Once the book is graded by the receiver, the AI helps ThriftBooks know if it actually wants to sell the book. ThriftBooks' systems understand the competition, can evaluate the national inventory levels of the book, and help the receiver make a real-time decision on whether to keep the book or not.
"If we keep it, we grade the book, put it away and shelve it, and then the book is available to sell on our website and every marketplace we participate in," Teague says. "When our customers place orders, we pick the orders from across our eight facilities, put the book in a bag and ship it. Our standard ship to arrival time to our customer is four to eight days.
"We use a tremendous amount of data to keep it all organized," he continues. "It's important to understand supplier profitability, the sell-through of materials and always remove as much waste from the process as we can. We use big data in all of our facilities because when books are touched individually, shelved individually, picked and shipped individually, data has to be used to keep it efficient."
Scaled for Growth
In the past two years, ThriftBooks has focused on transforming the many manual and physical jobs in its facilities into processes that are more automated. The company is looking into robotics to help it deliver books from the inventory areas to fulfillment stations, and it is using digital tablets to monitor inventory instead of a pick list on a piece of paper. It also plans to experiment with voice commands, smart goggles and more automation in the next year to help its people in fulfillment.
"Technology helps us in transforming a physical job to one that is easier for the employees and employs automation so we're not wasting sweat equity," Teague says. "We're taking a physical job and making it much more intellectual so folks can focus on the quality of the books and paying attention to details of the job, rather than just moving the book from point A to point B."
At the same time, ThriftBooks has to ensure its supply chain can handle the organization's rate of growth. In the last three years, Teague says, the company has changed its footprint – going from 11 to 8 facilities – to better serve its customers.
"When you're dealing with low-price items, you have to figure out how to create value for our customers in the most cost-efficient manner. You have to scale and labor and overhead are expensive. If you're not accurate in your spending, tenths of pennies at our scale could make a difference in the success of the company."
Employee turnover is also a challenge in the current market, so ThriftBooks is enhancing its training and benefits, and staying efficient with automation and material handling systems. These types of investments, Teague says, helps maintain the loyalty of the people ThriftBooks does have.
"We love the group of folks we have and we want to maintain that core group," he stresses. "We want to scale using automation and better processes while still engaging the core group effectively. In the past three years, we've changed so much with our physical footprint and by investing in quality leadership and support staff. We did all that while growing 20+ percent year over year, and that's a real challenge. There are few companies that would take on that challenge and expect to do as well as we did, but I'm proud of everyone who did that with me."