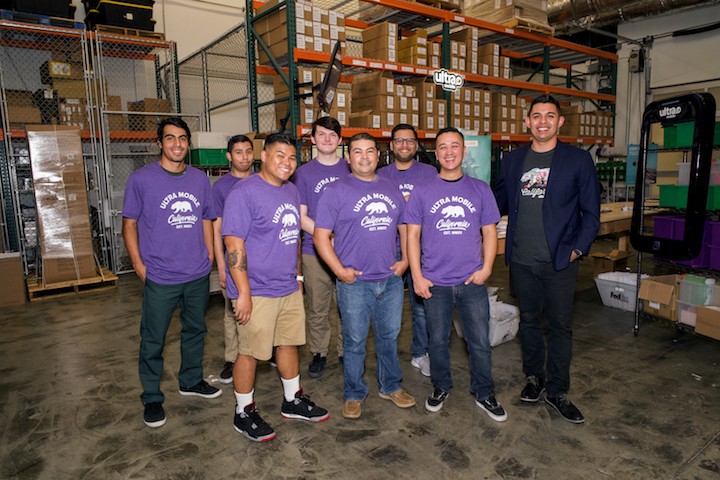 Ultra Mobile brings the supply chain function in-house after experiencing record growth with its low-cost international and domestic cell phone plans.
By Janice Hoppe-Spiers, Senior Editor at Knighthouse Publishing
Ultra Mobile quickly made a name for itself as the nationwide mobile carrier that developed first-of-its-kind mobile phone services and unlimited international communications. In just seven years since its inception, the company has become a progressive solution to international dialing and was named Inc. Magazine's Fastest Growing Private Company in America for 2015.
"We are experiencing explosive growth with our convenient and cost-effective unlimited international talk, text and data services to more than 80 destinations for an estimated 40 million foreign-born people living in the United States to stay connected with family and friends around the globe," Supply Chain Director Mike Ibarra says. "Ultra Mobile grew to $118 million in 2014, which was up from $1 million in 2012."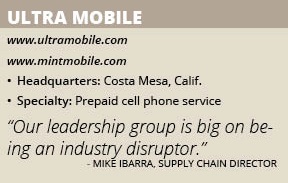 Ultra Mobile is a mobile virtual network operator (MVNO) that was created to simplify international calling. Before Ultra Mobile, international calls were made via calling card. Recognizing that burden, Ultra Mobile was formed to offer communication plans that break down barriers and allow its customers to easily and affordably connect with their communities – no matter where they may be.
In August 2016, Ultra Mobile launched Mint Mobile, an online-only brand for the savvy internet shopper who is looking for flexible wireless options at an incredible value. Mint Mobile provides discounted pricing based on quarterly, semi-annual or annual terms paid in advance. The mobile wireless provider offers the lowest prices for talk, text and data plans in the United States on the nation's most advanced 4G LTE high-speed network with no contracts and no overages. Both Ultra Mobile and Mint Mobile feature a bring your own phone (BYOP) program.
"I read that over 420 million devices were activated last year and 32 million were activated within our MVNO space," Ibarra notes. "With Mint Mobile offering the lowest prices for domestic usage and Ultra Mobile providing the lowest cost way to reach abroad, we are targeting all aspects of the marketspace and a testament to our success."
In-House Supply Chain
Ibarra came aboard Ultra Mobile in 2014 to bring the supply chain in-house and improve quality control and increase productivity. Ibarra has more than 15 years in supply chain roles across several different industries, but Ultra Mobile was his first venture into the telecommunications industry and at a start-up. "I was looking for a new challenge in supply chain with an organization that was innovative and technology focused, one that embraced an entrepreneurial spirit and was open to building a supply chain unit that would be a disruptive force in our industry," he says.
Prior to Ibarra's arrival, Ultra Mobile outsourced every aspect of the supply chain. Not only did productivity and quality control improve after bringing the supply chain function in-house, Ultra Mobile also saw a 75 percent drop in cost per order. "Our leadership group is big on being an industry disruptor," Ibarra says. "We want to be a disruptor in how our customers' receive our products and services with an efficient supply chain. Receiving our products in a timely manner is super important."
Speed to market is one of the most vital aspects for Ultra Mobile to remain competitive. "Cell phones are one of the vital things we have in life and cell phone service is such an important thing that we don't take lightly," Ibarra says. "I tell my team to treat the supply chain as if the power went out. If your electricity went out, how fast would you want it to be restored? That's what I instilled in the supply chain group and we have done amazing things."
Headquartered in Costa Mesa, Calif., Ultra Mobile runs a 13-hour operation window from 6 am to 7 pm Pacific Time. If someone on the East Coast places an order close to 9 pm Eastern Time, their order is still processed and shipped the same day. "Our standard shipping is two days guaranteed and we either subsidize or offer up free shipping pending product type or promotional offering," Ibarra says.
Maximizing Efficiency
Ibarra implemented an open API/EDI supply chain solution to allow its partners to plug into the value chain and gain instant throughput and output of information needed to maximize the supply chain process. By doing so, Ultra Mobile has increased efficiency with inbound logistics, operations, outbound logistics, marketing and sales, and service.
With a just in time strategy for delivery of new product, Ultra Mobile holds a sufficient amount of safety stock of its core components – SIM Cards and Greenfield Packaging kits – to support its product demand fluctuation and speed to market of new products. SIM Cards can be programmed to any plan and the Greenfield Packaging allows for the plan sticker to be placed at the time of fulfillment.
"Our previous go-to-market lead time for a new product prior to building our just in time supply strategy would take eight to 10 weeks on average," Ibarra says. "With safety stock of core components and packaging for products being universal, we could now support a new product launch in one to two weeks."
As Ultra Mobile continues to rapidly expand in big-box retail, Ibarra says having direct visibility from the manufacturer through to the retailer is key but will continue to be the biggest challenge for any supply chain professional.
Moving forward, Ibarra plans to continue to ensure the supply chain is aligned with the company culture, achieves cost-savings and improved quality control. "We went from a start-up to one of the fastest growing private companies in 2015 and we went through those growing pains. In-sourcing supply chain has given us a competitive advantage in this space. We are embracing the journey and continue to think lean."