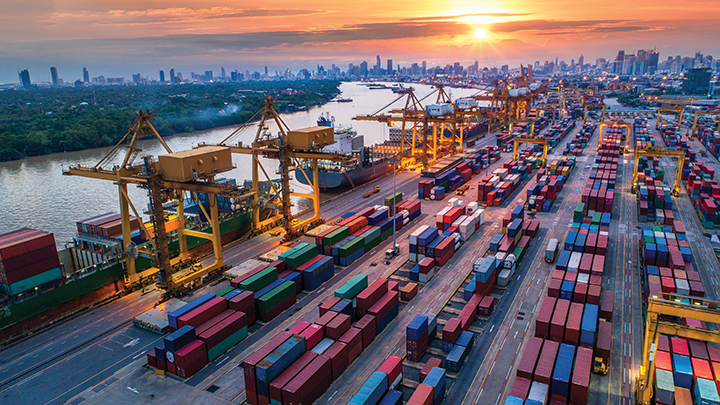 The role of small and medium-sized enterprises in international trade is evolving.
By Dean A. Pinkert
Small and medium-sized enterprises ("SMEs") represent the most common form of business organization in the world, and they are the principal creators of jobs. Nevertheless, SMEs present a substantial challenge for trade policy.
Although they are understood to be key contributors to employment growth and innovation, their share of exports is disproportionately small relative to their share of economic activity directed toward domestic markets. This corresponds to their limited participation in international trade as a whole (direct and indirect involvement in exports). My aim here is to set out the broad contours of the problem and to analyze whether progress is being made toward its resolution. As explained below, both because of the evolution of trade policy and the impact of developments in the digital economy, I believe SMEs are likely to enjoy an enhanced role in international trade over the next decade or so.
Early U.S. Studies
In a January 2010 study, the U.S. International Trade Commission ("ITC") investigated exports made by SMEs, defining them generally as firms that employ fewer than 500 employees. The ITC explained that such SMEs accounted for roughly half of U.S. non-agricultural gross domestic product, employed roughly half of U.S. non-farm private sector workers, were an important source of innovation processes, products and services, and could be more efficient at producing innovation than larger firms. Nevertheless, they accounted for only approximately 30 percent of known U.S. merchandise exports between 1997 and 2007.
In a second study issued in July 2010, the ITC analyzed factors that may have been impeding exports by U.S. SMEs. The agency compared U.S. SME exports with those of the EU, using the EU definition of SMEs (250 or fewer employees) to facilitate the comparison. The data revealed that EU manufacturing exports in 2005 were much more dependent on SMEs than U.S. manufacturing exports, in part because SMEs are simply more prevalent in Europe than in the United States. Although both the United States and the EU countries provided a broad range of trade financing programs to support SME exports, SMEs in the EU appeared to have access to a wider variety, and a greater amount, of assistance in navigating foreign markets than U.S. SMEs.
Evolution of Trade Policy
As explained in the second ITC study, barriers to exporting experienced by U.S. SMEs included insufficient access to finance, complex and sometimes non-transparent foreign market regulations, rising and unpredictable transportation costs, lack of production scale, tariff and non-tariff barriers, time-consuming foreign customs procedures, and lack of information about foreign markets. U.S. SMEs pointed out that many of these issues could be addressed by increasing the flow of relevant information from larger companies to smaller ones as well as by improved trade agreements and other trading arrangements.
Recent trade policy has been proactive in all of these respects. One example is the global simplification of customs procedures that is taking place under the umbrella of the WTO Trade Facilitation Agreement, which entered into force in 2017. That agreement contains provisions for expediting the movement, release and clearance of goods, including goods in transit, all of which are helping to facilitate the participation of SMEs in international trade.
Another example is a very recent public-private effort to make export know-how more readily available to U.S. SMEs. On April 9, 2019, the U.S. Department of Commerce, International Trade Administration ("ITA") and the American Chamber of Commerce of Korea announced a memorandum of agreement ("MOA") – the first of its kind – intended to facilitate exports by U.S. SMEs to South Korea.
The Digital Economy and Global Value Chains
In their contribution to Global Value Chain Development Report 2019, Emmanuelle Ganne and Kathryn Lundquist provide up-to-date analysis of the role of SMEs in global value chains, i.e., globalized production networks (a key component of international trade). In reviewing evidence from around the world, they find that SMEs' participation in global value chains relative to their share of overall economic activity and employment remains limited as compared to larger firms. Challenges for SMEs include (1) resource disadvantages and (2) the fact that 80 to 90 percent of SMEs operate in the informal sector – generally defined as legal production of goods and services that is deliberately concealed from public authorities to avoid meeting legal obligations/requirements – while global value chains operate in the formal sector.
According to Ganne and Lundquist, these challenges may well be giving way to developments in the digital economy. In particular, digital trade is lowering the costs associated with formal business activities, including regulatory compliance costs, and enabling a broader range of businesses to participate in global value chains. This can play out in a variety of scenarios: when a manufacturing SME has a website, it is better able to extend its global reach; information and communications technology connectivity can play a more important role for SMEs than for larger firms in facilitating involvement in production networks; and new technologies like blockchain can provide SMEs with cost-effective means to ensure supply chain transparency and regulatory compliance, even as the pursuit of those objectives becomes increasingly complex.
Conclusion
SMEs' participation in international trade clearly has room to grow. The good news is that the evolution of trade policy and the impact of new technologies point in the same, promising direction. Consequently, it is likely that SMEs' role in the global economy over the next decade or so will increasingly come to look like the role they already play in economic activity directed toward domestic markets.
Dean A. Pinkert is a partner in Hughes Hubbard's International Trade practice. He is a former commissioner of the U.S. International Trade Commission. Dean was nominated by President Bush and confirmed by the U.S. Senate in 2007, and was designated vice chairman by President Obama in 2014.