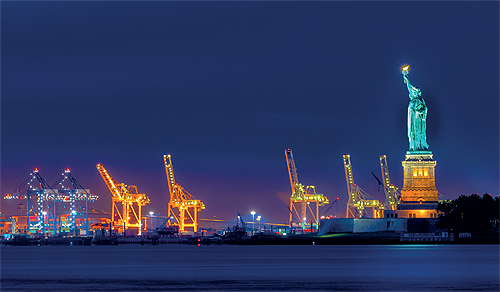 The American market has historically been a very attractive market for UK retailers. One of the main reasons is that the US is a relatively straight forward market to ship in to. The country's customs have a high value threshold for imports before it imposes duties and taxes – $800 – which means that typical ecommerce products are easy to move. For retailers shipping products that typically go on or in the body there is the need to ensure they have the correct registrations with the US Food and Drug Administration. Providing this is done and shippers are providing complete and compliant data then the process remains straightforward.
The second reason that America has traditionally been a solid market is the high number of flights between the UK and the US daily, on which stock could be transported. Once on US soil, there is a then myriad of options for final-mile delivery to the customer.
Shipping to the US by sea is an alternative option, but it does come with a notably longer lead time compared to air travel. The average sea transit to America is nine days, plus an additional three to five days for passing through customs and delivery. Today's consumers have a much shorter expectation for delivery from the UK, usually a week maximum.
Aviation and us
As we all know, 2020 has seen a paradigm shift in global transit options.
Airline capacity has been severely affected, with transatlantic carriers such as Virgin Atlantic and Norwegian winding back the number of flights operated as passenger demand disappeared seemingly overnight. This had an instant knock on effect on freight capacity and in turn caused the price of air freight to quadruple. As an example, if a shipper was paying an average of £1 per kilo of goods transported, that would now cost between £3.50 and £4.
Unless a Covid-19 vaccine is found soon, it could easily be up to two years before airlines are anywhere near back to their original flight schedules. With some airlines in very public financial difficulties, it could be a long time before reliable channels to the US are reinstated and airlines are able to ramp up with capacity for freight volumes.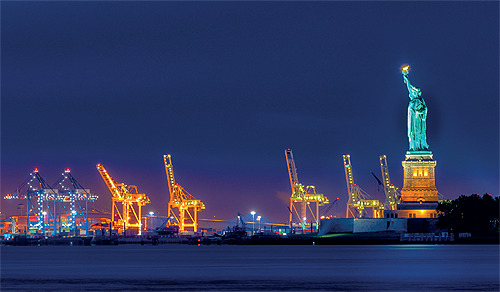 The consumer behavior shift in 2020 and meeting the demand
Covid-19 supercharged ecommerce demand worldwide. Buying habits changed almost overnight and in May, Adobe estimated that online spending increased by 77 per cent compared to the same month in 2019, making this period comparable to levels normally only seen at peak times such as Black Friday and Christmas. The surge in online shopping doesn't appear to be ending any time soon. The fear of physical shopping, combined with the convenience of buying online has meant that in many cases, ecommerce is very much the new norm for making nearly any purchase.
This demand change has had an instant impact on domestic deliveries across the states as capacity forecasts made previously have been rendered useless. These forecasts are relied upon by suppliers with the US to ensure they have the infrastructure in place to meet their predicted need throughout the year.
eMarketer estimates that e-commerce sales in the US will push over the $700 billion mark, equating to 14.5 per cent of total retail sales. This rise is in some cases approximately six years ahead of schedule for suppliers, who are battling to meet the new demand without the necessary infrastructure in place. For many, resources have even had to be reduced due to safety fears surrounding Covid-19. As a result, transit times are taking roughly two to three days longer as there are less personnel to process parcels, plus a need to quickly grow vehicle fleets. On top of this, the peak period is still to come, which could see an even larger increase on current volumes, this could be a contributor to why organizations such as USPS and FedEx have had to implement surcharges to provide the service needed to support the further demand surge.
To meet growing customer demand and delivery expectations, UK companies such as ASOS and The Hut Group are opening their own, or outsourcing to, distribution centers in the US. Online fashion retailers such as Missguided and Boohoo are shipping big volumes to the States, as clothing and wellbeing products are the main drivers of growth in the UK-US market. With the reduced air freight capacity, shippers are having to block book space in advance for these deliveries to beat the increasing competition for space.
New year, new market?
In the UK, 31 December 2020 means a lot more than just New Years' Eve. However, this should not cause any issues for the US market. Carriers already have strategies in place for dealing with post-Brexit shipments, working on the worst-case scenario of there being no deal. As mentioned earlier, the US has a high de minimis value before it starts charging import duties and taxes, for the EU it is around 20€, which again makes America a more attractive market. The US may change its de minimis, especially for imports from China, but this will depend on the post-election decisions.
Will the US remain viable as a market?
US customs has been taking steps to simplify the process to encourage ecommerce into the country over the past few months. As an example, historically the two main gateways into America were New York and Los Angeles, but in the past year there has been a move towards increased entry points for inbound ecommerce.
Before the pandemic, the US was a very attractive market. During and after the pandemic, the US will remain so. Even with prices for shipping increasing and networks being incredibly busy, there is a lot of opportunity in the states, with consumers eager for UK goods.
Gary Tervit is managing director of Pro Carrier, the cross-border carrier division of freight forwarder DG International. DG International is a global team with local expertise and provides cost-effective and convenient global logistic solutions. Launched in 2009, DG International is one of the UK's fastest-growing logistics companies. It offers a full supply chain solution to support customers across all sectors, including e-commerce, retail, automotive, fashion and furniture.
https://wearedg.com