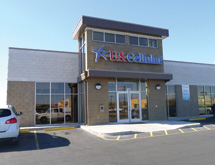 U.S. Cellular's supply chain has a critical role in its corporate goals. "From a cultural perspective, we are focused on giving our associates the tools they need to offer the best experience possible," says Chris Smith, senior director of the Chicago-based company's device supply chain. "Our business model, which we call the 'dynamic organization,' is based around outstanding customer service."
The cellular provider's service level is regularly noted by Consumer Reports, which ranks it highly on its annual list of top national service providers; as well as J.D. Power and Associates, which recognized it as a "customer service champion" in 2012. "Considering we're a relatively small player, we're all the more proud that we can beat our larger competitors when it comes to customer service," Smith says.
One way the company offers superior service is by maintaining the highest in-store performance level – 98 percent – in terms of in-stock items at its 400 retail stores nationwide. "We feel that's important because it removes distractions from the experience at a store level," Smith adds. "When a customer comes in, we want them to get the product they're looking for and not sacrifice their desire for that product by having to just settle for whatever we have in stock."
Internal Investments
U.S. Cellular distributes products to its retail stores and 1,000 agent dealers from a single distribution center in Fort Worth, Texas. The company partners with third-party logistics (3PL) provider Genco to coordinate its supply chain and ships parcels through UPS.
The relationship with Genco is one aspect of what U.S. Cellular calls an overall supply chain transformation that started in 2012. Since contracting with Genco, U.S. Cellular has seen a vast improvement in its quality and delivery, including reducing the time to repair phones from two weeks to 1.1 days.
The second part of the company's transformation process is its implementation of SAP's Advance Planning and Optimizer (APO) tool. The APO tool consists of an inventory planning module, which U.S. Cellular put into effect last May; and a demand planning and supply replenishment module it expects will go live in May 2013. The company currently uses a spreadsheet-based system to manage inventory and demand planning information.
"We have more than 150,000 decisions to make each day when it comes to our supply chain," Smith says. "It's impossible for one human being to go through all of those every day, so we needs tools that will enable a greater level of analytics."
U.S. Cellular implemented the supply chain improvements in part to help it handle the complexities brought about by the 2012 launch of its first 4G LTE network-enabled devices, which include tablets, smartphones and feature phones. The launch of these products requires greater lead time and product planning with their manufacturers, as each device is created specifically for U.S. Cellular and often take months to ship from overseas factories, Smith says.
A Flawless Launch
U.S. Cellular's recent investments will allow it to expand its distribution. In 2012, the company agreed to offer pre-paid products and contract service in more than 400 Walmart stores, the first arrangement of its kind for the provider.
"We're putting ourselves where our customers are, and allowing them to access the services they want from us as well as a physical product," Smith says.
This required U.S. Cellular to contract with a second 3PL partner, Brightstar, which has a long-term relationship with the retail giant. "Going into Walmart required us to think about vendor management in a different way," Smith says.
U.S. Cellular is leveraging the new relationship with Brightstar to meet Walmart's high expectations. "We launched this program flawlessly and immediately achieved target service levels," Smith says. "Our being able to do that with a brand-new partner is something that's a testament to our associates who have driven that and made sure our customer experience is everything we want it to be."  ­­­