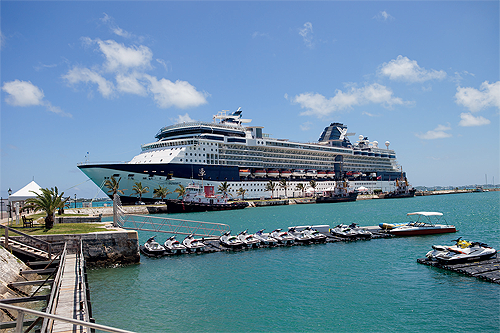 Rough seas make stronger sailors
Thanks to the power of collaboration and strong business relationships, the world's second largest cruise operator, Royal Caribbean Group, is getting ready to bounce back after the Covid-19 crisis
For many people, the name alone is enough to conjure images of turquoise seas and sunsets on wide horizons. Royal Caribbean Group operates some of the most popular and recognizable cruise brands in the world – including Royal Caribbean International, Celebrity Cruises and Silversea Cruises – and has continuously redefined cruise vacationing for its guests since 1969.
Serving a large portion of the 30 million people that embark on cruises each year, Royal Caribbean has become known for its friendly and engaging service, adventurous itineraries and onboard innovation that includes a number of industry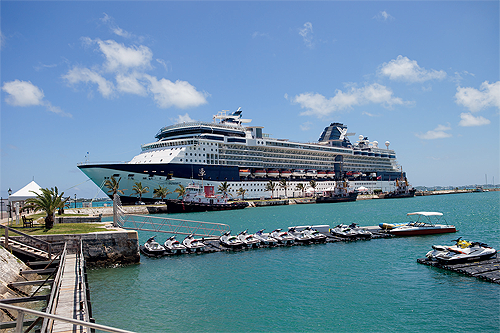 firsts, such as rock climbing, ice skating and surfing at sea. After years of hard work, the company has earned its reputation as a well-loved and respected vacation provider, and so it was with great sadness that the world received news of the challenges Royal Caribbean and its cruise sector colleagues faced in 2020.
"The travel industry has been hit extremely hard by the Covid-19 pandemic, but you will not find a subset of the sector that has been hit harder than the cruise lines," declares Paul Litvinov, Royal Caribbean's Vice President of Global Supply Chain Management. "Rightly or not, cruising was perceived early on as something that causes easy transmission of the virus and so all sailing was suspended. As opposed to hotels and airlines that are able to achieve some revenue in some parts of the world, cruise lines were not able to sail anywhere at all for many months.
"As always, the safety of our passengers and staff was our number one priority throughout," Paul adds. "In some instances, the crisis meant that there were no flights available so we sent ships from Florida to Asia full of crew. It's our duty to keep our crew safe, so we were happy to do it."
Understandably, as the cruise industry battled the impact of the pandemic, its suppliers began to feel the strain. While Exxon, Coca-Cola and the rest of Royal Caribbean's multinational partners were able to mitigate the damage of Covid-19 to their businesses, smaller, independent companies suffered greatly.
With no sailing for nine months, travel advisors were affected more than most. Having forged excellent working relationships with its partners and suppliers in over half a century of business, Royal Caribbean acted in solidarity with the travel sector in December 2020 and introduced Pay It Forward, a $40 million pool of funding available to qualifying travel advisors as they look to rebuild their businesses.
The goodwill and cohesion on display in Royal Caribbean's Pay It Forward campaign has been reciprocated in other areas of the industry. Working closely with its long-standing suppliers, the cruise operator was able to extend payment terms for many goods and services as the sector worked together to tackle the downturn.
"We continue to pay and we continue to honor our obligations as much as possible because we still have consumption in areas like technical part suppliers that way. Of course, it is much less than what we operate with normally, but it is not insignificant and we are providing companies with business in a tough time.
"In addition to Pay It Forward, we have also created a workstream with Ernst & Young to guide smaller suppliers towards a more efficient way of applying for government assistance. The US has a lot of initiatives in place, such as the Paycheck Protection Program, to help businesses with loans and keep that workstream going.
"Right now, we are working with suppliers to understand their inventory position so that when we resume cruises, we can start pulling product that has been sitting on their shelves because it is good product, within the expiration dates. We just want to support these valued partners. Our relationships have been built over many years of trust and collaboration, which is really helping us and them to come through this situation in a big way."
Though it is difficult to confirm an exact timeline due to the unpredictability of Covid-19, the ongoing rollout of a vaccine for the virus means that Royal Caribbean is already preparing to bounce back. Short cruises out of Singapore were the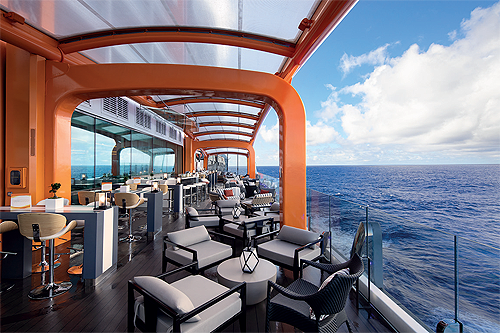 first to return in December 2020, and the firm's joint venture with TUI Cruises in Germany resumed sailing in a limited sense earlier this year.
Royal Caribbean aims to start operating on a larger scale as soon as possible, but customers will not be back on the high seas until the company and industry regulators are absolutely comfortable with cruise liner safety. In 2020, the company joined with Norwegian Cruise Line to form the Healthy Sail Panel – a taskforce of globally recognized medical and scientific experts that develop recommendations for establishing the strongest protocols in the travel industry. Panel-led rules and procedures will play a huge role when Royal Caribbean ships next leave port.
"It's difficult to predict when things will get back to normal, but we are very focused and working extremely hard on our return," Paul reveals. "We have new suppliers and we are buying a lot of medical equipment so that we can test people prior to the cruise and exclude any guests or crew if there are any unfortunate Covid-19 cases. We want to create an airtight bubble onboard, but ultimately the vaccine will help us the most. We are staying motivated and will start cruises as soon as it is safe.
"There is huge pent-up demand at the moment for people who really want to go on a cruise," Paul continues. "Everyone is sick and tired of being inside and they want to take vacations. Bookings are very strong for later this year and 2022. Just recently, a big oil company came to me and said they wanted to buy hundreds of cabins for its employees on the first cruise back, so we have a lot of reason to be optimistic. When we bounce back, I think we are going to bounce back in a very, very big way." 2020 was a tremendously challenging year for Royal Caribbean, but the company has weathered the storm and is confident that smoother waters lie ahead. One thing customers can be sure of is that when the operator's cruises return to the seas, they will still be among the most modern, innovative and revolutionary in the world.
"There is a very clear distinction between us and the rest of the industry. A lot of it comes down to that spirit of innovation that began when we brought out the monumental Voyager class back in the early 2000s," Paul explains. "Our cruise liners have the most creative and advanced hardware in the market, from the world's tallest viewing deck on a cruise ship to onboard replicas of Central Park and Coney Island. We were the first company to transform a private island into a blend of theme park and luxury resort in the Bahamas. We are almost the Apple of cruises in that way – we come up with the features that people have never even thought of and before they know it, guests cannot imagine cruise ships without them!
"Up until the pandemic, Royal Caribbean had been smashing records year on year and we were really set up for huge success," Paul summarizes. "I am confident that this success will resume once the crisis is over. We still have a lot of ships being built, including a brand-new cruise liner launching in April. I know 2021 won't be easy, but we have exciting hardware ready for release, and we have great relationships with our customers, suppliers and travel advisors, so I think the future is very bright."
Royal Caribbean Group
www.royalcaribbean.com
Services: Global cruise holding company