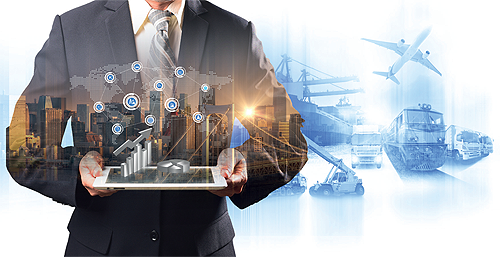 As online and digital purchasing has become so large-scale in both B2C and B2B setups, the importance of an efficient supply chain has never been greater. Because of this, visibility and transparency in the supply chain has become a basic requirement, as customers expect real-time visibility in intermodal supply chains, akin to the consumer experience when ordering a package.
Today, it is no longer good enough to know a container is in a particular city. We want to know the precise location of a shipment, get the estimated time of arrival (ETA) to its destination and guide and track the shipment at every step of its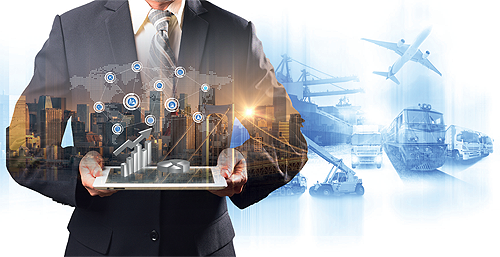 journey. Location services have evolved in line with these increased demands and are helping customers to get this level of visibility.
Despite significant investments into legacy solutions, only six per cent of companies believe they've achieved full supply chain visibility. Factors such as missing industry standards, the overall complexity of supply chains, differing legacy systems and proprietary tracking solutions are leading to many solutions in silos, hence digitizing the challenge but not solving it. A platform approach is the most critical step to achieving full visibility and a ground level investment for further optimization, self-healing, and automation of the supply chain.
Being able to tap into an array of location intelligence, from transport management systems to asset tracking hardware, as well as location components, can help deliver this desired visibility. A digitalized supply chain allows live data to track each aspect of the chain. Location intelligence is crucial in the full end-to-end supply chain process: from planning to transport execution and optimizing inbound logistics.
High numbers of interfaces
The current state of the intermodal data-sharing environment has not yet matured to the point where carriers or other logistics partners are providing the necessary information to make this kind of visibility a reality. Recent research suggests there's still work to do in digitally connecting the intermodal supply chain. Companies have more data than they're typically sharing with their logistic partners, which can leave those partners in the dark in terms of intermodal visibility. Historically, there has been some resistance to share too much data, but the lack of visibility can cause various challenges within the supply chain, such as restricting the accuracy of estimated arrival times, which creates inefficient handovers that affect many stakeholders within the supply chain.
To improve the efficiency of the supply chain, businesses must use real time location data for inbound tracking. This aids visibility of arrival times and enables them to recalculate loading and unloading points on-time. IoT enables many factors to be integrated into this – whether the delivery is made by rail, air, sea or by truck, whether the goods are packaged or brought in bulk, the rates of the loading points and so on – meaning there are many challenges in the way of an optimized supply chain.
Real-time location and shipment monitoring data can be used to allow for predictive models which enable customers to react and respond based on what they are seeing from the data. Proactive alerts for the likes of traffic jams or shipment conditions enable adjustments to be made, such as re-routing or preventing a dead-on-arrival shipment. This data needs to be proactively communicated and the customer needs to be able to rely on the data analytics to optimize its operations and ensure customer satisfaction. The spread of predictive analytics tools in supply chains has added another layer of expectation to the concept of visibility. It is not just about where — it's also about using data to provide estimates on a potential arrival time and to proactively respond if something is happening. Companies tend to be more loyal to vendors that pre-emptively fix mistakes than to vendors that never make mistakes.
The information from these predictive models can be fed in to alter the delivery date to the customer, enabling transparency of the supply chain at every level. The ambition is to bring the data from various predictive analytics models together to a central point and create a strong level of connection to every part of the supply chain – both physical and technological.
The impact of Coronavirus
The Coronavirus pandemic has underlined the importance of transparency. As entire supply chains were shut down, many companies struggled with reduced visibility and being unable to identify when and where breaches in the chain occurred. This highlighted existing inefficiencies in many companies' supply chains and created an opportunity to accelerate improvements through digitalization.
One lesson we have learnt from the pandemic is that IT investment has changed. Customers would previously buy a license to a platform and then implement it after the point of purchase. But now there is a different way of thinking around the immediacy of the standard set-up of processes that fit around the business programme of the customer. Solutions can no longer afford to have a transportation gap, and purchasers expect the implementation time to be very short.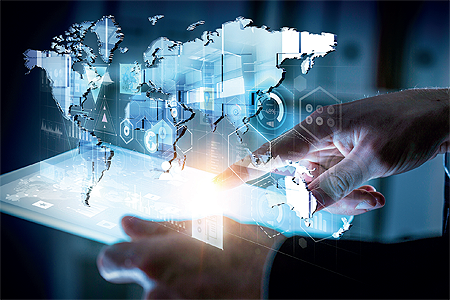 There is reason to be optimistic as data availability and information sharing has improved in recent years with platform providers offering horizontal platforms that connect different players in the ecosystem to ensure cross-industry collaboration. Customers want platforms that are quick to set-up and consume micro services which provide quick results, and this changes how we can consider IT structures of the future. Because of this we can expect the acceleration of digitalized supply chains to quicken, as customers who decide to digitalize their supply chain will want instant results.
A centralized view
The desire for instant results means that companies benefit most when they invest in a solution that is scalable, easy to deploy and can start quickly. This can be expanded step-by-step, but crucially while you expand you are already benefitting from a boosted data-driven system. Increasingly, larger players are steering away from standard, less flexible solutions in the market and would rather redesign and build their supply chain or transport management platform by consuming microservices & APIs, and then building on top of that.
This enables companies to invest in an open ecosystem which can find the right datasets. It is possible to draw on shipment, transport planning, traffic or weather data to inform predictive models, but the most crucial aspect is selecting the right data that will provide the most impactful results, and this is best achieved in solutions that are scalable and easy to deploy.
This could be through the use of IoT on timeslot management of one particular site, to boost its efficiency at this location, and then the live data taken from this can be used to inform timeslot management at other distribution centers. This is done by creating a digital yard and venue maps with location services that can be communicated throughout the chain, providing exact ETA's to improve timeslot management. This can provide businesses with competitive advantage by boosting efficiency and enabling data-informed decision-making in stock ordering and product management.
This is particularly pertinent in light of the Coronavirus and changes we have seen in 2020, where there is increased uncertainty for every business and this can be expected to go on well into 2021. As a result, decision-making driven by location technology is more vital than ever, underlining the value of transparency in the supply chain.
Bart Coppelmans is Senior Manager Industry Solutions at HERE Technologies.HERE, a location data and technology platform, moves people, businesses and cities forward by harnessing the power of location. By leveraging its open platform, it empowers its customers to achieve better outcomes – from helping a city manage its infrastructure or a business optimize its assets to guiding drivers to their destination safely.
www.here.com
http://360.here.com