The Marketer's Printer of Choice
By building meaningful relationships with its clients and conducting business with a holistic approach, Arandell produces the highest quality catalog solutions on the market
Based out of Menomonee Falls, Wisconsin, Arandell is a people-powered, planet-minded, catalog solutions provider. A medium-sized alternative, with sufficient size and scale to match corporate printers, the company retains the customer service model of a 'mom-and-pop' business, while delivering the type of unparalleled craftsmanship that appeals to serious marketers seeking a printing partner.
"By handling brands with the utmost care and quality, we have accumulated a vast number of clients from all over the United States that trust us as their print partner," begins Jake Hoffman, Arandell's Director of Marketing Solutions. "In addition to the manufacturing of the catalogs themselves, we also handle a lot of the distribution and coordination through the postal service on behalf of our clients."
In the last decade, Arandell's business has undergone several important changes, as Jake goes on to detail. "Previously, our typical customer base was blue-chip, high volume accounts made up primarily of retailers whose stores you would find within malls and on famous streets across the country," he says. "Wind the clock forward to today, and we are seeing a major influx of direct-to-customer and digitally native brands approaching us for work. It means that we are seeing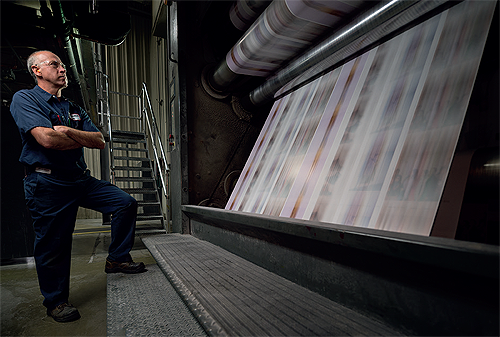 lower run lengths with clients focused on more targeted mailings more frequently throughout the year."
For both larger and smaller clients, Arandell has found itself becoming a go-to supplier of printing services. "Being a medium-sized organization, we offer significant operational scale to fulfill our clients' larger orders, as well as the cost savings you would expect from the larger national or international players," Jake states. "We have continued to keep a hands-on, customer-centric approach which has been a part of Arandell's DNA since the beginning. By truly listening to our clients we can deliver value-added services and solutions, and this is how Arandell has transitioned itself from being not just a manufacturing company, but a service provider. We look to get a clear understanding as to how a catalog fits into a clients' whole marketing mechanism, and with that knowledge, we develop solutions that will make the catalog as successful as possible, and continue to drive long-term value."
As Director of Marketing Solutions, Jake's role involves taking a consultative approach towards its clients, both existing and new. This means understanding their respective challenges and aligning the right data and analytics to form the appropriate solution. "If you take an e-commerce client as an example," Jake explains, "they clearly have a strong grasp of all of the digital elements of communicating with their customers, however, there has to be a smooth transition if a business is to cross over from a digital ecosystem into the mail stream. These two worlds are very different, and where Arandell can help is in ensuring that the data that is coming out of the client's digital channels is translated accurately onto the mail side so that the right customers receive the right message at the right time. At the end of the day, the most expensive component of any mail piece is the actual postage itself, so you must be 100 percent confident that the people you are mailing to are the correct people.
"Among the other things that we have looked to implement from a supply chain perspective – and for the benefit of our clients – is to bring a lot of postal savings services and techniques into the business. What this means is that we will combine several different mail files into one mail stream and sort it ahead of time, so that the postal service doesn't have to. This results in postal savings and better deliverability. It is also important to note that we work with a whole host of different companies, from data service providers and marketing agencies to logistics firms and even other printers whose capabilities may differ from our own, to create a network that can be utilized to solve the problems or challenges that our clients face."
To facilitate its growth in recent years, the company has undertaken a consistent level of investment in its plant and equipment. This includes a state-of-the-art prepress department, which includes one of the industry's most efficient heat-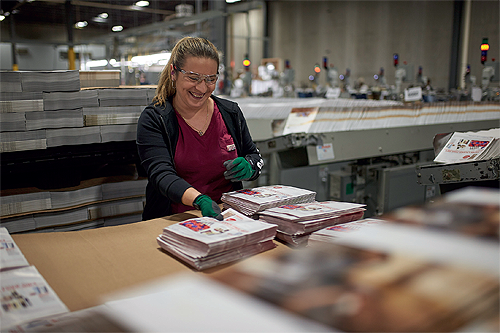 set web pressrooms, and a robust in-house bindery operation. One of the other areas that Arandell is currently focused on is the deployment of automated equipment – such as automated palletizers and machine stackers – in part as a response to labor shortages that the whole industry is facing. Also, rather uniquely, the company incorporates co-mailers in house, as opposed to using a mail consolidator. Having these pieces of equipment internally gives Arandell greater flexibility and shorter turnaround times compared to its competitors.
Coming into 2020, Arandell was riding a wave of near double-digit growth. Now, having used the last year to reflect on its activities, processes, and ways of operating, it is heartened to have experienced a strong start to 2021. "The Covid-19 pandemic has driven the whole industry – and indeed much of the world – to make changes and improvements to the way we all operate as businesses, and to embrace different technologies," Jake says. "I think I can speak for ourselves and our customers when I say that we have now wrapped our minds around what the pandemic means in terms of things like remote work and using technology to communicate with people or customers. This, in turn, has allowed us to evolve and diversify some of our service offerings as well as our revenue streams. With that in mind, the outlook for the coming year is extremely positive."
Looking ahead, Jake foresees the company examining digital forms of printing, which will allow it to further capitalize on the changes it sees occurring within its industry. "One of the things to keep an eye on is what the United States Postal Services chooses to do in terms of things such as pricing increases," he states. "Such changes can have a big impact on the product types clients will utilize in their marketing mix. Therefore, we must diversify our platform to support a broader range of product types that help complement the catalog.
"A separate challenge for the print industry as a whole going forward is that it generally has an aging workforce. This means that we as a collective need to come up with innovative and unique ways of attracting younger people into the industry. For our part, we will continue to do our best to bring in a talented and diverse mix of individuals into Arandell. Our 27primary focus in the coming months will be on diversifying the type of printing work that we deliver, and attracting the right people to support the growth of our organization."
Arandell
www.arandell.com
Products: Catalog printing