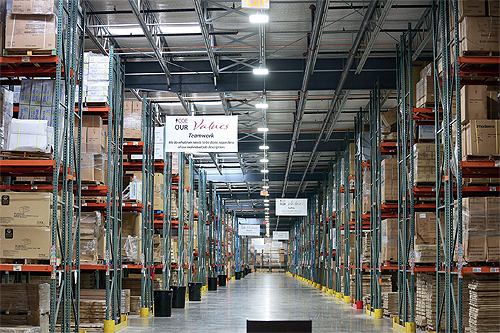 Staying ahead of trends
By connecting people and products to create an inspiring working environment, COE Distributing aims to be the most successful and respected source of furniture in the United States
A national office furnishings distributor and manufacturer, COE Distributing (COE) operates with a mission of creating inspiring work environments wherever its customers – who are typically resellers or dealers – are working. Family-owned since 1947, COE began life as a typewriter repair and office supply store, which was established by Clara L. Ewing. Today, the business is run by Clara's grandson, President and CEO J.D. Ewing, who initially took over the wholesale business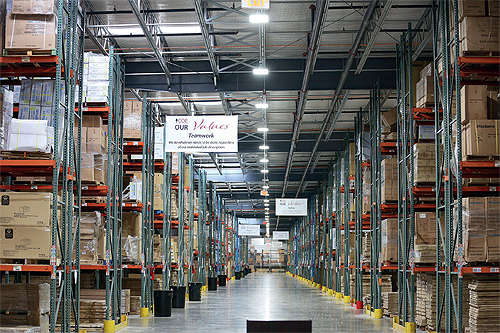 at the age of 19, running it as the sole employee. Over time, J.D. grew COE into its present-day form, where it has 118 team members operating across three distribution centers and its headquarters in Uniontown, PA.
"COE sources high-quality office furniture and products from around the globe and delivers to all of the United States and the Caribbean," J.D. begins. "Said products include an extensive line of seating, conference room setups, executive office setups, and a large offering of laminate with a multitude of color options. With the onset of the pandemic, we have also shifted and now offer new product lines that are specific to Covid-19 solutions, which include acrylic screens and panels, brackets, hand sanitizer units, work-from-home and schooling from home office setups, antimicrobial products, and products that promote a safe return to the workplace.
"Meanwhile, in terms of services, COE offers great marketing tools, including numerous eCatalogs, daily email campaigns and product promotions, and the ability to check stock and order products online through an individual login. Products are featured on My Resource Library, including spec sheets and the products are included on Giza 2020, which is a software that helps visualize and plan a space. COE also offers pricing tiers for customers, along with annual rebates, and we have our own private label brand, OfficeSource, which deals in multiple national, state, regional, and local contracts."
The company's success in recent years have seen it named as one of the fastest-growing private companies in North America by Inc. Magazine on its Inc 5000 list eight years running. It has also been recognized regionally in Pittsburgh as a fast-growing, privately owned local company since 2013, and was chosen as a Pittsburgh Top Workplace by the Pittsburgh Post-Gazette. J.D. himself has similarly been honored multiple times for the Ernst Young Entrepreneur of the Year and Smart 50 Business awards.
A lot of COE's success derives from its ability to study the marketplace to stay on top of the latest trends. "Our Senior VP of Sales and Merchandising collaborates with manufacturer partners to develop new products, along with updates to any existing products COE may already be selling," J.D. details. "New product ideas are also shared with clients and our sales reps to gather their feedback on how they Ewingbelieve it would perform in the marketplace. In the past 12 months COE has shifted from an annual product launch model to a continual product launch model to allow products that are in demand right now to hit the marketplace.
"Examples of the great new products include our antimicrobial upholstery for much of the seating options, along with antimicrobial tops. COE is also focusing on quality work-from-home office setups, along with schooling from home setups."
COE's three distribution centers add up to combined total of approximately 700,000-square feet of warehousing space. Within these premises, the company utilizes Warehouse Management System (WMS) software to manage and maintain the more than $100 million (retail value) worth of inventory it holds at any one time. Each inventory location is given a specific location ID, which is scanned when a particular product is stored and when picked for orders. Each inventory item also has its own unique bar code, which allows material handlers to know that they have picked – or put away – the correct item.
The company has continued to make significant investment in recent times in both talent and technology. "Our talent investment has focused on adding and/or promoting three Director level teammates over the past six months," J.D. continues. "We have also been focused on 'digitizing the sales process' over the past 12-to-18 months. One of the ways this initiative has been achieved is by working with Conexiom to automate the order entry process, thus eliminating the need to manually enter customer orders. Doing so allows our experienced and talented customer care team to provide value added services to the sales team and clients."
Listening to J.D., it is clear a strong employee-centric culture exists throughout COE. "The team members at COE are the engine that keeps the business going and growing," he enthuses. "The company culture at COE has always been about putting the team members first, because they are the difference makers. This is achieved by offering extensive employee engagement opportunities that promote teamwork, fun, growth, and transparency. These offerings include quarterly book groups, a Rising Stars program that helps create future leaders of the company, Employee of the Quarter luncheons, Warrior Helmet peer-to-peer ceremonies that happen biweekly (which comes from our Proud Employee Engagement Partnership with the Pittsburgh Penguins, which began in 2019), and personalized birthday and anniversary celebrations."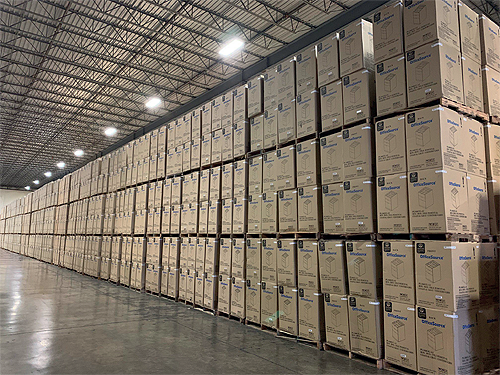 Given that it is an office furniture company, COE naturally faced challenges in 2020 at the onset of the Covid-19 pandemic. However, despite the impact this initially had on business, the efforts of J.D. and his team meant that it almost immediately began to find products to source and sell in the rapidly changing marketplace. As a result, by September 2020, the company was celebrating its biggest sales numbers ever. This was also made possible by the company doing its best to navigate through the various supply chain challenges caused by the likes of factory closures and congested ports. In addition to ordering stock appropriately, COE's purchasing team worked endlessly to get containers to the company's facilities as efficiently as possible.
"The motto of the business in 2020 and 2021 has been 'Strong Alone. Unstoppable Together', and that is because we know that if everybody is aligned and we remain transparent from the top down, COE can achieve milestones and work through challenges that many other companies struggle with," J.D. adds, before concluding with the company's plans for this year and beyond. "Our goal for 2021, and beyond, is to remain the trusted source for office furniture and associated products, by studying and staying in front of the trends that are in demand in the current and future marketplace, and by listening to the wants and needs of our customers. The company also wants to continue to grow, both in terms of sales and in aligned and engaged team members, which will both be accomplished by the continued focus on employee engagement opportunities and transparency."
COE Distributing
www.coedistributing.com
Specialty: Office furniture distributor