Vantage Mobility International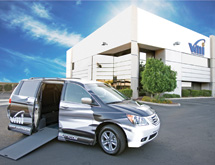 It is rare in the automobile industry to find a company with the daily mission of making people's lives better, but that is Vantage Mobility International's (VMI) goal. "[We aim to] build the highest-quality vehicle at the best value to provide a better quality of life for our customers," Supply Chain Manager Kermit Diehl says.
Phoenix-based VMI manufactures wheelchair-accessible vans for disabled persons, including families with disabled children, senior citizens and veterans. The company's history goes back to the 1970s when its founders built a handicapped-accessible vehicle to help a family friend. They created a concept that eliminated the wheelchair lift mounted on the side of a van.
Using an Oldsmobile Toronado, VMI created the FAMCAR, which featured a wheelchair ramp instead of a mobility lift. Since then, VMI has become one of the largest manufacturers of wheelchair van conversions with a full line of wheelchair-accessible vehicles and platform wheelchair lifts. The company converts Toyota, Honda and Chrysler minivan models.
Inspiring Work
Diehl joined VMI three years ago after working in the automotive industry for a tier one supplier. He notes that the transition to VMI was not difficult, given his experience.
However, work at VMI is different. "In my previous position, I focused on one facility," he recalls. "[I'm] more involved [at VMI] in the overall scope of the organization's supply development."
He adds that he is proud of the work that VMI does. "It's truly inspiring and meaningful," he says. "Not only do we provide a superior-quality product, but we're also able to experience the joy and the gratitude that our customers get from the products we build. That has pushed VMI to provide a superior-quality product that we know can make a difference in people's everyday lives."
Supply Chain Collaboration
VMI maintains strong control over its supply chain through many initiatives, Diehl says. For instance, the company synchronizes its chain with its stakeholders with controls that minimize overall risk.
"This is done by identifying risk elements, determining the probability of risk and the potential dollar impact that may occur, based on sourcing decisions and monitoring risk for prevention," he says. "Secondly, we also implement strategic sourcing as a collaborative effort within the organization and actively engage our internal customers in the decision-making process."
VMI promotes teamwork between its production, supply chain and other areas. "Instead of existing in silos, we've developed working partnerships," he says.
"As an organization, it's important that we understand the company's goals and work together to achieve them," Diehl says, crediting Operations Manager Mike Lovato. "[He] has been key in integrating the supply chain's solutions throughout the entire organization."
Processes to Lean On
VMI also has implemented "Lean Six," which allows it to develop strategies for managing cost and adding value, Diehl says. "Lean Six has been a huge contributor in reducing waste while increasing value to the customer," he says. "This has allowed VMI to be more in touch with our supply base and focus more on supplier development to better achieve our goals."
Lean Six also helps VMI better respond to the needs of its customer, Diehl says. For example, at one point, VMI needed to lower its sales and warranty days to ship. "Through our Lean Six initiatives, we implemented processes to reduce days to ship by 75 percent," he says.
Today, the company averages a one-day turnaround for shipping sales and warranty parts. "Not only did we improve days to ship, but we've reduced our freight cost and on-hand inventories through the implementation of kanban," he says.
"As a result, our customers are satisfied and we're able to sustain the gains through the controls to maintain acceptable levels of inventory, and mitigate risk of obsolescence," he says.
VMI also performs in-depth root cause analysis to determine which actions lead to excess inventory. "We've also introduced sequencing from local suppliers based on a firm, three-day schedule that is transmitted daily to the supply base," he says.
"On-hands have been reduced by 80 percent, eliminating shortages and floor space utilization, which in turn was carried over to our suppliers," Diehl adds. "They make what we need, when we need it, eliminating waste."
Increasing VMI's Share
Diehl predicts continued success for VMI. While the company continues to send its products out to dealerships across the country, it plans to expand its base even further.
The firm recently opened its own dealership, Vantage Mobility Center, in Phoenix. "I [also] see our volume and marketshare increasing within the mobility industry," he says. ­­­