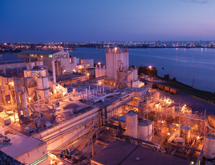 A premier specialty chemicals and materials company, W.R. Grace has crafted a long history and a global reach by developing new products that offer significant benefits to its customers. Organized into business units that focus on catalysts, materials and construction products, the company operates nearly 100 manufacturing facilities around the world.
"Our customers are looking to purchase quality products that represent excellent value," says Steven Seeb, director – global supply chain, direct materials. "We are well-positioned to provide them with just that."
Varied Selection
W.R. Grace has a diverse product portfolio that differs depending on the business unit. The catalysts technologies business segment includes fluid catalytic cracking (FCC) catalysts used by the refining industry, specialty catalysts supplied primarily to polyolefin producers and a joint venture with Chevron Products Co. that markets premium hydroprocessing catalysts to the refining industry.
The materials technologies business segment also includes three main product lines. Grace's engineered materials product line includes silica-based and silica-alumina-based materials, while its Darex product line includes closures, sealants and coatings used predominately in the food packaging industry. The third product line, discovery sciences, includes silica-based separation media and complementary purification products, silica excipients used in pharmaceutical formulations and CO2 adsorbents used in anesthesiology and mine safety applications.
The final piece of the puzzle for Grace is its construction products line. The company provides specialty construction chemicals and building materials.
"One of our most significant areas of focus is to improve our management of inventory," Seeb says. "We don't want to have too much or too little inventory. We are very customer-centric and we want to supply our customers with the right product at the right time and at the right cost."
W.R. Grace's supply chain has dealt with many challenges in recent years. The financial crisis toward the end of 2008 brought an end to a period where raw material prices had spiked based on strong demand and tight supply.
"There was reduced demand and product line rationalization," Seeb says. "Many of our suppliers were looking at their manufacturing footprint and product lines, trying to optimize their assets and portfolios to remain competitive and profitable."
As the economy slowly improved, reduced supply across a number of commodity markets made it more difficult for companies such as Grace to source product.
"As capacity and product lines were rationalized, we were finding ourselves operating in a reactive mode, often scrambling to find alternative sources of key raw materials," Seeb says. "So we've focused on better positioning ourselves over the last few years to ensure we have partnered with the right suppliers and to limit, to the degree possible, the number of sole- and single-sourced raw materials we purchase."
Process Improvement
In addition to working to strengthen its ties to suppliers, Grace is in the midst of a six-month initiative to improve the way it manages its raw material inventory.
"Different processes for managing our raw material inventories across our various businesses are often being employed," Seeb says. "We are working to map these processes and develop a more standardized approach. That includes determining how to best establish and control reorder points and reorder quantities, as well as the metrics we use to measure our progress and performance."
Grace also has sought to strengthen its supply chain organization by looking at its reporting relationships within the company. "Developing a more integrated supply chain and ensuring effective communication is of paramount importance," Seeb says.
Grace understands that the supply chain will have a major impact on its future growth and profitability. In fact, the company re-established the position of vice president of global supply chain in early 2012 to ensure that the supply chain organization had a seat at the executive table. As the company grows, the supply chain organization is working hard to integrate new acquisitions and greenfield operations. "We need to be nimble to support organic and bolt-on growth," Seeb says.
Another major focus area for Grace's supply chain is to reduce working capital. Seeb says the company is also evaluating and upgrading its key supply chain systems and processes to deliver best-in-class functionality.
"Grace views supply chain as critical to its future growth and profitability," Seeb says. "Each dollar that can be saved and every value-added solution that can be implemented is important because it will contribute directly to Grace's bottom line and provide the financial resources to reinvest in technology and our geographic footprint, ultimately offering our customers a better value proposition." ­­­