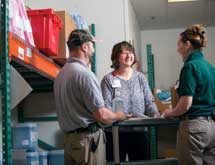 Getting the right things to the right place at the right time in the right quantity to achieve perfect work flow – while minimizing waste – is the classic definition of supply chain lean technology.
Lean is perfect for making cars, selling beverages or moving commodities. But what about treating patients?
Proving Ground
Dartmouth-Hitchcock Medical Center in Lebanon, N.H. is proving that being lean can improve patient care and save millions of dollars in the rapidly changing world of healthcare.
Nearly two years ago, Dartmouth-Hitchcock leaders set up the Value Institute, a multi-discipline program dedicated to streamlining operations, saving money and improving patient care.
Supply chain management is nothing new at Dartmouth-Hitchcock. But getting everyone to think about it and work as a team – from doctors and nurses to surgical technicians and warehouse drivers – is making a remarkable difference.
Overall, the hospital's supply chain department has contributed material savings of $12.7 million, reduced inventory by $2.8 million, increased inventory turns by 31 percent and reduced the department's operating budget variance by 90 percent.
The Value Institute is teaching dozens of teams to apply Lean, Six Sigma and other methodologies to every operation – while treating tens of thousands of patients.
Getting it Done
Dartmouth-Hitchcock's employees are encouraged to identify an area of concern and bid for Value Institute training. The Value Institute helps the hospital select a team, provides intensive Lean Six Sigma training and assigns a coach to mentor the project leader. The team works on the project using the DMAIC methodology learned in training.
A good example is Dartmouth-Hitchcock's recent "Days On Hand" project to improve the way it manages supplies on inpatient floors.
Because there were no established standards for the hospital's replenishment team, Dartmouth-Hitchcock found that supply carts containing everything from syringes to sterile solutions were overstocked, under-stocked or not available.
Having too little inventory meant supplies were not available to nurses for patients when needed; nurses tended to order extra supplies when stocks were low, and labor costs increased due to expedited item requests and returns. Too much inventory meant supplies were sitting on shelves not being used or wasted because they expired, and there was no space for new items on crowded shelves.
Dartmouth-Hitchcock formed a team from purchasing, hospital supply, the warehouse, material management information systems and nursing.
The hospital ran usage reports for all items and calculated new inventory levels based on usage, with variables for days between orders and fill rate percent. The process involved worked closely with nursing to ensure the changes that were proposed met the reality of nursing's day-to-day needs. By the time the project finished, it had reduced the value of the department's inventory by 36 percent and reduced days on hand by 37 percent.
It isn't easy to change habits. Some staff resisted because they felt overwhelmed, didn't know how to look at the problem or weren't comfortable using the software. By providing examples of where similar changes were working, giving them some control over the process and providing training, Dartmouth-Hitchcock engaged staff and is $165,000 toward its $200,000 goal implementing these improvements in other clinical areas. A key to sustaining the new standard has been developing tools for replenishment techs to do this work independently.
Dartmouth-Hitchcock team's biggest lesson was to understand the work from beginning to end before changing the system. The hospital saved 36 percent for only one department of its 535-bed hospital. If it could do that for every other department, the hospital could save more than $500,000 simply by reducing inventory supplies.
Think about the savings if every hospital applied supply chain efficiencies to their work. That's why Dartmouth-Hitchcock is doing this work.
Victoria Adams is an internal consultant in supply chain operations performance improvement at Dartmouth-Hitchcock Medical Center.