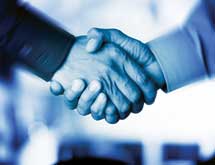 Many companies think they use supplier partnerships for warehousing and fulfillment, but in reality they are just one-sided relationships. I once asked a Fortune 500 company if they used partnerships and their response was, "Of course! If you provide the price, quality and lead time we want, you can be our partner."
Partnerships built on that kind of foundation typically don't lead to breakthrough results. In a real partnership, success is measured in terms of both parties increasing their revenue, profitability and cash flow. A company I know embodied this model by striving to be their supplier's most profitable account, while the suppliers gave them world-class pricing and the chance to dramatically increase inventory turns. A true partnership is about collaboration and mutual success.
Innovation & Partnerships
Let's look at a project currently underway with a client in Alaska. This company has made exceptional use of partnerships and has reaped unexpected rewards in terms of innovation, productivity and cost reduction. They face unique challenges for supply chain management: Alaska's climate fluctuates wildly from season to season and goods must travel great distances to get there. Lead times can be long and shipping options are limited.
The CFO of the company set the project vision as follows: increase inventory turns and reduce warehouse costs while improving service and delivery to customers including retail outlets, construction projects and direct to consumers. The director of supply chain developed a strategy with these key elements:
Vendor managed inventory (VMI)
Vendor managed delivery
Lean tools
The company decided to partner with one of their current suppliers to provide a large percentage of their parts using vendor management, and to deliver directly to construction projects, which is a major part of their business.
The warehouse team coordinates closely with the VMI provider to replenish shelf stock and monitor the program. The supplier provides a customer support representative (CSR) who works closely with the company's supply chain team and the engineers. One unique element of the CSR's role is to recommend alternative materials to the engineers to help reduce costs and SKUs in the warehouse. Without this kind of partnership, the engineers might never know about these money-saving options.
Collaborative Steps
The partnership process began by rationalizing both the supplier base and the parts themselves. The company had more than 3,000 SKUs in inventory, many of which were duplicates or obsolete inventory. The first step was to use common components wherever possible to reduce the number of SKUs in the warehouse.
Then the director of supply chain and his team started an aggressive program to get rid of obsolete inventory, some of which had been languishing in the warehouse for many years. Some of it was sold, some repurposed, some thrown away, and some returned to suppliers, including the supplier that took on the VMI portion of the inventory. They also analyzed the supplier base to reduce duplication and to concentrate purchases for increased volume discounts.
To clean up and reorganize the warehouse, the team used a lean 5S program. This freed up a surprising amount of floor space, which they repurposed. Using 5S (which stands for "sort, shine, set-in-order, standardize and sustain") got the warehouse personnel involved early on in the process and made the warehouse a cleaner, more inviting place to work.
They also implemented a program called "A Day's Work In A Day" to help assure that things were done in a timely manner. People didn't go home unless the items delivered that day were properly received into the system and either put away or staged for further action. This keeps inventory records accurate, which in turn helps the purchasing and delivery teams know what is really on hand.
One goal of analyzing the current supplier base was to identify candidates for partnership. The company issued a brief RFP to a few selected suppliers, mostly focusing on the elements of the VMI process.
The primary consideration was experience with VMI and lead times for replenishment in Alaska. Price was not a primary consideration, although total cost of ownership (TCO) reduction turned out to be significant, representing a 10 to 20 percent potential cost reduction.
The supplier will manage the replenishment of about one-third of all SKUs using three methods:
Shelf bins
Free stock locations
Vending machines for tools and safety supplies
Once the final supplier was selected, the company drafted a memo of understanding (MOU) to define the relationship. An MOU is a brief document that lays out both parties' responsibilities and accountabilities. It defines roles, payment terms, quality and conformance, delivery requirements and other issues related to the relationship. It clarifies expectations while avoiding legalese.
The MOU and the purchase order terms and conditions represent the whole of the agreement, replacing the more typical contract.
Streamlining Fulfillment
Vendor managed delivery (VMD) is another component of the transformation, and it addresses the company's need to improve service and delivery to customers. By partnering with the supplier and internal engineering group, the company created "kits" that contain the basic elements typically used in construction projects. The supplier will assemble the kits and deliver them to projects in the field without the materials even passing through the warehouse, reducing inventory and warehouse costs for the company.
Using shared project planning and forecasts, the supplier can better manage their own inventories to reduce total supply chain costs for both companies, creating a real win/win for the partnership. Later, the company plans to have the supplier assemble and mail service kits directly to consumers, which will reduce the inventory and total cost related to that service.
The results so far have been astounding. Since last fall, inventory has been cut almost in half. Floor and shelf space in the warehouse have been reduced by over one third, useless containers of junk have been cleared out, and the work areas are clean and bright. Because the changes have made their jobs easier, the staff is enthusiastic about the project. SKUs have been significantly reduced and costs have dropped so impressively that the CFO had to check to make sure things were being tracked correctly.
Looking Forward
The next steps are to continue the VMI implementation by adding more items to the program, dealing with non-VMI inventory through kanban systems where possible, and reducing min/max levels. Additionally, the team is exploring the possibility of adding additional VMI suppliers for other items to broaden the project's benefits.
They are implementing the same systems and processes in other locations using standardized concepts so that staff can efficiently move from one location to another without learning new methods each time.
The innovative approaches that spring from true supplier partnerships can provide breakthrough results. When the partnership brings big wins for both parties, everyone moves forward.
Rick Pay has been dubbed by his clients as the "Sherlock Holmes of Operations and Supply Chain Management." He appears regularly as a speaker, is a frequent contributor to magazines and newsletters, and publishes his insights on his blog, Operations Payoff. Find out more at www.rpaycompany.com.