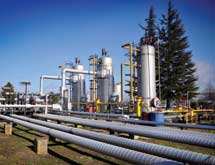 The boom in shale plays and natural gas has created a new crop of producers while creating opportunity for energy industry veterans. The often-rural nature of onshore shale plays, the geographically dispersed nature of the shale plays and the recent resurgence of onshore production dictates a different approach to supply chain and procurement.
Among the challenges for onshore producers are differences in scale, which means managing greater numbers of deliveries that contain smaller quantities of supplies to geographically dispersed facilities, and the rapid pace of development and activity in shale production, meaning shorter lead times and competition for resources of all kinds.
In addition, the fragmented nature of the onshore supply chain means many more decisions must be made about both large-spend items and smaller supply chain issues.
Materials vs. Suppliers
A helpful way to think about supply chain decisions for smaller-spend items is materials vs. suppliers. When deciding on suppliers for materials, companies should consider the following:
What kind of reach does the company have?
Is their product mix varied enough to satisfy the diverse nature of the wells being explored?
Are they supplying other operators in the area?
It is also important to find suppliers with intimate knowledge of the territory and the terrain, and a proven ability to deliver – even if they already work with your competitors. Suppliers who source materials locally rather than through a centralized distribution network could be a better bet than going with a company with a national footprint. If considering a national player, their regional distribution outlets are important.
For services, the most important considerations are reputations for reliability and whether the supplier has the relationships to ensure a robust pipeline of employees.
The Bottom Line
Suppliers have the power in today's remote shale plays. Consequently, the focus for companies is less on selecting suppliers and more on securing supply. Successful companies will make themselves a customer of choice by offering more favorable payment terms, improving their internal processes to drive on-time payments and deploying effective supplier relationship-management programs.
Having strict qualifying processes is critical. It is especially important with service suppliers, as the barriers to entry can be so low as to be insignificant. Ask if the service suppliers are bonded.
Investigate their safety record. Any event that shuts the operation down, even for a brief period, will likely have a greater impact on the company reputation than it will the supplier's.
A company's improved mastery of the supply chain allows for better planning, allowing you to be proactive and predictive rather than reactive and responsive. Keeping a closer eye on leases and their expiration dates, and making sure that equipment is where it needs to be when it needs to be can avoid such scenarios.
Standard supply chain management software, such as that found in leading ERP solutions, is an excellent tool for providing an operation with comprehensive, real-time data.
Vast Opportunities
As an industry in its infancy, onshore shale production is one where best practices are still being developed, and it makes sense for energy companies to heed lessons from other industries. For example, logistics, heavy-equipment rental and moving companies, all of which map and manage the movement and coordination of their fleets via GPS and other technologies, are great analogs for shale operators.
Think about who is in charge of procurement and supply chain operations. Are they experts in the technology of exploration and production – as is too often the case – or in the disciplines themselves?
If the goal is to better manage and improve procurement and supply chain, hiring someone who understands the advanced concepts that guide these processes is critical.
The shale industry is still relatively young, with a vast amount of opportunity for growth and expansion. Given the need for low cost energy, the industry can't help but prosper, but the pace of growth will depend on how adroitly companies navigate the challenges.
Regina Mayor is KPMG's National Advisory Energy Sector leader, and Samir Khushalani is the National Strategic Sourcing & Procurement leader. Both serve KPMG's energy clients. They can be reached at rmayor@kpmg.com and skhushalani@kpmg.com. (The views and opinions expressed herein are those of the authors and do not necessarily represent the views and opinions of KPMG LLP.)