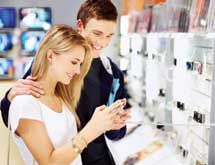 Cloud-based solutions can be the right – and smart – way to manage the global retail supply chain.
Today's retail value chain requires companies to quickly and efficiently adjust operations to meet the ever-changing demands of consumers. But keeping up with demand while protecting profit margins can be nearly impossible without the right tools. Organizations must collaborate across all moving parts within the supply chain, facilitating tighter management of the flow of data, goods and capital, without which the omni-channel retail chain would crumble.
Constant fine-tuning is necessary to align supply with demand, but all parties must have constant, clear visibility into a single version of supply chain truth to ensure goods are produced at the calculated cost – and sold at full margin. Many businesses still rely on spreadsheets, emails and phone calls to oversee the transaction lifecycle. This is simply impractical for today's agile, omni-channel retail model.
Social Supply Chain
Many retailers find cloud-based solutions to be the perfect fit for managing the global retail supply chain. Instead of calling or emailing 10 or 20 trading partners with an operational update, the collaborative model cloud technology provides allows retailers to have a single touch point for an entire network of supply chain partners. Companies can post updates where they are viewable by the entire supply network, expediting the time-intensive process of manually reaching out to each partner. Think social supply chain, similar to a social media platform where a LinkedIn or Facebook profile is updated: once live, the entire network will instantly see a post.
Five Key Steps
Connecting the entire supply network in the cloud opens new possibilities for speed, efficiency, savings, visibility and agility. Processes from planning to creating purchase orders, through settlement and delivery can be better streamlined when all parties are connected in the cloud.
Streamline factory floor execution – A manufacturer uses a single platform that handles all customer requirements with regard to automated packing, scanning and shipment building to ship store-ready cartons or facilitate fast cross docking at its customer's distribution center. At the same time, they improve packing accuracy and minimize chargebacks. Through the cloud, factories have tools to accurately pack customer orders, print or order compliant carton labels and generate a customer compliant inbound shipping notice.
Protect margins by eliminating delays – A retailer's sourcing department is automatically informed in real time of any significant delays at any point in the end-to-end production lifecycle. Wherever delays originate, the brand is instantly alerted. The delay is identified and the brand has time to find the best possible solution to preserve a full margin delivery.
Improve performance with better flexibility and communication – Prior to each fashion season, a clothing provider communicates capacity and raw material needs to suppliers. Each supplier then validates whether it can meet the needs or identifies a lack of coverage early. At the time of PO, suppliers are better prepared and connected parties are instantly updated should there be any urgent needs or changes.
Do more with less – An outdoor apparel brand handles $500 million in sourcing settlements with only one person in accounts payable due to process and workflow automation. A leading global footwear brand deploys a paperless and hands-free transaction process to allow payment approval in 48 hours. A mid-size consumer goods company replaced all letters of credit with an open account platform without adding extra staff to handle the supporting documentation process. Not only did they save their company money, they helped their suppliers save.
Optimize capital – Working capital management is key to running an agile global supply chain. One global retailer utilizes a self-funded early payment program in the cloud and places information onto customs invoices to lower its duty payments. Using the cloud-based system, the retailer obtains discounts from suppliers in exchange for delivering payment within five days from shipment, and pays duty on a lower invoice value. Suppliers obtain the capital they need within days at rates 20 to 30 percent lower than financing available to the supplier locally.
 Typical sourcing transactions can involve five to 15 different parties – in different countries, languages and time zones. Cloud technology facilitates a collaborative supply chain model that enables all parties to communicate and transact in real time in a single location. With the right strategy, technology and support, the cloud is a strategic differentiator in the retail supply chain.
Bryan Nella is director of corporate communications for GT Nexus.