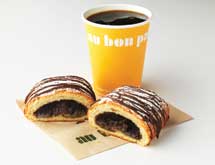 As one of the world's oldest foods, bread is a staple around the globe, known to most as a comfort food or at least a part of most meals. Bread can take many forms, but even with its ubiquitous nature, a truly good bread can delight one's senses of taste, sight, smell and touch unlike many other foods. Louis Kane understood this when he founded Au Bon Pain in 1978, and the brand continues to have strength today due to its constant focus on quality.
Kane, a businessman, was walking through Boston's Faneuil Hall Marketplace in spring 1978 when he saw a display of a new line of French bakery ovens. Taken with the aroma and quality of the fresh breads, he thought it would be a great idea to make these wonderful, fresh breads and croissants easily available to everyone in the city. Soon after this he established the first Au Bon Pain, and today there are more than 300 Au Bon pain cafés around the world, including in Kuwait, India, Thailand, South Korea and Taiwan. In 2005, several veteran employees completed a management buyout for 75 percent ownership of the entire Au Bon Pain corporation, emboldening the operation and fueling its future growth.
"Au Bon Pain's loyalty is driven by empowering the guest to create a meaningful experience," Vice President of Supply Chain Wade Winters says.
Innovative and Artisan
Au Bon Pain is dedicated to providing artisan breads that are individually crafted, hand-shaped and perfectly baked. Its Artisan Bread Collection is "a symbol of our commitment to baking the finest breads in the world," the company says. To ensure it delivers on this promise, Au Bon Pain follows the artisan tradition of combining fresh, savory ingredients – such as Guerande sea salt harvested from the French coastline – with long-held customs created by the artisans themselves.
But in addition to its extensive offering of breads and baked goods, Au Bon Pain's cafes provide a full menu of breakfast and lunch sandwiches, salads, harvest rice bowls, soups and stews, coffee and other hot and cold beverages. Some cafes also offer breakfast bars and hot and cold lunch bars, which have a variety of entrees and side dishes.
Some of Au Bon Pain's newest menu offerings include the Chicken Tortellini Soup, Lobster Salad on Brioche, Newport Turkey Sandwich, Strawberry Salad with Chicken and a Roasted Vegetables, Cheddar and Egg White Frittata.
On the sweet side, Au Bon Pain recently introduced cinnamon scones, a Greek nonfat vanilla yogurt and strawberry parfait, lemon drop cupcakes, Mudslide cookies and raisin scones.
"The key to ensuring consistent quality is having the right suppliers," Winters says. "We source the best ingredients from the best suppliers in the industry. We have high expectations from our suppliers and they know it. We can't be the best at what we do if they aren't the best at what they do.  That's why we refer to our suppliers as 'partners.'"
Dedicated to providing great ingredients and distinctive recipes, Au Bon Pain strives to offer its customers choices that combine "the goodness they want without skimping on the flavor and quality they deserve." The company was selected as one of America's Healthiest Restaurants by Health magazine, and its new Portions menu goes along with this reputation.
The Portions menu has 14 varieties of foods, including hummus and cucumbers as well as Thai peanut chicken. This menu was created to be nutritious, healthy and low in calories, but still full of flavor. All of its Portions varieties are less than 200 calories each. Au Bon Pain also has a Smart Menu Finder on its website to help consumers build meals that are right for them. In its cafes, customers can use the nutrition kiosks to get the information they need to make smart eating choices.
'Beyond the Ordinary'
Au Bon Pain takes pride in appealing to a diverse audience with its food, and this appeal and ongoing innovation are behind the company's continued growth. Of course, Au Bon Pain credits its people with its ongoing success – from its customer service representatives and sandwich makers in its cafes to its executive team at its support center.
"From the purchasing team who works diligently with suppliers to negotiate the terms that keep our café costs in line; to our operations team who works to ensure clean, safe cafes and guest satisfaction; to our IT team who works to provide the most current technological solutions for maintaining out competitive edge; each department contributes to bottom line profits and plays a critical role in the success of the entire company," Au Bon Pain says.
The company operates many corporate locations, but much of its growth is focused on increased franchise development in domestic and international markets. Looking to grow within its five preferred trade channels – city-center office buildings, transportation centers, hospitals, universities and malls – domestically Au Bon Pain is focused on growing its franchise program in the eastern, southeastern and midwestern states. Internationally, the company is focused on Asian and Middle Eastern territories.
"At Au Bon Pain, we are committed to going beyond the ordinary in every facet of the fast-casual dining experience," the company says. "We welcome our guests with a warm, comfortable café setting; a friendly hospitable customer service smile; and countless fresh, innovative and healthy menu choices. Our experience has shown us that when the most basic and ordinary restaurant elements take the turn toward extraordinary, we get a winning combination that has been the cornerstone of our success over the years."
"Au Bon Pain is embarking on a period of accelerated café openings resulting in an expanded geographic footprint," Winters says. "Au Bon Pain's SKU intensity and reliance on proprietary products create challenges in expanding its supply chain. Au Bon Pain strategically plans the expansion into new markets by committing to a certain number of locations within a specified period of time. The key to growth is, once again, having the right supplier & distributor partners in place to support that growth." ­­­