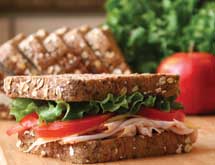 Introduced in 1954 – and named for its broad breast and plump, round shape – the Butterball turkey is known as the centerpiece of Thanksgiving in the United States as well as Americans' turkey of choice year-round. Butterball is the largest vertically integrated turkey producer in the country and accounts for 20 percent of total turkey production in the United States, producing 1 billion pounds of turkey each year. In addition, its plant in Mt. Olive, N.C., is the largest turkey plant in the world at 675,000 square feet. With an operation of this size and a brand that is so well loved by consumers, the supply chain plays an important role in Butterball maintaining its quality reputation.
Based just outside Raleigh-Durham in Garner, N.C., Butterball's vision is to be the food brand of choice, "loved and trusted by all who rely on us, to provide reasons to celebrate every day." Butterball has five plants where it carries out this commitment to excellence in its products:
The Carthage, Mo., plant produces bulk turkey and pre-blends for other plants, as well as frozen turkey breasts and ready-to-cook frozen boneless turkey roasts.
At its Huntsville, Ark., location, Butterball produces prepackaged fresh, frozen and cooked whole turkeys, retail breasts and roasts, and prepackaged bone-in tray pack turkey products.
The Jonesboro, Ark., site produces cooked, ready-to-eat deli breasts for retail.
Butterball's Mount Olive plant produces cooked deli breasts, prepackaged fresh tray pack turkey, ready-to-eat frozen breasts, ready-to-cook frozen boneless turkey roasts and frozen whole turkey.
The company's Ozark, Ark., location produces prepackaged fresh and frozen turkeys.
"Butterball will provide great-tasting foods that inspire joyful experiences, bringing people together," it says in its mission statement. "Our commitment to quality and innovation will allow us to deliver superior products and services that generate confidence, pride and success for our consumers, customers, associates, business partners and stakeholders."
Logistical Excellence
Butterball considers its logistics operation as an important part of its overall excellence. The company manages its own transportation, distribution and warehousing, remaining dedicated to getting its products to retail and foodservice customers at the right time, right place and right cost. To ensure excellence in all of these areas, Butterball is focused on four key plans:
To start, Butterball is using its finance plan to fund its future growth. This involves setting strategic initiatives to achieve internal cost savings, and implementing a transportation management system (TMS) to optimize routing, carriers, planning and tendering.
In its marketing plan, Butterball is working to optimize and increase its profitability. Through this strategy, the company is expanding the number of partners it has in its distribution network, especially in the Midwestern, Southeastern and Eastern regions of the country. One of its main goals in this plan is to increase service while also taking costs out of the network.
Butterball is already well known for its quality products, but in its product plan, the company plans to use its new TMS in combination with lean logistics to optimize its performance in getting product to consumers and foodservice customers.
Finally, in its people plan, Butterball wants to stress accountability, integrity and quality execution with its people. The company also realigned its transportation into two core groups – customer and carrier – to save time and costs.
Butterball's entire organization is dedicated to responsible business practices, and this includes environmentally sustainable initiatives. In its logistics operation, the company is using its Green Lanes initiative to enhance the sustainability of the transportation aspect of its business. In this program, inbound truckloads are delivered and then the truck is reloaded with outbound loads, keeping its trucks from having any "empty" miles.
Safety Focus
Throughout all aspects of its operation, Butterball keeps food safety as its highest priority. Understanding that safety is a key part of delivering quality products to the market, the company uses various internal safety and quality programs, as well as first-in-class manufacturing practices.
"As the industry leader in quality and food safety, the company employs numerous processes to ensure the health of flocks, and implements recognized prevention measures to exceed food safety standards in its plants," the company says. "In addition, Butterball has surpassed important workplace safety and health benchmarks set forth by the Occupational Safety and Health Administration's Voluntary Protection Program."
In demonstration of this, all of Butterball's facilities when through a strict third-party audit during 2009 as part of the Global Food Safety Initiative (GFSI). Butterball explains the GFSI is an international nonprofit foundation with a mission to work on continuous improvement in food safety management systems to ensure confidence in the delivery of food to customers. "From food safety to sustainability, Butterball takes pride in being the best and sets standards that are accepted worldwide," the company says.
Butterball worked with the British Retail Consortium (BRC) to certify that its facilities were compliant with the international criteria of GFSI. The company notes that the BRC Global Standard for Food Safety is an accredited, certifiable standard and the first one to be approved by GFSI. BRC has been adopted by more than 8,000 food businesses in more than 80 countries.
"The BRC process involves more than 300 elements related to food safety and quality, as well as worker safety, environmental impact and management commitment," Butterball says. "All Butterball facilities were certified during the 2009 audit process and are listed on the BRC directory." ­­­