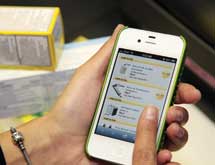 Inmar started more than three decades ago when its founders saw they could improve the way couponing was handled and processed, saving retailers and manufacturers money. Since that time, Inmar has branched out into other spaces and handled $38 billion in commercial transactions.
"Whenever you use a coupon, get a prescription filled or engage in a product return, chances are that Inmar platforms are somewhere in there, handling decisions and money flows and sometimes physical goods," CEO David Mounts says.
Inmar has more than 1,500 retail and manufacturing clients, 60 supply chain retail clients, and it serves more than 20,000 retail pharmacies and 60 independent pharmacies and health systems. Inmar's physical footprint tends to fluctuate, but at any one time the company operates around 30 facilities in North America.
Building Trust
The company develops technology-driven, real-time commerce platforms that connect retailers, manufacturers and service providers. Inmar has established itself as a trusted third party between retailing and manufacturing trading partners thanks to its reliance on a simple principle. The company strives to deliver value and apply its insight to complex transactions, operating alongside customers as though they are all one company and enabling trading partners to be more responsive and effective.
"An essential theme of our brand is building trust through mutual collaboration," says Steve Dollase, president of Inmar Supply Chain Network. "In our supply chain network, the sources of value disruption are where companies may not share the same data. We have helped our partners to streamline processes, take out waste and create value for both ends."
Inmar is organized into three networks: Inmar Promotion Network, Inmar Supply Chain Network and Inmar Healthcare Network. Inmar Promotion Network offers solutions for coupons, digital promotions and rebates to help with the development, execution and analysis of shopper-engagement vehicles.
Inmar Supply Chain Network's solutions combine returns transaction processing with real-time analytics and facilitate reverse logistics. Inmar Healthcare Network handles the complexity, volume and compliance requirements of pharmaceutical returns and recalls, as well as pharmacy receivables and contract management.
"Our setup helps our customers by making commerce data-driven and ensuring that tools in each network are as functional, useable and effective as possible," Mounts says.
At the core of each network is a network-specific, cloud-based platform. These are real-time, big data foundation platforms that handle the information and provide customers with value.
"The platforms accumulate the data and from that data we can draw vast insight into what is going on and where there are opportunities for manufacturers and retailers to improve their business," Dollase says. "We leverage advanced analytics and consulting teams in each network to take those big data insights and drive business value."
Improve and Enhance
Inmar is constantly looking for ways to improve and enhance its offerings, and regularly makes investments to expand its platforms.
"That determines how we add functionality," Mounts says. "We look at all platforms, which are cloud-based and data-centric because we want data to be accessible and to activate new learning. We've invested more than $100 million into our platforms over the last four years. We want them to have multiple redundancies and a high level of security, to be able to facilitate all needs that physical retailers and manufacturers have and to handle money management and shopper experience management."
In addition to adding to its solutions internally, Inmar looks to work with outside strategic partners to build on its offerings.
"We have coordinated the core platform, and as external apps and ideas can bring value, we attach them to our core platform after we've vetted them," he says. "We realized the market needed a trusted intermediary to vet the technologies, make sure it was trustworthy and bring the good ones to our platform. We repurposed our mission to do that based on customer feedback."
Inmar knows it must help clients understand the importance of customer-centric, one-to-one marketing, teaching them how to use it in conjunction with mass marketing. It also will be helping clients drive efficiency in the way they run their businesses and make smarter decisions, and to do it at a discreet level that is transactional and real-time in nature.
Fortunately, Inmar has shown its ability to recognize where problems lie and to devise innovative solutions. That is what it was founded on more than 30 years ago, and that is what continues to drive its evolution.
"We started in the coupon space, but as we built trust between retailers and brands, they pulled us into other spaces," Dollase says. "That is how we got into supply chain for reverse logistics, pharmacy claims reconciliation and other areas. Our partners trust us and know that we will determine their needs and find opportunities to create more value." ­­­