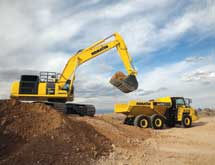 More than 6,500 miles separate Komatsu America Corp.'s main construction equipment manufacturing facility in Chattanooga, Tenn., from its Japanese parent company, but when it comes to making the best product possible, the two are on the same page.
"The thing that has set Komatsu apart for decades is the quality of our product and processes, which is the same for the machines built in Japan as for those made in the United States," says Eric Finch, senior manager of supply chain planning for Komatsu America's construction equipment operation.
The company applies those processes to the daily operations of the local manufacturing facilities as well as to the way it sources materials and gets finished products and replacement parts to customers. Components for the local manufacturing facilities are procured both locally and direct from Japan.
"Quality is always foremost in our minds and the product that is already in the hands of customers is most important to us," Finch says. "If we have a machine out in the field and no parts are available, we will stop the assembly line to make that machine operational. Our existing customers are our top priority."
Komatsu America partners closely with its suppliers to preserve product quality. This includes visiting supplier facilities to assist in their processes.
"We're working together to keep quality high while improving efficiencies at the same time," he adds.
Komatsu formally established North American operations in 1970. "Our goal was to become more than just a supplier of superior construction equipment," the company says. "We made a commitment to become a trusted manufacturer and supplier that could provide ongoing support to every customer."
Based in Rolling Meadows, Ill., Komatsu America today is one of the largest fully integrated construction equipment suppliers in North America. The Chattanooga facility is one of three operated by the company. In addition to construction equipment, Komatsu America manufactures mining, utility and forestry equipment as well as forklift trucks. These markets are served by the Chattanooga plant as well as facilities in Newberry, S.C.; and Peoria, Ill.
Komatsu America's supply chain division, based in Chattanooga, serves a nationwide distribution network of 35 members from multiple distribution stockyards across the country. Utilizing third parties, Komatsu personnel and its distribution network, these stockyards are operated via a hybrid scheme in order to maximize customer service for each region of the country.
The construction equipment business also imports equipment from other parts of the globe. All equipment is subjected to multiple checks during the manufacturing process to ensure quality. Additional checks are performed during the import and export processes.
"Komatsu America's marketing department works closely with distributors to forecast their equipment needs," Finch notes.
Meeting Demands
The supply chain division uses SQL software and internal reporting to ensure proper stocking levels. "We've made sure we know what the true demand is, and we've reached out to distributors to confirm our manufacturing and sourcing operations are aligned with their orders," Finch explains.
All of the company's machines include telemetry systems that allow it to track fuel consumption and location. Komatsu America can then assist their distribution network with planning service and provide maintenance support based on this information. "We can speak to distributors about problems that may occur based on how the equipment is being operated before it even becomes a problem," Finch says.
Making Adjustments
Komatsu America continues to adjust its supply and manufacturing operations to meet the needs of the North American market.
"We're striving to continually improve our understanding of the North American market and proactively plan for changes in the market," Finch says.  ­­­