Lehigh Valley Restaurant Group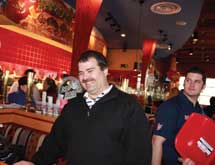 Although it's part of a national organization, Lehigh Valley Restaurant Group (LVRG) has tailored its business to its region. LVRG is a master franchisee of Red Robin restaurants and operates 19 sites in the Scranton, Wilkes-Barre, Philadelphia and Harrisburg areas of Pennsylvania. The 20-year-old company averages one new location a year and is opening its 20th location in Collegeville, Pa., this July.
Over the past two decades, Senior Director of Purchasing Chad Miller says the company's inclination toward continuous improvement has been one of its greatest asset. "Thinking outside the box and getting things done quickly is something we're good at," Miller explains. "We move quickly and we don't like to hear 'no' for an answer; we just get things done. Since we're nimble and small we are very entrepreneurial."
Because he handles all aspects of supply chain and procurement, Miller is involved in each upgrade at LVRG, and its current improvements are aimed at better food and better service. Red Robin is known for its flavorful burgers such as the classic Red Robin Gourmet Cheeseburger, the rich Whiskey River BBQ Burger or a savory Prime Chophouse Burger. Fans of the chain might think these Red Robin signatures don't get any better, but LVRG has set out to prove them wrong.
Well-Equipped
Miller's department recently coordinated the rollout of new equipment in each restaurant that will also be in its soon-to-open location. Instead of using toasters, the company has switched to Doughpro to caramelize its hamburger buns. It's also swapping out its burger finishing equipment. The burgers were once finished via cheese melters. Now kitchen staff will use garland char broilers.
"The Doughpro will seal in the heat and it becomes a hotter product, so the guests are giving us credit for 'hotter buns,'' Miller jokes. "And now that we're putting in garland broilers, we get hotter burgers. So the guests are giving us credit for hotter food all around."
Another project underway is a new option for guests to purchase that hotter food. LVRG has been working with Ziosk, a restaurant solutions company that has developed tabletop screens that allow restaurant-goers to look at menus, reorder food and beverages, play games and pay their tab by credit card. The company has been rolling out the equipment across its operation and should be 100 percent complete by July, the same time it will open its Collegeville restaurant.
With 60 to 70 Ziosks in each restaurant, it's been no small undertaking. LVRG first worked with Ziosk to develop a platform specific to its operation. It then turned around and trained staff on the new equipment, which will supplement but not replace its waitstaff. The goal is to give customers more control of their restaurant experience.
"The restaurant industry is the only place out there where you give someone a credit card and they walk away for five minutes and you don't know where they're going or what they're doing," Miller says. "By putting in these new Ziosks in all of our restaurants, they don't have to give the credit card to a server. They can swipe it there at the table. And it's not just for payment. It also has games for kids and you can listen to music on there, too. You can reorder a drink from the bar or order an appetizer as soon as you walk in."
Common Goals
The purchasing department, just like the rest of the company, operates with Red Robin's core values in mind: honor, integrity, continually seeking knowledge and having fun. LVRG has upheld those values since it opened its first location in Allentown, Pa., in 1993 and even after its founders and former CEO Stephen J. Hanzlik, passed away after battling cancer. Current CEO Jim Ryan has overseen the opening of two new restaurants since 2011; the Collegeville location will be the third.
Going forward, Miller explains that the company will continue to operate by taking the best ideas from corporate and marrying them with improvements that make sense for its region. Miller takes quarterly trips to Red Robin's corporate office in Denver, where he sits on the food culinary council. The organization exchanges ideas and news about progress and results on new projects.
"Although lots of things are laid out by corporate, there is always room for doing things better or more efficiently," Miller says. "For instance, they use a different food supplier than we do, but we use someone that benefits us here more locally. But at the end of the day it's very collaborative. We are all just looking for the next great burger to put on our menu." ­­­