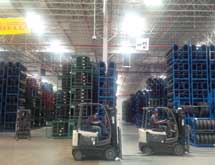 One of the world's leading manufacturers of performance and premium tires is increasing its capacity in North America. Pirelli Tire, a multinational company based in Milan, Italy, in 2012 opened a factory and distribution center in Silao, Mexico, that will allow it to better serve the continent.
The $400 million facility, the company's first in Mexico, opened with a production capacity of 400,000 tires a year. This number is estimated to expand to 3.5 million units by the end of 2015 and 5.5 million tires once fully operational in 2017, the company says.
Pirelli Tire's Mexico manufacturing plant will provide strengthened customer service to the region while also helping the company save on customs and logistics costs. The plant will allow the company to reduce imports from South America – Pirelli's highest-volume market in terms of sales and production – as well as China.
Overseas imports constitute 95 percent of the company's overall supply to the U.S. market, a number the new factory will reduce to around 50 percent, explains John Godfrey, vice president of logistics and purchasing for the NAFTA region.
The new plant doubles Pirelli's North American manufacturing presence and adds to its distribution capacity, as a new distribution center was built adjacent to the factory. Pirelli operates a factory in Rome, Ga., as well as four distribution centers in the United States and Canada. Worldwide, the company has a presence in 160 countries with 22 manufacturing facilities on five continents.
Tires are not Pirelli's only notable product. The company is also widely known for its annual calendar, first published in 1964, which features some of the world's most renowned models and photographers.
A Premium Provider
The Mexico factory directly serves the automotive OEM market, one of the company's main distribution channels. Pirelli Tire also designs, develops, manufactures and markets tires for passenger vehicles in the replacement market, and markets and distributes tires for motorcycles and motorsports. Pirelli Tire is the exclusive supplier to the Formula One™ Championship.
"For passenger vehicles, we focus on the premium market segment and want to sell tires for high-end vehicles," Godfrey says. "This isn't to say we don't sell tires for standard cars, but that's not where our focus is."
The company, founded in 1872, also considers itself a leader when it comes to engineering and technology. Pirelli Tire partners with many  premium automotive manufactures to make tires designed specifically for their vehicles. "We want to be the specific marked tire for these cars, so when they need to be replaced, they will be replaced with another Pirelli," he adds.
Focusing on the high-end automotive market has also allowed the company to retain steady business despite the changes to the economy in recent years. "There are still people buying these vehicles who want OEM equipment, and this market overall is less cost-sensitive," Godfrey says. "We did feel some impact, just like everyone else in the auto industry during the economic crisis, and expanded our retail markets accordingly."
Traditionally, Pirelli Tire's products were found in independent retailers. Today, the company maintains focus on independent and Pirelli-branded dealers while also serving mass-market retailers, dealers associated with other tire brands, and online retailers such as Tire Rack.
Reliable Service
Pirelli Tire partners with third-party logistics (3PL) providers to ship and warehouse its products. "In the past, we had 10 warehouses in the United States, and now we have three," Godfrey says. "We were paying fixed costs on our own warehouses that we're not paying now. Using 3PLs has allowed us to have the same amount of service at a lower cost."
One of the company's 3PL partners, Kuehne + Nagel, is provided with full truckloads that they then break into less-than-truckload pool shipments. Products are typically delivered within two days. "We make sure we provide the amount of service our customers require," Godfrey says. "Most of our customers don't need same or next-day service; they just ask that we're on time and reliable."
The company uses a variety of transportation methods to ship its products, including truck, intermodal and air freight. Shipments are tracked through an international transportation management system (TMS) as well as a newly implemented barcode tracking system. The barcode system allows Pirelli Tire to track tires through every step of the production and distribution processes and monitor any product returns, he adds.
Pirelli Tire manufactures tires for OEMs based on customer forecasts, and carries an inventory for the replacement market.  "For our Tier 1 customers we are on a make-to-order system," Godfrey says. "We can take our customers' forecast and change production from month to month to fit their order."
The company's ability to leverage its supply chain to meet customers' needs is a point of pride for Godfrey. "In terms of logistics, many of our customers say we offer the highest availability and best distribution and overall service," he says.
Product quality is another area of excellence for Pirelli Tire. In 2013, the company in 2013 won the J.D. Power and Associates award for highest original equipment tire customer satisfaction, and is regularly feted by dealers and customers including Tire Rack. "Our product is really what we're most proud of," Godfrey adds. ­­­