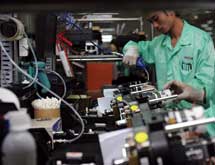 Plexus, an electronics engineering and manufacturing services provider, has 18 manufacturing facilities and six product design centers worldwide. So getting the supply chain right can have far-reaching benefits at that scale.
 "We optimize the supply chain for each of our customers," Vice President of Supply Chain Scott Theune emphasizes. "We wouldn't use an average approach or fit in a one-size-fits-all solution. We work on it from the front-end with our customers to understand their needs and end-markets, and how we can help them capture more of their end-market at the lowest total cost."
Theune says those benefits are "spread across the entire product value stream. Then, we integrate with our suppliers that can best service those markets and serve our customers. We look at suppliers who not only give a competitive unit price, but also are able to support the flexibility requirements of the lower-volume, higher-complexity customers that come our way."
Plexus uses one common enterprise resources platform as its core for supply chain organization and has proprietary solutions to optimize suppliers. "We have about 140 different customers, and we look at each one being somewhat different in what their needs are," he adds. "We design the supply chain solution based on the requirements of our customer's end-market."
Forecasting Variability
A continuing challenge for supply chain executives – and those at Plexus are no exception – is managing forecasting variability. "Each of our customers has a forecast, and we have to employ tools to try to manage that uncertainty," Theune notes. "Because at the end of the day, a forecast is going to have some level of accuracy and some level of incorrectness. Rather than simply accept the less-than-desirable forecast situation that we found ourselves in, Plexus built an optimization engine to dampen the effect of demand variability.
"Additionally, our suppliers must understand the changing requirements in the industry, such as how we mitigate the risk and exposure of our customer when it comes to things like conflict minerals, lead-free and other requirements that may be specific to an end-market or an industry we support."
Todd Kelsey, executive vice president and COO, stresses the importance of Plexus' product realization value stream. "If you look at it from a customer perspective, we are their supply chain," he says. "We supply them with their products. Within our efforts to do that are offerings including product conceptualization, design, commercialization, which includes new product introduction, manufacturing, fulfillment and sustaining solutions."
Supplier Rating System
Plexus has strict criteria for suppliers. "We would meet with them and audit them to a defined list of attributes to ensure that they are capable of performing for us and our end-customer," Theune says.
To sort out the best suppliers from among the 7,000 it uses, Plexus has a supplier rating system that includes cost, quality and delivery. "Then we'll use the results of how the supplier scores as an input for our supplier rating," Theune explains. "We'll look at which suppliers we want to continue to invest more with and which ones fall off our list."
Plexus has attained a reputation for avoiding the common counterfeiting problem in many industries such as defense and aerospace. This includes components whose specifications may be incorrect or misrepresented. Components that are ordered within lead time or are late in their product lifecycle increase the risk of counterfeit. "We make sure that we're buying from sources that are approved and are providing components that are of genuine nature and are from the right supplier," Theune stresses.
"This is something that we have really been on the leading-edge of," Kelsey adds. "We put in place several years ago counterfeit parts prevention processes where we work very tightly with our customers and suppliers."
Another development that will aid its customers' supply chain is the new 418,000-square-foot facility Plexus is completing near its headquarters in Neenah, Wis. "We currently have four manufacturing facilities in Wisconsin – three of which we call 'aged' and are leased – and we're putting on-line a state-of-the-art manufacturing facility which will give us the room to consolidate some of the leased facilities into this new facility and have some expansion room," Kelsey says.
A final supply chain solution Plexus utilizes is locating suppliers who are near a production facility.
"We try to position the inventory as close to our production floor with our supplier and supplier-managed inventory programs," Theune concludes. "We want to be working at a reduced lead time with our suppliers and not the market lead time. Because if we're at the market lead time, it's not going to provide the flexibility, agility and lowest total landed cost that our customers require from us." ­­­