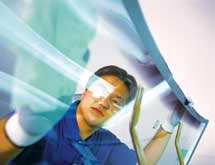 When Safelite AutoGlass® decided in 2007 to dramatically grow its business, Dino Lanno, senior vice president of supply chain and manufacturing, knew that it would take a supply chain overhaul to make it happen. Lanno, who has been with the company for 23 years, says the company's business has tripled since he started working with the vehicle glass repair and replacement company. Much of that growth came just within the past six years.
"Belron® acquired Safelite AutoGlass in 2007 and since that acquisition we've doubled our business and it's afforded a lot of changes to the supply chain," Lanno says. "All the additional volume has driven our need to expand our supply chain."
In just the first half of this year, Safelite AutoGlass has acquired five auto glass companies based in the Northeast, Southeast and Midwest. It has also announced seven new or relocated shops in addition to roughly 500 stores in operation today. The company serves more than 4.1 million customers a year and can reach 95 percent of U.S. drivers in all 50 states. Naturally, it has developed a robust supply chain to keep up with demand.
Location, Location, Location
Beginning about two years ago, Safelite AutoGlass opened two distribution centers within 14 months of each other. The company used CAST Modeling Software to determine real estate selection.
"We put in all of our labor information, freight lane information, leasing amounts for commercial real estate and our sales history, by part number and by county," Lanno says. "We ran that information through the software and ran what-if scenarios – I want one distribution center or an unlimited amount of distribution centers. We were able to calibrate that data based on our current budget and how we operate today and that's how we determined where to put our distribution centers."
Ontario, Calif., and Braselton, Ga., were the lucky winners. Safelite AutoGlass opened a 250,000-square-foot distribution center in Ontario and a 350,000-square-foot distribution center in Braselton. The company then used CLASS software to design the space for its specific needs and specified target metrics such as picks per person, picks per hour and productivity. Using the 3-D imaging software, Safelite AutoGlass determined where to place each function such as the pick racks and the shipping and receiving areas.
"We were able to place and design these facilities strategically based on where our customers are and where our products are selling the most," Lanno says. "We were focused on reducing outbound miles and improving customer service. That's what guided site selection and design."
The distribution centers are backed by 11 hub-and-spoke centers situated in major metro areas. The hub-and-spoke centers carry the breadth of Safelite AutoGlass' products, and act as an intermediary for the distribution centers – giving it faster delivery and improved customer service in the most populated areas.
Together, the distribution centers and hub and spokes serve more than 93 warehouses, which in turn serve the company's 600-plus stores throughout the country. Depending on the area's volume, the warehouses range in size from 15,000 to 40,000 square feet. This area of the business has also seen its fair share of changes since 2007.
"Out of the 93 warehouses we own today, over 70 were relocated, expanded or have been built brand-new since 2007," Lanno says. "So we have two DCs and over 70 warehouses that have been touched, expanded, renewed, remodeled, relocated or modernized in some way. We are very good about investing in our supply chain infrastructure."
A Refined Pallet
Those investments are not limited to the building themselves; after all, half of the supply chain process lies outside of the distribution center and on the road. Safelite AutoGlass' warehouses receive weekly shipments from the distribution centers and/or hub and spokes. Depending on volume, some receive deliveries thrice weekly. The products are stacked on pallets and fitted with corrugated foam to protect product integrity. Lanno says the company is in the middle of converting from wood pallets to steel recyclable pallets and he says the program is "going over just fantastic."
"We designed and patented a brand-new steel pallet and are implementing that right now in 22 warehouse markets," Lanno says. "Within three years, we project to convert the entire business."
The steel pallets have many improvements over their wooden counterparts. First, the seven-year life of the steel pallets far exceed the three-turn life – that's three deliveries only – of the wooden pallets. Second, the ergonomic design allows for easier stacking and reduced labor. Third, the pallets are designed to maximize a 53-foot trailer, allowing Safelite to fit more product on trailers than before – which Lanno says has become a golden rule in a world of fluctuating but still upward-trending gas prices.
"To be fair, the carbon footprint of making one steel pallet versus one wooden one is larger, but because of its benefits it still ends up having a greater payoff," Lanno says. "We are reducing scraps, reducing labor in the warehouse and saving trees from being cut down on an annual basis. And we are saving on CO2 emissions because we fit more on the trailer. We've increased the density by 100 parts; we are getting 1,200 parts on the trailer when it used to be 1,100, which means that every 10th truck is now free. It's very significant when you consider how many deliveries we make and the cost of travel from Atlanta to somewhere like New York."
Lanno explains that all of the improvements in the supply chain are not just about serving more customers, but in serving those customers with an equal or greater level of quality as before.
"What makes our company great and this department great is great people and the ability to be innovative and focused on the customer," Lanno says. "This company is customer-driven in every aspect. It's not just about expansion and productivity, but on delivering fantastic service to our customers. The question we've asked ourselves is how do we use the supply chain as a tool to accomplish that." ­­­