Sedlak Management Consultants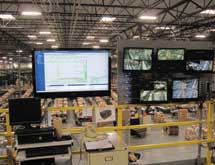 Oftentimes, the most effective way to manage a supply chain is to let someone with a fresh set of eyes take an objective look at things. Jeff Graves, president of Ohio-based Sedlak Management Consultants, says many large retailers and suppliers understand their own operations inside and out, but are not always in a position to see and understand the possibilities and opportunities afforded them from leading practices and emerging technologies. "The old saying that you can't see the forest for the trees is one of their issues," Graves says.
Helping customers see the big picture of their supply chain operations has been Sedlak's mission from its inception. The supply chain consulting firm was founded in 1958 by Joseph Sedlak, a veteran of the apparel manufacturing industry who developed material-handling systems renowned for their effectiveness. Because so many manufacturers were coming to Sedlak for help with their own operations, Graves explains, his father-in-law decided to go into business for himself to serve the garment industry. Success came quickly as services expanded to meet the needs of clients in support of their manufacturing, distribution and/or direct-to-consumer operations.
Today, Sedlak is one of the nation's leading supply chain, distribution and logistics management consulting firms, with a broad client base of more than 1,200 retailers, wholesaler distributors and manufacturers.  "If distribution is key to a company's success, then it is very likely that we can bring significant value to the table," Practice Director George Swartz  says.
Complete Services
Graves explains that Sedlak's services are broken down into eight core competencies: 1) supply chain/distribution strategy; 2) facility planning and design; 3) material handling solutions; 4) facility/operational improvements; 5) IT including WMS, WCS, OMS, LMS and DOM; 6) project management and change management; 7) omni-channel fulfillment solutions and 8) 3PL selection and implementation.
Supply chain and distribution strategy services are related to what a client's supply chain looks like in terms of facility locations, transportation lanes and other strategic decisions; i.e., expanded fulfillment options, in-house versus 3PL, and facility ownership versus lease. The second core competency involves facility planning services for distribution/fulfillment centers.
The third competency focuses on material handling equipment solutions and specifications for new and retrofitted buildings and includes sourcing, negotiations and equipment installation.  The fourth competency involves process improvements to increase the efficiency and effectiveness of distribution facilities and includes a deep knowledge of labor management solutions.
Sedlak's IT competency focuses on the information technology aspect of the client's business – WMS designs, vendor selection and bidding process, interface requirements with host systems and MHE, setup and configuration, and testing and training; these services also extend to WCS, OMS, LMS, TMS and DOM solutions. The sixth core competency is actually at the heart of Sedlak's skills and involves comprehensive project management services and a robust approach to transformation through holistic change management.
Sedlak's newest core competency is omni-channel fulfillment solutions, which focus on helping retail and wholesale clients leverage the power of the many emerging consumer channels in cost effective, sustainable solutions.
Finally, Sedlak knows the 3PL marketplace and is an invaluable partner in the selection and implementation of 3PL services.
No matter how the firm helps its clients, Swartz says Sedlak does so with a greater emphasis on strategy than many of its competitors. By rolling up its sleeves for clients, Sedlak offers them value-added services at a time when many consulting firms are taking more of an indirect approach. "If you look historically, many of the big houses used to offer some of these services, but they've sort of gone down the IT path, with their major focus on IT outsourcing deals," Swartz says.
Graves says the firm's emphasis on strategic consulting over simply offering software platforms makes Sedlak the right firm at the right time in today's economic climate. Over the past four or five years, many of the company's clients have been forced to restrain their spending due to the recession, making them take a good, hard look at their supply chain and distribution operations and revamp them to be more effective and efficient. "That is a huge opportunity for us," Graves says.
Another opportunity is in the growing trend of companies aspiring to offer their customers more ways to buy products and a myriad of options to fulfill their orders. In the industry, this expansion of fulfillment options is termed "omni-channel fulfillment [OCF]" and Sedlak is a leading designer of OCF solutions.
"OCF is designed to give the customer the ultimate choice of how they receive their purchase – shipped directly to the location of their choice, redirected in transit when necessary, or waiting for them at their local store," Swartz says. Some retailers are offering more than a dozen channels to their various customer segments. This requires companies to re-examine how they utilize their retail stores and deploy inventory, and to develop a flexible and efficient supply chain network that is consumer-driven.
"Many companies entering e-commerce for the first time do so without any idea of how that new sales channel fits into their existing supply chain," Swartz says. "They'll hire someone to build a website without any plan for fulfilling those new orders, and end up with a patchwork of warehouses and distribution networks that are costly and ineffective."
Sedlak will work with a company to develop a comprehensive OCF blueprint for all of its sales channels and then bring in an appropriate  distributed order management (DOM) solution  to enable the OCF strategy. DOM encompasses all of the processes, infrastructure and information technology needed to support every aspect of order fulfillment in the new strategy. "Strategy is the key," Swartz says. The benefits can include avoidance of unneeded capital projects, reduced packaging costs, increased leverage of retail stores, reduced mark-downs, shorter delivery times, and elimination of 'last-mile' shipping costs.
Overcoming Challenges
As the market continues to change and opportunities for growth present themselves to Sedlak, Graves says managing with the firm's growth is one of its biggest challenges. "In our field, it is a tight labor market, so trying to find people who can fit within our culture is an ongoing battle," he says.
This problem is mitigated somewhat by the fact that Sedlak has one of the highest average tenures in the industry. Swartz says other supply chain management consultants experience high rates of turnover in their workforces, but Sedlak's employees average 15 years of service with the company. "We're very seasoned from that standpoint," he says.
Another potential difficulty is reluctance from potential customers to make changes within their supply chain. Swartz says wholesale distributors represent a large potential market for Sedlak, but many of them have been slower to adopt the new technology and techniques they will need to leverage the opportunities in their markets.
Looking at Growth
Even so, Graves says the pent-up demand for supply chain consulting among the client base means Sedlak has its sights set on growth in the near future. "I believe we're looking at a growth cycle in this economy, and for ourselves we see growth in the neighborhood of 20 to 30 percent over the next several years," Graves says.
Many retailers and suppliers have spent the past several years trying to squeeze costs out of their operations without spending money, but now they need to look at increasing their capacity strategically and not simply cutting costs. "That leads them to us and the services we can offer," Graves says.  ­­­