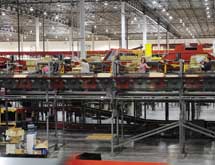 Growing through acquisitions and new store openings, Stage Stores Inc. has continued to find opportunities to service neighborhoods and small towns with a business that now spans 40 states. Along with the stores' growth under their regional names has come the expansion from the initial 437,000-square-foot distribution center in Jacksonville, Texas, to a second 162,000-square-foot distribution center in South Hill, Va., in 2003.
Then a third 202,000-square-foot distribution center was built in Jeffersonville, Ohio, in 2008. These three distribution centers have the capacity to support 1,150 stores and provide continued expansion beyond the existing 872 stores.
Technology Advancements
Technology has advanced along with the growth, providing continuing efficiency gains. Oracle merchandising and warehouse management systems are linked with a JDA Transportation Management System (TMS) and GXS, Stage Stores' EDI value-added network (VAN) provider for electronically transmitted orders, invoices and advance ship notices (ASN).
SDI Industries has equipped the three highly automated distribution centers with sortation and material handling equipment including tilt-tray, bombay and hanging garment sorters; print-and-apply labelers for cross-dock cartons; and slat sorters for outbound cartons.
Spaulding Software supplies the labor management system (LMS) called ProRep that tracks individual productivity and supports the incentive-based payroll system. The addition of e-commerce in December 2010 meant adding more shelf space for products, shipping stations for packing and shipping to customers and the staffing to support a quick response to new orders arriving daily in varying volumes.
Although technology and store growth have contributed to the success that distribution and logistics have enjoyed, the company says the real story lies in the constant attention given to 1) building strong relationships, 2) the focus on developing leadership talent, and 3) an expectation that Stage Stores will innovate to adapt to changing conditions and not use those changes as an excuse for failing to deliver the results promised.
Relationship Building
Even though Stage Stores has an aggressive compliance program, the company supplies vendors with quick, detailed descriptions of problems, and communication is set in motion to determine the cause and corrective action for future shipments.
GXS is currently programming the next level of enhancement to this program to more efficiently capture, report and communicate both supplier and carrier performance more accurately and in a more timely manner. The resulting reports also will glean inbound transportation data that provide more actionable reporting of results with less manual effort.
Stage Stores has established an internal training program designed to identify future leadership talent and cultivate that talent before they are actually needed. Monthly training sessions are conducted for existing managers, supervisors and those who have been identified as potential future leaders.
Whatever it takes
This phrase has become Stage Stores' theme and a key element of the company's culture. Since its stores are relatively small, the weekly average number of cartons delivered to each store is comparatively small. During some times of the year, filling that trailer on a daily basis can become a challenge.
To address that issue, Stage Stores' outbound carrier partner Forward Air Solutions (FAS) is routing cartons from other clients through Stage distribution centers using its highly automated shipping sorters to fill the trailers more quickly. The result is that the client is able to ship more frequently while enjoying full truckload rates to the hubs; the carrier enjoys being able to increase volumes, improve route density and better service its client base; and Stage gets the increased full-trailer release frequency.
 Another area demonstrating confidence in the partnership between Stage Stores and FAS is the practice of invoice-less payment. Because Stage Stores electronically manifests outbound trailers and scans cartons as they are delivered to its stores, every carton is accounted for. That makes it easy to pay for deliveries the following week without requiring a typical invoice. The result is faster cash flow for FAS and less invoice matching. ­­­