Ste. Michelle Wine Estates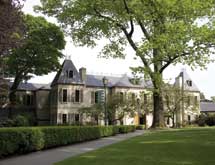 Making high-quality wine is a focused, independent process, unique to each region's  soil, weather and the grapes that grow best there. At Ste. Michelle Wine Estates, a management system lets each vineyard in the company's portfolio shine on its own merits, while Ste. Michelle, as a company, provides administrative and financial support.
The company calls its approach a "string of pearls," with its varied portfolio of wineries being the pearls and the company acting as the string holding it all together. "We try to keep a small-company feeling within a larger organization so we don't get too far away from our roots," explains Rob McKinney, vice president of operations. "We have a diverse portfolio of high-quality wines that we consider our pearls, such as Chateau Ste. Michelle  and Stag Leap Wine Cellars."
The company's focus on nurturing the uniqueness of each vineyard extends to its focus on the quality of its employees. "We not only have a commitment to high-quality wines, [but] we also hire and retain some of the best people in the industry," McKinney declares.
Wine Makers
Ste. Michelle's commitment to doing what it does best – growing grapes and making great wine – inspired the company a few years ago to look at its supply chain and implement changes that would allow the company to focus on being a wine producer.
"We looked at our critical suppliers – for example, our glass supplier Verallia – and changed the way we did business with them," McKinney explains. "Instead of negotiating contracts, we actually sat down at a table together and shared our business information so we could help one another understand each other's business and form a true partnership."
Ste. Michelle invited a varied group of Verallia employees to participate, from the person who makes the glass to the vice president, so they could see how Ste. Michelle uses Verallia's finished product. "We also share our scheduling information so each company knows the expectations for [meeting] schedules and allow changes if needed," McKinney explains. "Truly partnering has been very helpful, more than just negotiating across the table."
That emphasis on relationships is a key element of Ste. Michelle as a company. "We have been referred to as a marquee company that people appreciate working with," McKinney notes. "We have high integrity, high values and our customers see that and value it."
Forward Thinking
To store and deliver its products more effectively, Ste. Michelle looked for a partner with warehousing and shipping experience and found it in Railex, a logistics and distribution specialist with its own railway system. "We shipped 7-and-a-half-million cases last year and that was our breaking point; we decided that warehousing and distribution didn't need to be one of our core competencies," McKinney explains. "We hired a consultant and went through a year of preparation. We looked at different companies and it came down that Railex was the best option because of its expertise and its railway system."
 In February, Railex completed construction of a $5 million, 500,000-square-foot state-state-of-the-art warehouse facility in Washington State. Ste. Michelle started moving in products from other facilities, filling nearly 60 percent of available capacity  in the new warehouse.
The product will be transported and distributed across the country, from Washington state to Rotterdam, N.Y., by Railex temperature-controlled rail cars. "Shipping by rail will reduce our carbon footprint and it will also maintain the quality of our product, since trains, once they leave, they don't stop until they reach their destination," McKinney notes. "It will also allow us to be more responsive, because a rail car can hold three times the amount of product you can ship in a truck or trailer, so you can move a lot more wine on the rail when you need to move it."
Railex is planning to open another facility in Jackson, Fla., next year and is exploring the possibility of a distribution center in the central United States. "That will give us great distribution via rail to these key points of the country from where we can then use a regional trucking model," McKinney explains.
Partnering with Railex has enabled Ste. Michelle to improve storage and transportation of its products, but it has also impacted the business' bottom line. "From a business perspective, we've been able to use our capital in those key areas of our own expertise, like grape growing and wine making, not using it on expanding warehouses," McKinney notes. "It has put us in a better position for return on investment capital and it has opened up more effective distribution across the United States to areas such as the Southeast." ­­­