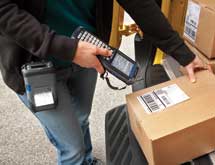 The role technology plays in the supply chain cannot be overstated. Manufacturers, shipping companies, third-party logistics providers and warehouse operations all rely on technology to communicate and drive their efficiency with the ultimate goal of getting products to the consumers.
One of the most common applications of technology within the supply chain is the use of barcode scanning to track and expedite shipments. Warehouse and manufacturing operations in particular rely on these systems to drive picking, replenishment and packaging.
With barcode systems playing such an important role in the supply chain, it is critical that manufacturers and warehouse operations are able to quickly implement and maintain the technology. For Supply Chain Services, helping its customers find the right solutions is a top priority.
"Our purpose is 'Helping our customers operate better,' and I think we do that better than any of our competitors," says Chip Emery, CEO of the Oakdale, Minn.-based company. "Most companies will sell their customers a product, but the question is really figuring out what the right product is and what configuration is needed."
Supply Chain Services is a full-service provider of barcode data collection solutions including scanning and printing equipment, handheld computers and wireless infrastructure. More than 2,000 warehousing, manufacturing and distribution companies across North America use the company's equipment. Its systems are in particularly wide use in the food industry, Emery notes.
The Right Configuration
The company's sales and technical staff work with customers to understand their infrastructures and recommend systems that will meet their needs. This involves site visits as well as telephone consultations.
"We spend a lot of time with our customers in advance of making a specification," Emery says. "When we find a large enough opportunity, a salesperson and engineer will personally visit the customer. The salesperson is there to describe the business relationship, while the engineer is there to understand the technical environment and what problems the customer is trying to solve.
Supply Chain Services' staff takes the information gathered from the customer to preconfigure a system. Components of the system such as scanners, routers and printers are designed and tested in the Oakdale facility. "We configure the software and data and operating system here, so when the customer takes it out of the box, all they have to do is turn it on  – that's the value we bring to the marketplace," Emery says. "We promise the customer when they get the system that it will work, be the right product and will be compatible in their environment."
Equipment and wireless components used by the company are manufactured off-site. Supply Chain Services relies on third-party logistics providers and distributors including Scansource and Bluestar to stock and drop-ship equipment either to its own facility or directly to customers. Shipping is typically performed on a next-day basis.
The company's wireless networks include equipment manufactured by Motorola, Cisco and Aruba Networks. Mobile devices include those manufactured by Motorola, Honeywell and Zebra. Technicians are certified in the installation and maintenance of everything the company sells.
In addition to providing hardware, Supply Chain Services partners with software vendors SOTI, Stay-Linked and Wavelink to provide mobile device management software to use with barcode devices. The software allows IT departments to quickly manage a network of scanners and mobile computers from a single point, reducing labor costs and boosting productivity. The company also offers warehouse management system (WMS) software through its partners, Emery says.
Expanding the Core
Founded in 1998, Supply Chain Services initially offered barcode-scanning systems to a variety of sectors. Emery, a former engineering company CEO and executive for technology companies Honeywell and Bendix, purchased Supply Chain Services in 2010.
Shortly after acquiring the company, Emery changed its direction both by reinvesting in it and refocusing it exclusively on warehouse and distribution businesses. "What I wanted to do was shift our business from selling to anyone, anyplace and anytime to identifying our core and expanding on it," he says.
Under Emery's leadership, Supply Chain Services increased its technical staff from two engineers to eight and enhanced its sales and administrative staff. These internal investments have allowed the company to double its business in the past three years, Emery adds.
"I'm very proud that we've taken a number of well-educated but not terribly experienced people right out of college and trained them on how to be successful salespeople and help out customers," he says. "The fact that we've been able to provide the training involved in that is very gratifying." ­­­