Taco John's International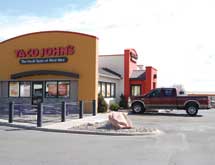 What began with a small taco stand in Cheyenne, Wyo., in 1968 has blossomed into an organization that boasts more than 400 quick-service restaurants in 25 states. Thanks to what Taco John's International refers to as its distinctive "West-Mex" flavor, the company has become one of the largest Mexican restaurant brands in the United States.
"This is a strong brand that is kind of under the radar unless you are from certain parts of country," says Dean Satchwell, vice president of supply chain.
Taco John's is still a private, family-owned company, although most of its restaurants are franchised. The company aims to compete in the Mexican fast-food space through a focus on offering a higher quality of food. "The owning families care about the business and the brand, not just the bottom line," Satchwell says.
Compliance and Consistency
Like all restaurant chains with a unified brand and a wide footprint, one of the main challenges for Taco John's is to ensure compliance and consistency. Although Taco John's is in half of the states in the union, its geography is such that the company can achieve strong density in its distribution centers.
But as a chain, the size and scope of the company, along with the number of franchised units, means Taco John's must make sure its franchisees are compliant in terms of buying approved items. The company understands that it has to be consistent in terms of the experience it offers at the restaurant level.
"That is what the big players in the industry do best," Satchwell says. "That sameness gives you leverage when you talk to suppliers, and it tells the guests what they can expect and helps drive their purchase decisions."
A major part of ensuring consistency and compliance comes down to picking the right suppliers. The company has a number of distribution agreements in place with suppliers it feels are customer-focused.
"It is important that they understand our needs and will put resources toward helping us, whether that is with R&D to help develop an item or helping us to figure out the best ways to move goods from one place to another," Satchwell says.
Taco John's also wants to work with suppliers that are reinvesting in their own operations because they want to be on the cutting-edge. Rather than working with suppliers that Taco John's believes are too set in their ways, the company looks for suppliers that are focused on finding ways to improve quality and reduce cost.
This is particularly important in an environment that has seen a lot of changes take place on the commodity front over the past 10 years. Global news and issues cause volatility in the price of every commodity from raw ground beef to taco shells, and Taco John's must do everything it can to hedge against the unpredictability.
"It is critical for us to find suppliers that will help us to find consistency with cost," Satchwell says. "If you are putting together a commodity strategy that tries to beat the market, you will get into trouble. The best strategy is to level your costs. You might not be at the bottom of the market, but you will avoid the tops. Getting consistent cost helps you to plan your business. This is an area where restaurants get killed, because market-based pricing on key items can wreak havoc with menu prices."
Looking for Growth
As Taco John's sets its sights on expansion, it is making investments to ensure that it is prepared for long-term growth. Some of those investments are in people. Satchwell joined the company about a year ago, and Taco John's also hired industry veteran Jeff Linville as its new CEO earlier this year.
"The board brought Jeff in to grow our chain, so we are laying the foundation to see strong growth in units over the next several years," Satchwell says. "We are working on tweaking everything from the cost of our buildings and the cost of real estate to the cost of equipment and food. We are trying to streamline everything so we can be more attractive and get the company growing."
In terms of supply chain, Taco John's will likely be looking to trim some cost out of its food and paper procurement, as well as to reduce costs on equipment purchases. In addition, the company's supply chain organization will look for ways to find savings through reduced energy usage and improved waste removal procedures.
"Most operators focus on food costs, but we have to look at all costs," Satchwell says. "We are working on everything from beef and produce to consolidating packaging, as there are a lot of different avenues where we are trying to turn over rocks and find dollars. For example, we are good at buttoning up contracts with suppliers and distributors, but the way freight is managed is an area where we have an opportunity for improvement. We have a lot of irons in the fire and are working to challenge the status quo."  ­­­