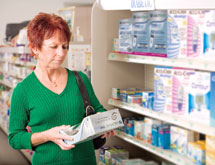 HD Smith Wholesale Drug Company was founded in 1954 in Springfield, Ill. as a regional, wholesale drug distributor, but it's become much more in the ensuing 56 years of challenge and opportunity. Chris Smith, president, COO and one of the company's second-generation co-leaders, said diversification and value-added services have become key elements of HD Smith's business strategy, but that above all else, the company's commitment to customer service has been the key ingredient to its success.
Traditionally, most of HD Smith's business came from distributing medications and consumer health products to independent retail pharmacies. Today, the company has expanded into regional chains, hospitals, clinics, and even long-term care facilities. The company distributes home medical equipment, hospital supplies, and just about everything you'd find at the front end of a pharmacy as well.
Since the mid 1990s, the company has expanded dramatically to become a national player with more than $3.4 billion in annualized sales; Smith said that growth was born out of necessity.
"In the 1980s, we recognized that our sector was consolidating. To grow as a healthy independent, we needed to diversify and branch out of the Midwest," he said. Regional expansion became part of the family-owned company's efforts.
The multiple service strategy began with the purchase of a full-service drug distributor in Fort Worth, Texas in 1995. In 1997, HD Smith opened a new location in Wood Dale, Ill., and in 1998, it launched subsidiary Smith Medical Partners, a specialty drug distribution division that supplies injectables and vaccines to private physicians and clinics nationwide. The company bought a New York generic distributor in 1999 and transferred that acquisition into a full-line distribution center now located in Kearny, NJ. In 2005, 2006, and 2007, HD Smith opened locations in Florida, New Hampshire, and finally, Kentucky.
That was a lot of growth to handle, but when the economy fell in 2008, HD Smith was in a good position to focus on improving operations, Smith said, as well as focus on strengthening its internal divisions to match its geographic growth.
"We've relocated two of our distribution centers to larger buildings, made investments in equipment to increase efficiency, and adopted more disciplined practices that have proven worthwhile to continue as the economy returns," said Smith.
Disciplined management
One example of a more disciplined practice is HD Smith's implementation of profit-sharing programs that Smith said encourage a greater sense of personal accountability and ownership among the company's employee associates. One reason the company hasn't had layoffs in this recession is that managers consider ROI before making a new hire.
That focus has provided higher levels of leadership in the company with a more concrete way of evaluating staffing expansion needs—the company emphasized hiring in customer-facing departments to ensure clients didn't experience reduction in service due to recession cost-cutting. In fact, the company made recent executive hires in strategic planning, marketing, sales, and technology.
HD Smith was also able to improve its credit performance and profit margin in the last two years thanks to more disciplined management practices.
"We move health products from innovators' manufacturing plants to our national warehouses so that they can begin their journey from retail and hospital pharmacies to patient medicine chests," said Smith. "At the same time, our financial efforts include advising independent pharmacies on how to stay on track with their budgets and bills, and that helps them stay strong and us guard our financial wellbeing. Health product pricing is very complex—it includes product type, volume, and cash-flow management. We protect our interests by ensuring our clients' financial health."
And when HD Smith relocated two of its warehouses in 2008, it implemented state-of-the-art inventory management equipment and processes that Smith said the company and its customers continue to benefit from.
At the New Jersey facility, the company uses a combination of a-frame automatic product picking devices, used for the most frequently shipped products, and order storage and retrieval systems for more efficient loading of less frequently shipped products.
Smart growth
Smith said in the future, the company will continue investing in technologies like these and focus on its distribution business, but that he and his team were laying the foundation for a greater focus on providing value-added services to customers. He said HD Smith already provides valuable services, like inventory management, for its customers, but that there are many more opportunities for growth.
"There is a lot of upheaval in the industry right now, so there is an opportunity to help our customers succeed financially by keeping people healthy for less money," Smith said. "We can help them better manage supply issues and introduce new products so they can cut costs while providing better care."
Although the company doesn't have any immediate plans for further geographic expansion, that doesn't mean Smith isn't on the lookout. As always, HD Smith will only expand into a new territory if the opportunity is right, giving it a significant competitive advantage in the new region.
Of course, regardless of where or how HD Smith will grow in the future, customer service will remain front and center for the company. For example, as the company has grown, it's kept customer service, sales, and operations departments based locally so decisions can be made faster and the team has a better understanding of individual customer needs.
While Smith, who reports to chairman and CEO Dale Smith, has held many positions in the company in shipping, sales, and finance, he said his growing responsibilities keep him focused on the future of the business. Although he no longer packs boxes going off to customers as he and family members did decades ago, Smith makes frequent visits to each location across the country throughout the year to speaking with the company's almost 1,000 associates.
"These visits are an explicit time for me to answer questions and talk about goals, values, expectations, and the company's performance," he said. "I want everyone to know that I care about what is going on in their region, and that nothing is more important than making sure everyone is able to provide the highest level of service to our customers."