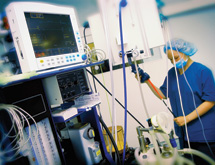 As healthcare organizations nationwide grapple with unprecedented change and growing pressure to deliver higher value at lower costs, the role of the hospital supply chain organization has never been more important – or more promising. 
Even before healthcare reform, University of Pittsburgh Medical Center's (UPMC) supply chain division began its journey of embracing new technology and processes to solve critical pain points in this $10 billion health system, with its more than 20 hospitals, 400 outpatient locations and 60,000-plus employees. In this complex environment, UPMC's supply chain division manages $1.8 billion in annual spend and processes more than 70,000 invoices and 4,000 purchase requisitions monthly from more than 12,000 active suppliers.
The initial focus was to implement a "culture of automation" to improve data quality, streamline processes and control costs by eliminating the enormous volume of paper that was being generated to support supply chain operations (more than 220,000 paper requisitions and purchase orders in 2004 alone). 
Along the way, UPMC's entrepreneurial culture has fostered the growth or creation of three supply chain companies that now are helping to transform supply chain practices industrywide: Prodigo Solutions, offering cloud-based, e-procurement technology and services; BioTronics, providing biomedical technology management services as the leading equipment service provider in western Pennsylvania; and HC Pharmacy, a group purchasing organization for the pharmacy supply chain, managing more than $600 million in spend at UPMC and non-UPMC facilities. 
Critical Steps
Creating a supply chain organization that delivers efficiencies, innovation and additional revenue is no small task. But UPMC has learned that the roadmap to success must include these key elements:   
Executive level support and an understanding of the value that supply chain management can bring to the organization;
A significant degree of effective automation for transactional processes so that resources can be freed up for higher value activity. UPMC figures that each sourcing employee should deliver at least 10 times his or her salary in savings;  
Clearly defined and collaborative sourcing processes linked to operations through a robust value analysis process to drive product standardization, compliance and new-product evaluations for both clinical and non-clinical categories;
Performance metrics that continuously drive improvement. Be sure to look at best practices in other industries;
Supply chain leadership with a passion for driving change and increasing value in creative ways.
The payoff from UPMC's supply chain transformation has been dramatic within the organization. Contract compliance rates are up more than 40 percent compared to levels before automation; more than 65 percent of purchase order lines are now "touchless," and the work of 25 full-time employees has been shifted from transactional to strategic sourcing activities. Over the past five years, UPMC's supply chain division saved more than $200 million for the health system. 
Most importantly, UPMC's high-performing supply chain positively affects the ability of nurses and physicians to spend more time with patients and less time getting the right supplies to the right place at the right time. Lower supply costs have meant more funds available to invest in best-in-class staff, facilities and equipment at a time when healthcare margins are shrinking.
Today, virtually everyone agrees that the nation's healthcare system must be radically different in the future, with a focus on better patient outcomes and lower costs. As has been shown at UPMC, supply chain management can lead the way in creating this fundamental change, with the potential to impact each and every person living in this country.