American Hotel Register Co.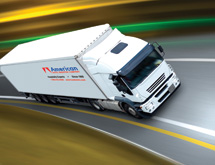 Most hotel guests don't think much about where those little bars of soap or bottles of shampoo come from, nor do they know of the amount of effort that goes on behind the scenes to ensure their rooms are furnished. For more than 148 years, American Hotel Register Co. has helped hotels and other hospitality providers with the products and support they need to enhance the guest experience.
The Vernon Hills, Ill.-based company offers the largest assortment of operating supplies and furniture, fixtures and equipment available to the hospitality market. American Hotel carries 50,000 items, including 1,600 national brands and more than 2,500 best-value, private-label Registry® items. In addition to the hospitality market, the company also serves all branches of government and the military plus the healthcare, deathcare, education, gaming, recreation and other markets. 
American Hotel's supply chain infrastructure includes seven company-owned distribution centers in the United States and four distribution centers in Canada, Hawaii and Puerto Rico that are owned and operated by third-party logistics providers. The company also provides priority scheduled delivery service in more than 55 major metropolitan markets. 
The company's services go beyond stocking everyday hotel supplies. "What separates us from a company perspective is that we take the time to understand each customer's needs and design programs tailored to those needs," Senior Vice President of Supply Chain and CIO, Mary Acuna explains. "We truly care about our customers, and are proud of the high level of service we provide."
Understanding Client Needs
Hospitality customers rely on American Hotel to provide support and coordination for special projects such as hotel openings, renovations and new product launches, as well as for their daily operational needs. The company has developed a number of solutions that allow it to manage the sourcing and delivery of products to thousands of hotel locations across the United States and around the world.
For example, the company provides a "room in a box" service. Pillows, sheets, personal care items and all the other essentials needed to stock a hotel room are boxed together and delivered to each guest room during a hotel opening. Replacement items, such as lamps and other fixtures, are also available. "Our customers can call us if something is broken and we can quickly find a replacement for them," Acuna says. "Through our relationships with our customers, we know every item they use." 
Many customers use RegistryTechSM, an e-business solution developed and owned by American Hotel that can be customized to their individual needs and provides them with enhanced communication with American Hotel and its supplier partners. RegistryTech interfaces with all available procurement portals and more than a dozen enterprise resource planning (ERP) packages so purchasing can be managed right from the customer's desk, tablet or smartphone. 
American Hotel also gains its understanding of customers' basic daily operational needs and special requirements through collaborative planning sessions. Similar meetings with suppliers are also regularly held. "Conducting regular collaborative planning sessions, as well as implementing a number of optimization initiatives, drives efficiencies that benefit all the stakeholders in the supply chain," adds Acuna.  
One recent goal of these planning meetings was to further reduce production lead times. 
"Pulling days out of the supply chain is one of our areas of focus," Acuna says. "We manage our supply chain to best meet the expectations of our customers."
Investing in Communication
Recent investments in technology will help American Hotel take its connections with its customers to the next level. This year, the company upgraded its forecasting and supply chain planning software, Logility Voyager, and is now implementing a new product information management system provided by Informatica. 
In 2012, the company implemented SAP Business Objects software. "One of the things that makes our supply chain work so well is the ability to have the right information when we need it, and we are always enhancing that capability, Acuna adds. "Upgrading our technology allows us to share even more information with customers and suppliers." ­­­